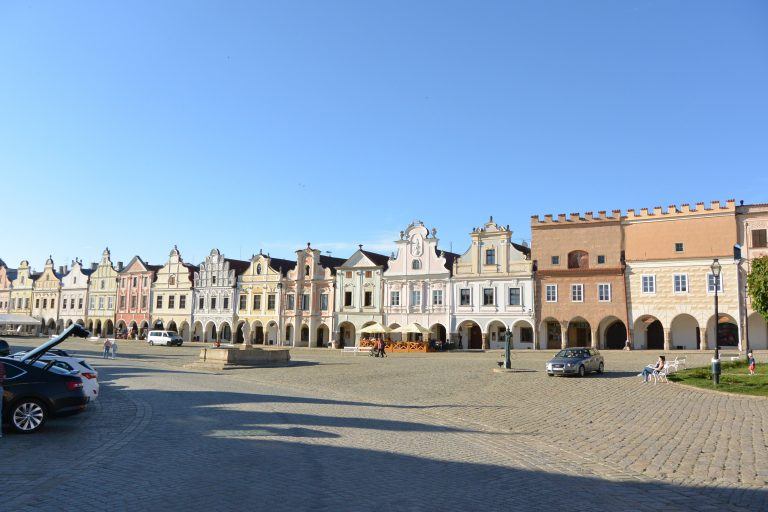 [ May 2017 ] We went to Telč, which is listed in the Unesco's World Heritage list from Brno in Moravia region in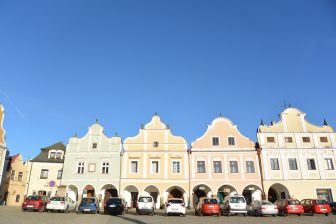 Czech Republic.
Telč is on the border of Moravia and Bohemia.
When we looked at the bus timetable on the internet before coming to Czech, it seemed that it was impossible to go to Telč and come back to Brno on the same day, so we booked a hotel in Telč, wasting one night stay in the hotel in Brno.
But the receptionist at the hotel in Brno said that there were more buses than we saw on the internet, so it could be possible to have one day trip to Telč from Brno.
It took about two hours by bus to get there and the view from the window was more varied than the day before when we went to Mikulov with hills and forests.
The main attraction of Telč is the huge square.
This square is surrounded by the pretty houses of Renaissance and Baroque styles.
The hotel we stayed is called Hotel Celerin Telč, which was just off the square.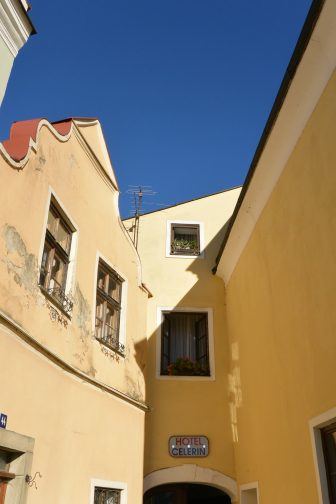 The kind receptionist booked the bus for us for the next day.
She said "I lived in London for 7 months so I know that the trains run until late at night over there. Here we have just two buses a day. Sorry about that. Czech Republic is like this…".
She did not have to be sorry at all, but maybe for her, who was young, it might be that she was bored living in this quiet town.
At the reception area, they had the leaflet of Telč Castle written in Japanese as well as some Japanese folded paper cranes.
This is the small town with only the beautiful square and the castle at the end of it, but it is one of the World Heritage sites, so it seemed that they have many foreign tourists.
The square was really beautiful.
We enjoyed walking around the square, the garden of the castle and along the river with the reflection of the town until it got dark.