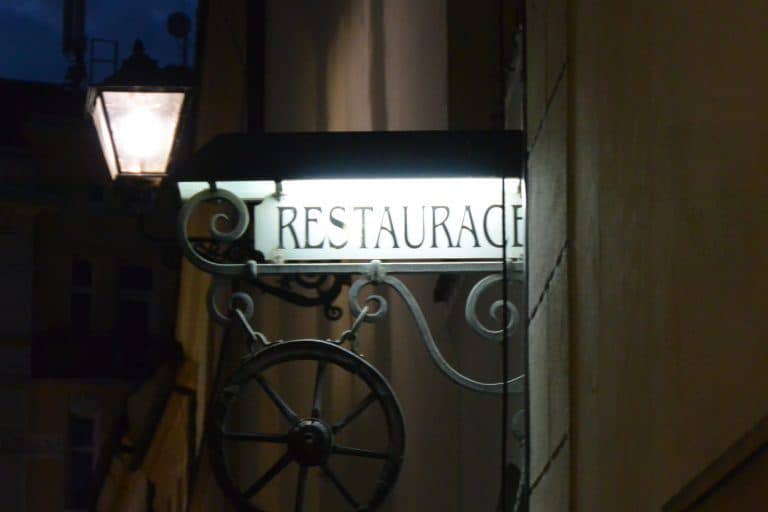 [ May 2017 ] We went to Moravia region in Czech Republic around the time of Spring Bank Holiday in late May.
The capital city, Prague is in Bohemia region and Moravia is the eastern part of the country whose main city is Brno.
We flew directly from London to Brno with the low cost airline, Ryanair.
These cheap flight companies are well known for their reasonable fares, but another strength is that they fly directly to the small airports which are away from the capital cities.
The Brno airport was small, too and we had to call a taxi to come and pick us up.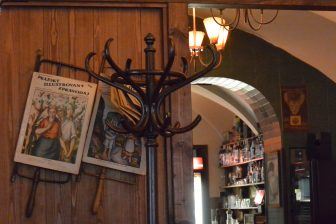 After checking in the room at the hotel, although it was a bit early for dinner, we look for a good Moravian restaurant on the internet because we were quite hungry.
Unlike many of western European countries, most of the restaurants in Czech Republic are open through the afternoon, which is good for tourists.
We found one near our hotel called Spalicek which had a good reputation on the internet site, so decided to go there.
This name, Spalicek has got a little 'v' on top of 'S' and 'c' actually.
The Czech language seems very complicated, though when they pronounce sentences, some words are not too different from Russian as it is a Slavic language, too.
The interior of this restaurant was lovey.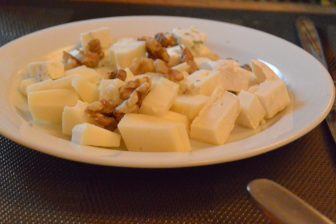 The customers when we got there seemed all tourists, though.
We had an assorted cheese (surprisingly they were cut into small pieces) and cold meat (pork with mustard and horseradish, which was yummy) for the starter.
I chose goose dish for the main.
It was tender and the sweet onion sauce was delicious.
My husband had a rabbit dish with cabbage sauce.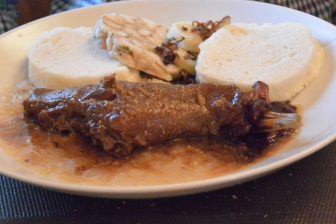 They had three kinds of rabbit dishes in their menu.
All the main dishes had the white dumplings with the meat, which reminded me of Chinese meat bun.
This dumpling seemed the typical food in Czech cuisine.
For the drink, we had a bottle of local wine.
Czech Republic is famous for their beer, but in Moravia, they produce wine.
In the menu, only the varieties of vine was listed without any brands.
The Merlot we chose was good.
With desserts, altogether the bill was 1192 Koruna (about €45, £42 or $54).
The cost of living seemed quite cheap here.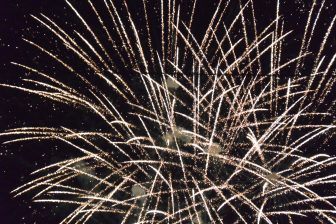 After the meal, we just walked around the town aimlessly.
It was getting dark and there were many couples around the cathedral.
This must be their dating spot.
After a while, we realised that many of them were looking at one direction.
We found on the internet that they were having fireworks starting at 10:30 pm, so we decided to wait for that.
We enjoyed it, sitting among the local people on the fence facing a big road which we were not sure if we were allowed to sit on.