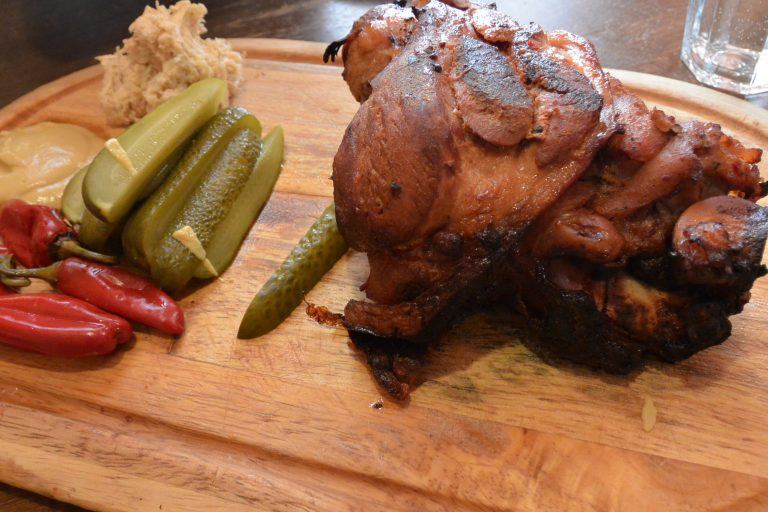 [ May 2017 ] We ate this big lump of meat in Brno in Czech Republic.
This is a dish of Knuckle of Pork and I had thought it was German, but apparently they eat it in Czech, too.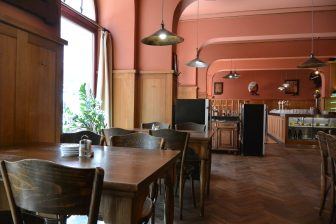 The name of the restaurant was Zelena Kocka (an accent mark on 'a' and a little v on 'c') and the meaning of that is "Green Cat".
When we asked the guide of the walking tour to recommend some good restaurants of the local foods, he introduced this one.
The inside was spacious with the feeling of a beer hall and the waiter was very nice.
At first, I chose something else and my husband chose the Knuckle, then he said "That is too much", shaking his head.
Surely, this was enough for two.
It was very tasty with the chopped horseradish and the mild mustard.
I am sure this goes very well with a glass of beer, though we had white wine because we were still looking for a good local wine.
The bill was 600 Koruna for two (about £21, €23, or $27), which was very reasonable.
I had a look at their website and found a ghost story.
A woman in white called Toman appears after closing time and she is always grumbling apparently.
After satisfying our stomachs, we went to see the ossuary of St. James Church which was introduced during the walking tour.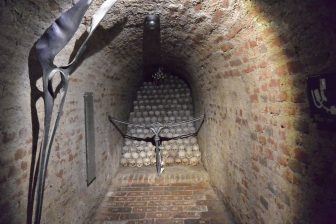 This is said that the second largest ossuary in Europe after the one in Paris.
Walking through the dim passageway, first we saw the area only made up with skulls.
Then there was a spacious area whose walls and pillars were made of only skulls and bones.
The basic construction of them were similar to the Bone Chapel we saw earlier this year in Portugal.
It was beautifully done — 'beautiful' may not be a suitable expression, but whole area was orderly as if it was some kind of art.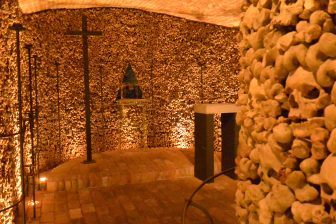 The reason why is because this ossuary was only discovered in 2001 when they were doing the land survey and then they organised to show it to the public.
They think that originally this was built in the 17th century and the number of the people is thought more than 50,000, mainly those who died of plagues in the medieval time and those who died during the Swedish siege during the Thirty Years' War.
The entrance fee was 140 Koruna per person.