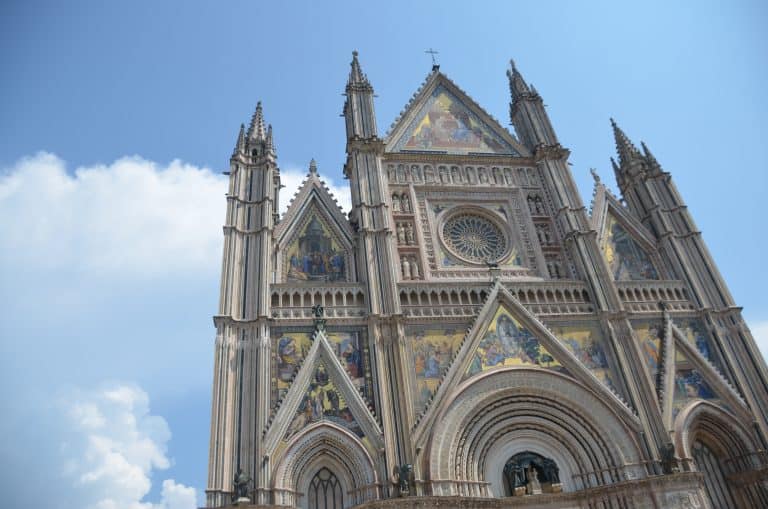 [ Aug.2019 ] Orvieto, the town in Umbria in Italy is famous for its gorgeous cathedral.
On the facade there are golden mosaics which make it really shiny.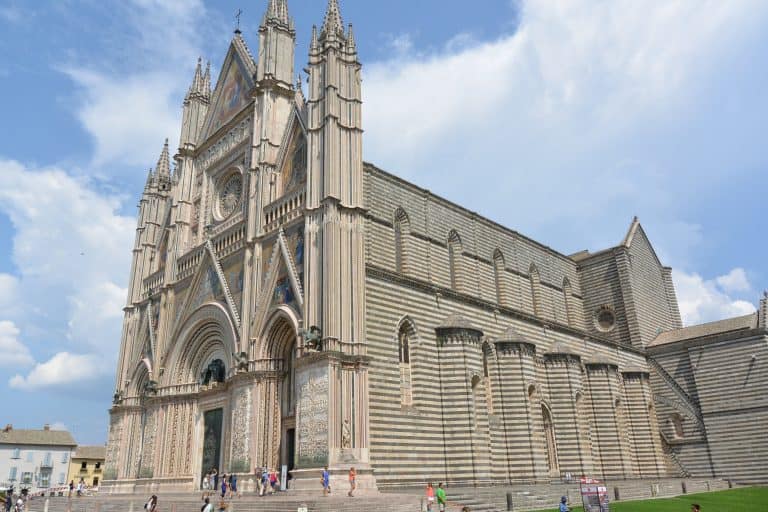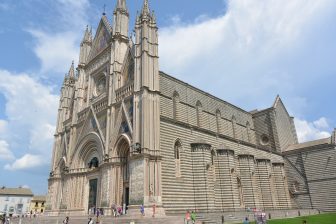 There are so many treasures in Italy, but this facade is apparently one of the best Gothic architectures.
Contrasting to that, the side of the building is simple black and white stripe.
I like that, too, as it has its own power.
On the facade, there are fine sculptures, too.
We went into the cathedral paying €4 each.
It is a huge space inside.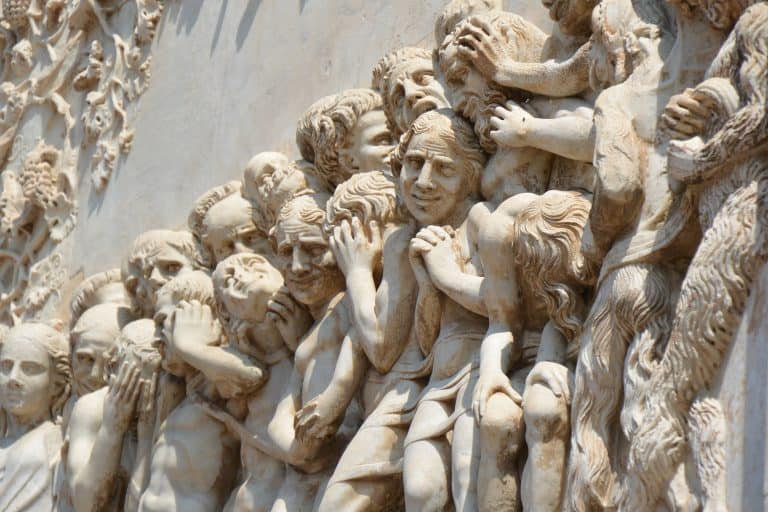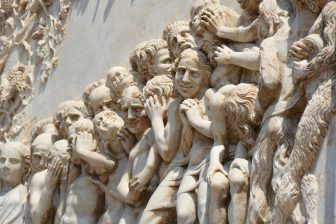 When we approached to the main altar, we saw many amazing frescoes, but at the back, there was hardly anything.
But when we saw the walls closely, there were some frescoes left there at the back, too, so in the past, it could have been full of frescoes all over the church.
There is a reason why this cathedral was built.
I could not understand the story well from our guidebook, so I summarize the one from the website of the Italian National Tourism Agency: "In summer of 1263, a bishop from Bohemia called Pietro da Praga was going on a pilgrimage to the grave of St Peter in Rome.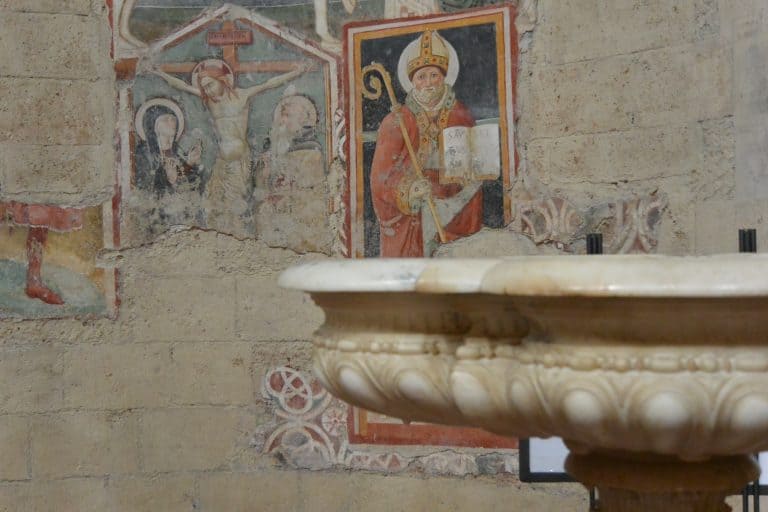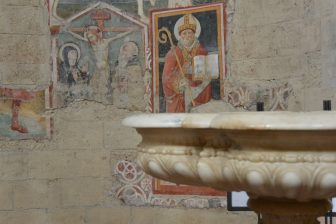 Although he was a bishop, he had a doubt about Holy Communion, the important rite in the Mass.
When he held this rite at Santa Cristina Church in Bolsena, a town on the lake with the same name, suddenly a lot of blood came out of the corporal for the Communion which was covering the bread and grapes.
Pietro da Praga reported this incident to then Pope, Urban IV, who happened to be in Orvieto which is not far from Bolsena at that time.
So the Pope ordered to build this cathedral to enshrine this corporal."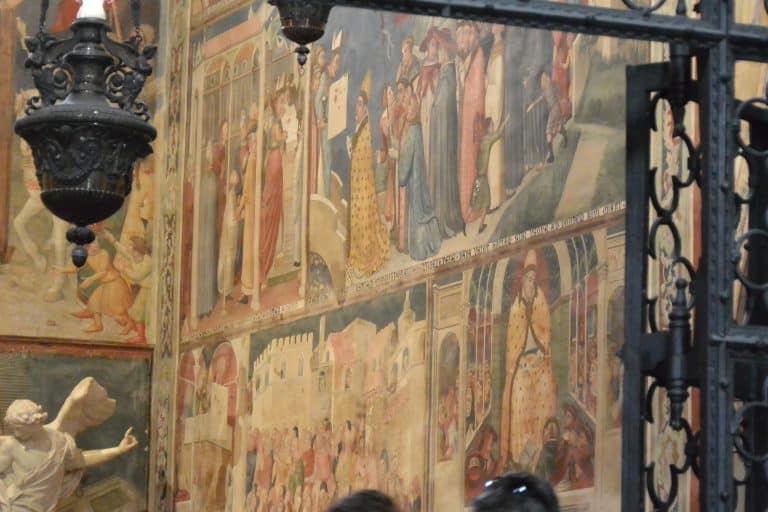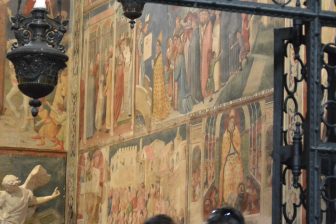 This incident is called Miracle of Bolsena.
They started building this cathedral at the end of the 13th century.
The one we were seeing now was the result of hundreds of years of renovations and additions and apparently more than 300 architects, sculptors and painters were involved to create this cathedral which is said one of the most beautiful cathedrals in Italy.
The important corporal is enshrined in the chapel on the left hand side of the main altar called Cappella del Corporale.
To get there, you have to go out of the cathedral to the different entrance, so we just looked at it through the fence from inside the cathedral.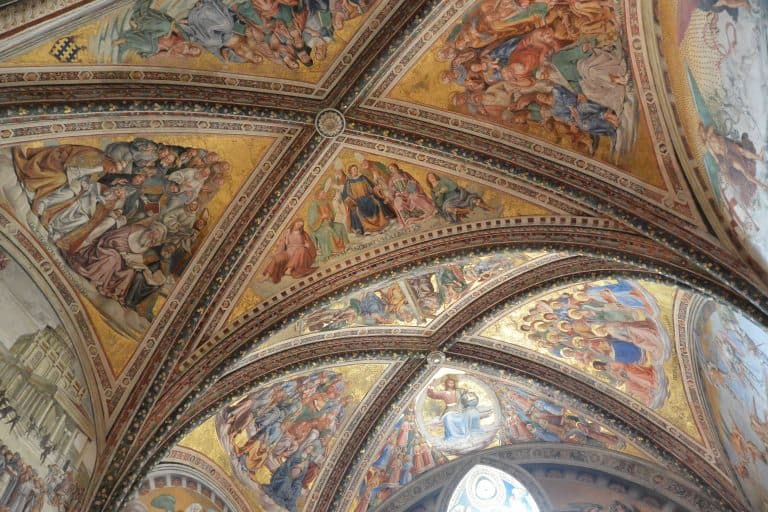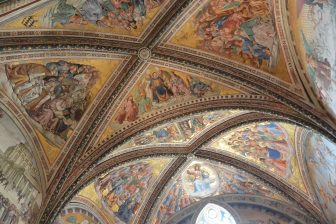 Another important chapel is on the right hand side of the altar, which is called Cappella San Brizio.
The frescoes by Luca Signorelli are wonderful here.
According to our guidebook, these frescoes inspired Michelangelo to create some parts of Sistine Chapel in Vatican.
My husband said just the other day "Because of this religion, the art have been able to develop" and that is true.
To decorate churches, painters and sculptors were born as the professions, weren't they.