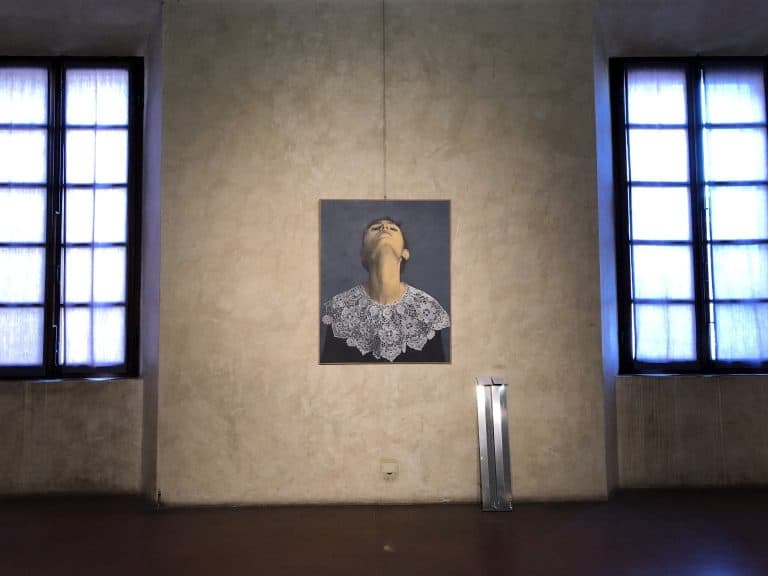 [ Nov.2018 ] In the small World Heritage town in Italy, Sabbioneta, we visited Palazzo Ducale next, which is in the Piazza Ducale.
This was the house of Vespasiano Gonzaga, who built this town.
It was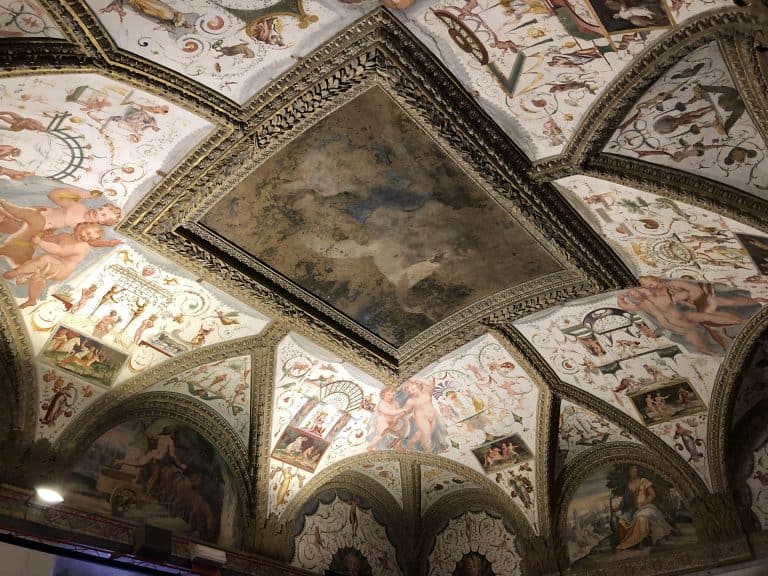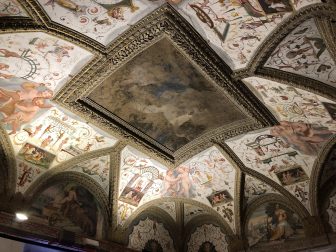 built between 1560 and 1561 and there are four levels.
Apparently, he lived on the mezzanine floor.
In the past there used to be many marble and bronze statues, but not anymore.
The gorgeous ceilings were still there, but no furniture was left.
Instead, the space was used as a gallery.
On the day we were there, there was an exhibition called "Rinasciment Donna – Tra Carne e Spirito" by the painter, Paolo Medici.
As the title says, only women were painted.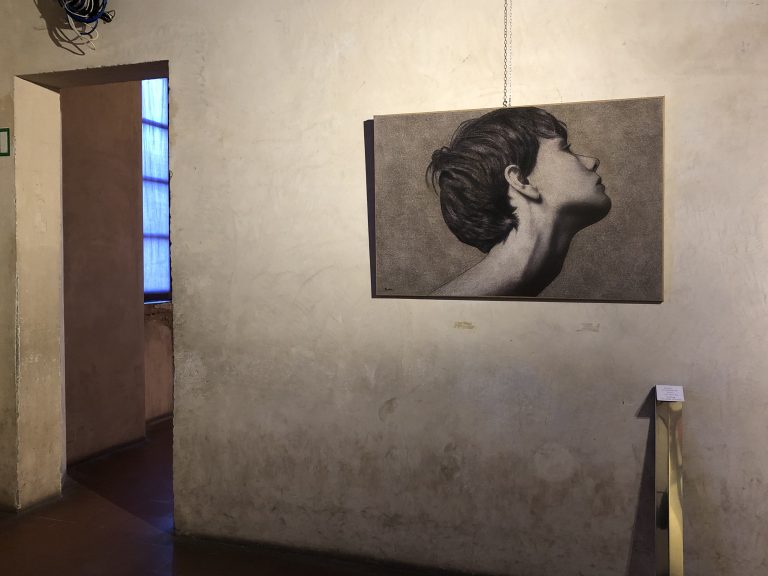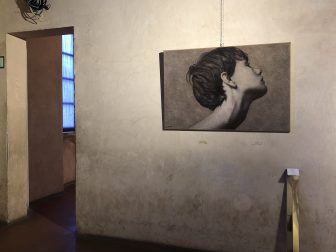 He seemed to have a unique style of painting and the pictures  matched the atmosphere of the palace.
I looked him up and found that he was born in Rome in 1955.
He learned to paint from an Italian Jewish painter, called Corrado Cagli, until Cagli died in 1976.
Medici has been living in Bologna since 1990.
One of the pictures was so attractive that I wanted to buy it.
I should remember his name.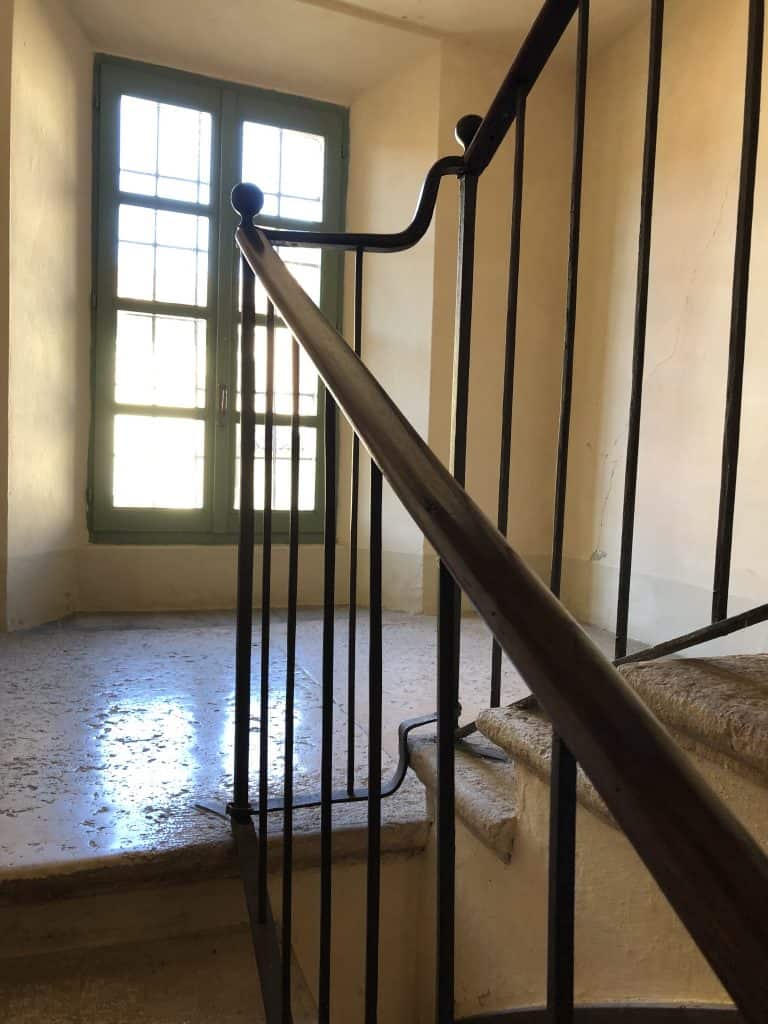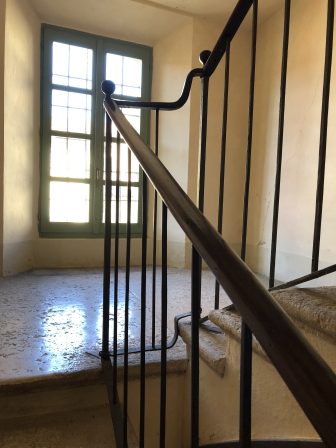 After leaving the palace, we went to the synagogue, which also faces the Piazza Ducale.
This is much newer, built in 1824.
At the entrance, there was a box of small, black, triangle hats and my husband had to wear one.
This hat is called Kippa, apparently.
I remember that he had to wear one in the synagogue in Prague in Czech Republic, too.
The main chapel was upstairs.
It was beautiful but we were not allowed to take photos.
Outside of the chapel, there was an exhibition introducing the history of the synagogue.
One panel said that there was a Jewish community here who had been expelled from Spain, Portugal and Germany at around the 15th century and started living here.
We learned in Lincoln, in England, about Jewish people who had been expelled from cities in England just a few days before, although the timing was different.
It seems that there is a deep-rooted discrimination against Jewish people.
In Sabbioneta, all the tourist attractions were closed at 1pm for a while.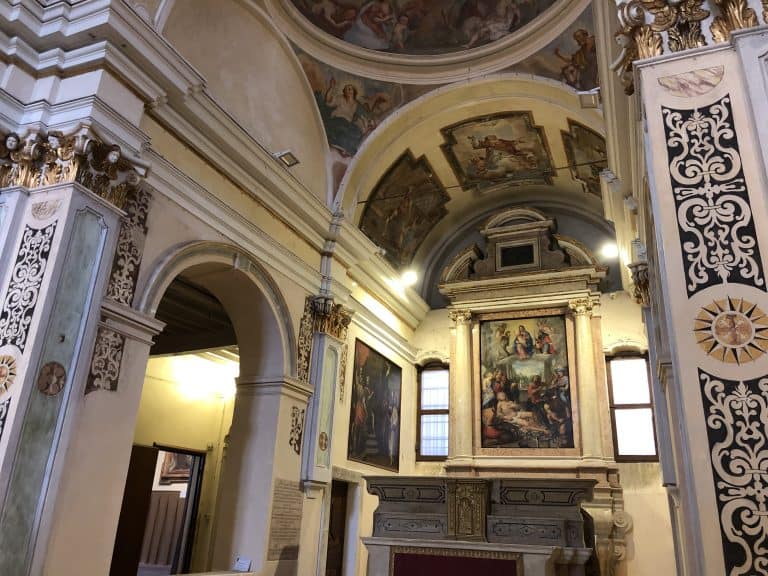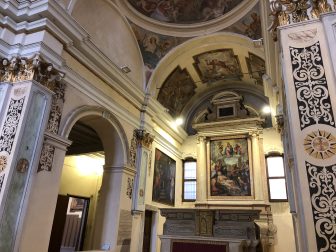 The last place we saw before that was the 18th century church, Chiesa di San Rocco, which is just next to the synagogue.
We had a ticket that allowed us to enter four places, but this church was not included.
They had another ticket for three different attractions so we bought it for €7.
This church was used as the exhibition space and on the day there were many old religious paintings.