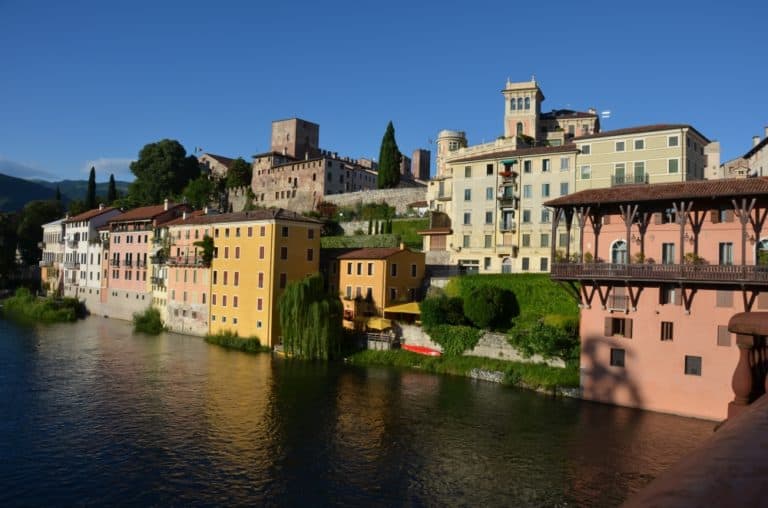 [ Jun.2016 ] The lady in the hotel where we stayed in the suburbs of Bassano del Grappa in Veneto, north Italy told us by pointing at the map: "Follow this road and enter the town from here. Walk this way and you will reach the river. Then you will see the marvelous view". We followed her advice and found this breathtaking view. As soon as we entered the town, we realised that this was a lovely place, more so than we expected, but the real gem was the view along the river. We were lucky with the weather and timing. The sun was lighting up the town very nicely.
We saw this view from the covered wooden bridge called Ponte Vecchio. The original of the bridge was designed in 1569, but it was destroyed and rebuilt many times. The last time was during WW2 and after that in 1948, the Alpine soldiers privately raised the money and rebuilt it as it used to be. So it is sometimes called Bridge of the Alpini.
The name of the town used to be Bassano Veneto. During WW1, thousands of soldiers were killed by the nearby mountain, Mt. Grappa, and to pay the respect to those soldiers, the name was changed to Bassano del Grappa in 1928. So Grappa was the name of the mountain, not the liquor.  By the way the founder of Diesel, the fashion brand was born here.