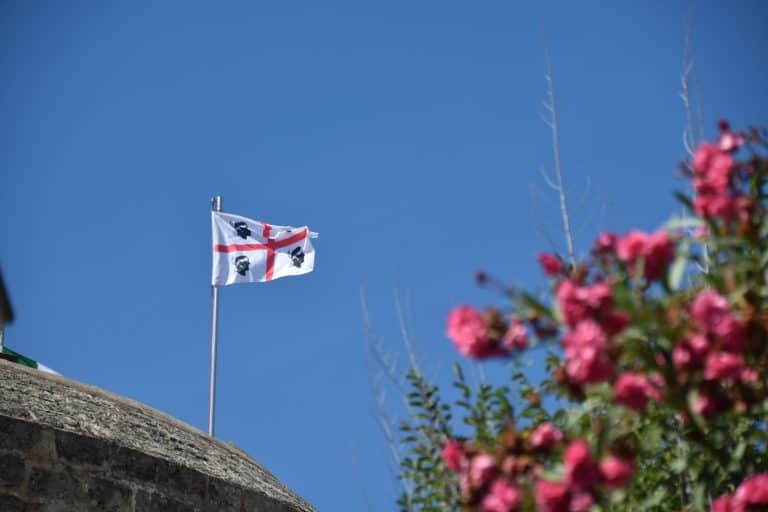 [ Aug.2020 ] The flight from Rome to Alghero in Sardinia was quite packed, but Alitalia had a rule to make the middle seats free, so we did not have to be too close to strangers.
We arrived in Alghero safely, where the bright sunlight was pouring upon us.
At the airport we waited for our luggage to come round, but the belt conveyor stopped before ours came out and most of the people had already gone.
"I am not surprised as it took over night" I said.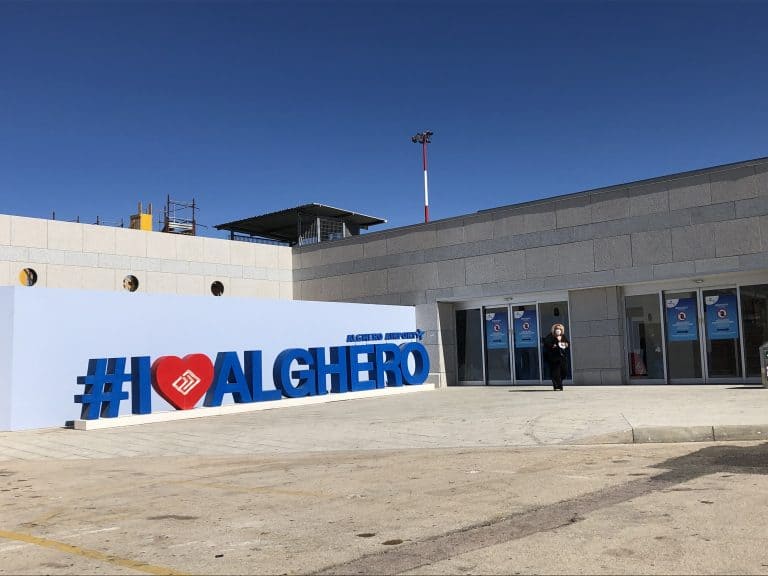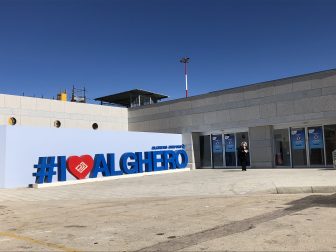 We flew from London to Rome the day before, spent one night there and moved on to Alghero in the morning, so as our luggage separately.
There could have been an error somewhere.
My husband went to ask some airport workers, but a customs officer standing around there told us "It has not finished. We are waiting for some luggage from outside of Schengen Agreement, too".
As he said, the belt conveyor restarted and ours came out.
Because the UK is outside of Schengen, we thought they wanted to check our luggage, too, so we looked at him, but he only said "From the UK? That's OK".
They were checking another luggage, though we did not know where it was from.
From the airport we took the 11 am bus to the centre of the town (€1.30).
To protect the bus driver from Corona Virus, the front door was closed and there was a bar so that nobody could stand next to him.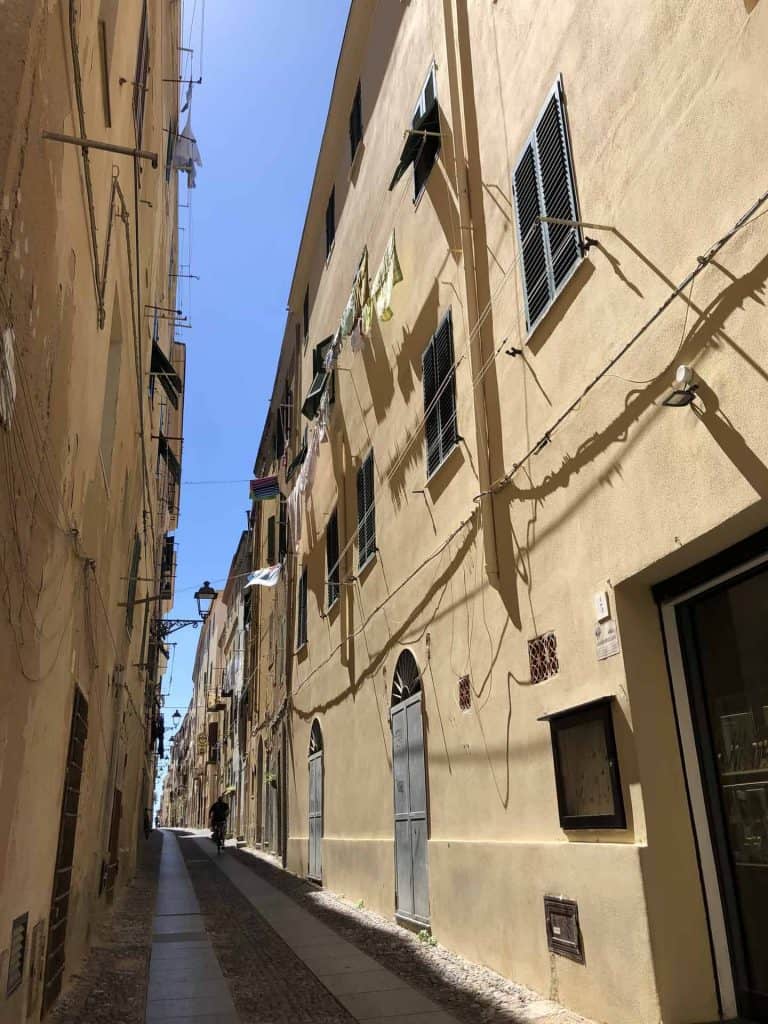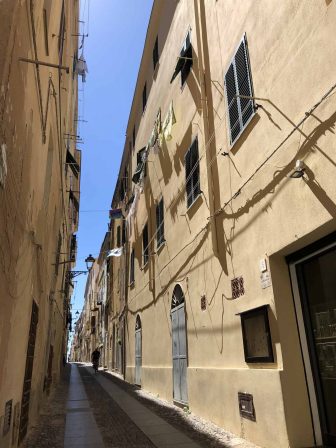 For this travel, we had booked Airbnb for the first time.
The time for us to be able to get in the house was 4 pm, but we had informed the owner that we were arriving early and we had arranged that she would let us know as soon as the room was ready.
But of course it was too early.
So we went to the centre anyway.
Because we came to Alghero only two years ago, we were familiar with the central area and did not hesitate which way to walk after getting off the bus.
We went to the tourist information office to ask where we could leave our big luggage.
They were limiting the number of people inside, so we had to wait for a long time outside under the hot sun.
But once we were in, we got all the information we needed efficiently and we could leave our luggage without any problems.
By the way, the place which kept our luggage was not the tourist office but an estate agent.
Becoming more agile, we walked around the old town, feeling nostalgic.
Most of the people walking around were not wearing face masks, but many of them had one on their arms.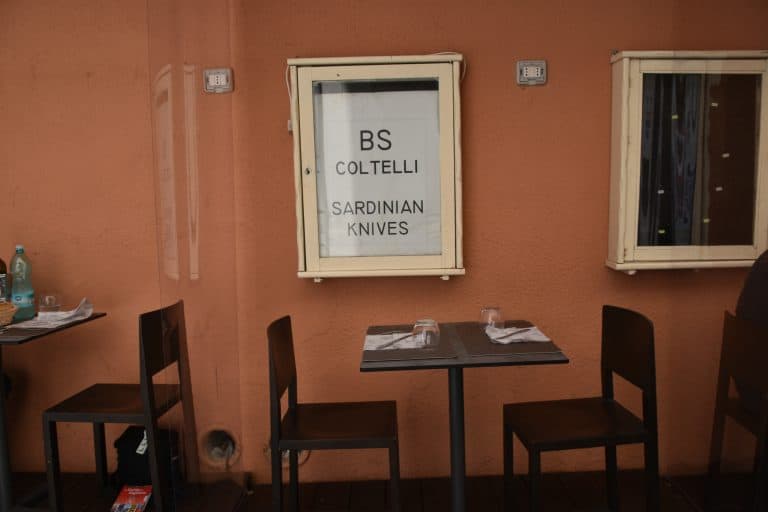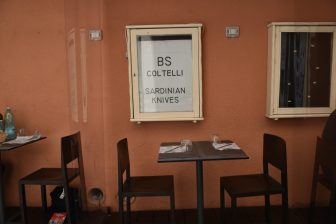 Is it to show that they have one, or not to forget to use one whenever necessary?
Now the lunchtime was approaching and we looked for our favourite restaurant we went two years ago called Torattoria da Mirko.
We remembered it was a very small place, but now they had a separate space on the road, where there were extra three tables for two.
For the Corona measures, in between tables there were thick plastic sheets as the partitions.
Instead of the waiter we had talked with last time, there was a waitress who looked sulky, which was a bit disappointing, but the foods were as excellent as before.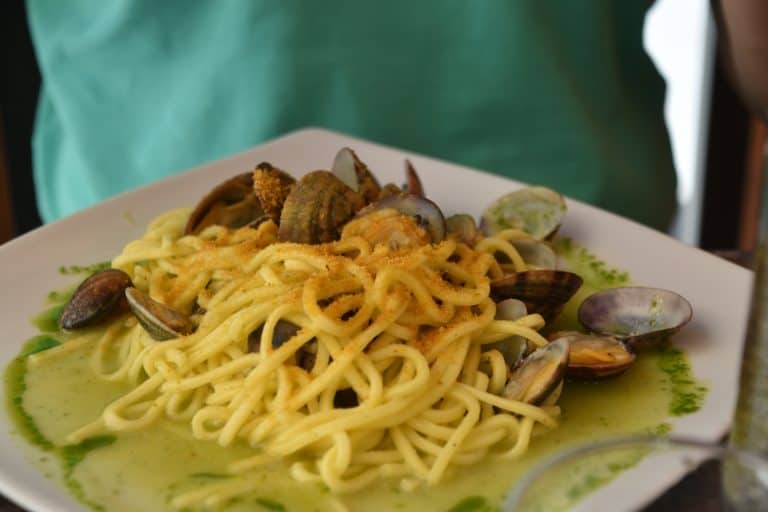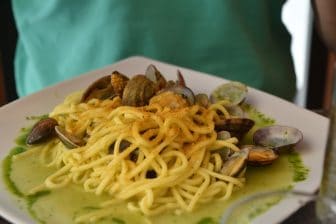 My husband had Spaghetti Vongole e Bottarga.
The pasta was thick, made by hand.
I thought I had ordered grilled squid and octopus, but what she served had only octopus, but with delicious sauce.
It was clear that she had made mistake, but because it was so good that I did not complain.
Later looking at the bill, I found that this dish was called Polpo in Agliata Algherese (octopus in Alghero's garlic sauce).
Spending time here, we realised that this waitress was not sulky, but only shy, so our impression improved.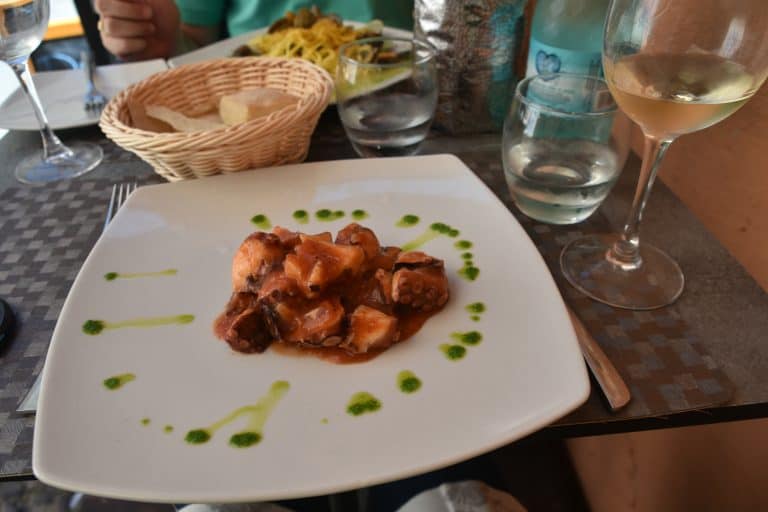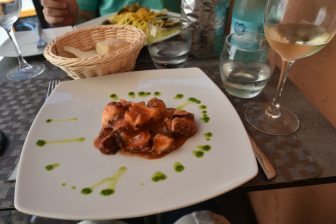 As for dessert, I had a local baked cake with milk cream and my husband had Affogato.
Including a bottle of white wine and coffee, the bill was € 62.50, very reasonable.
After spending months at home in London, this was the first authentic Italian and it was very good, which made us very happy.