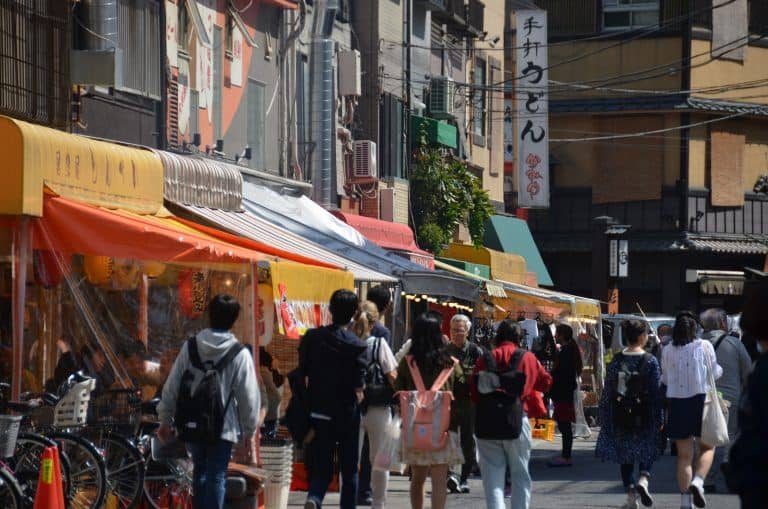 [ Apr.2017 ] We had a walk in Asakusa in Tokyo with our friends in London because they happened to be in Japan at the same time as us.
The wife of the couple was born in Asakusa and knows this place very well.
Of course we have been to Asakusa many times and even had a ride on the Rickshaw and in the past when I used to live in Tokyo, Asakusa was within my radius, but I felt as if it was a new place when we walked there with her.
First, she instructed us where to meet.
It was not at the well-known Kaminari-mon Gate, but "next to the Gate, there is a Okoshi (Japanese cake made of grain and sweet) shop in which they are always showing how to make it. Let's meet in front of it" .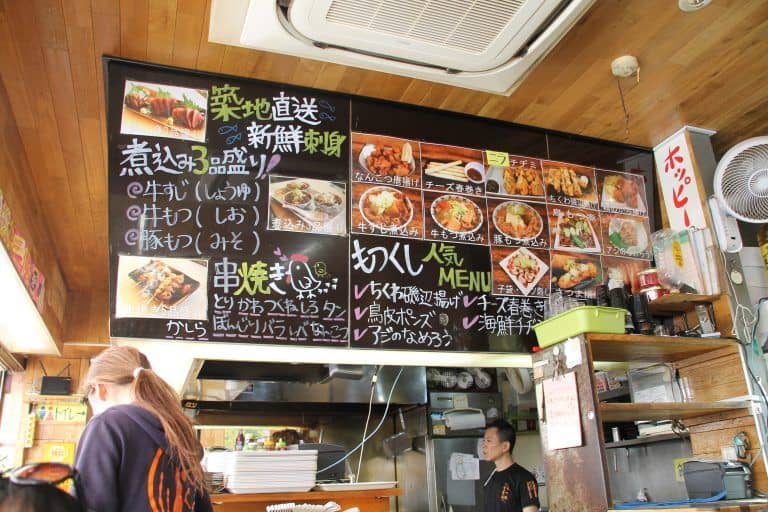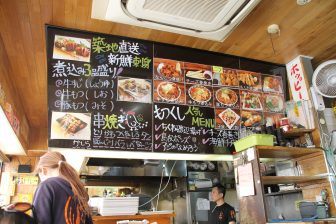 So we met there and first we went to a street with many pubs with rather disorderly atmosphere as it was lunch time.
We went in to one of the pubs and ate simmered beef giblets, fried cake of layered slices of ham and so on which are the common foods in old fashioned Japanese pubs.
And we drank sake.
I would say that the atmosphere of this pub here was not very Japanese, but more like Asian and they were targeting foreign customers who were so many in Asakusa, as well as younger Japanese people.
According to our friend, this street used to be full of shops which were selling Chima Jeogori, the traditional Korean costume.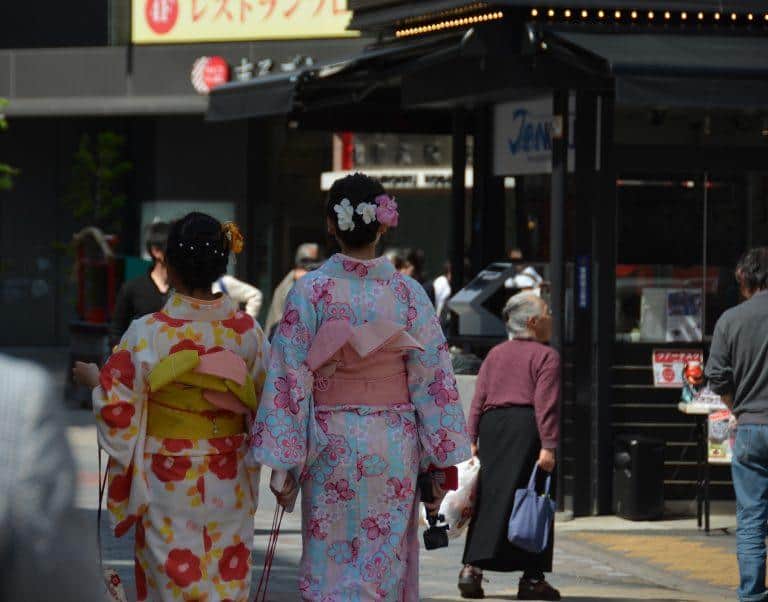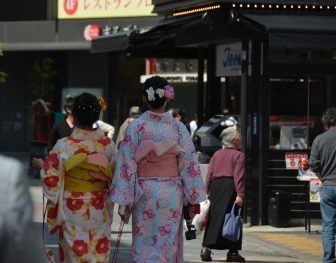 While eating I was looking out at the street and I saw quite a few women walking wearing Japanese kimono.
Nowadays there are many shops which rent kimonos and dress you in them and let you walk around the town.
This kind of service has been popular in Kyoto for a long time, but now every town with some traditional Japanese atmosphere seems to have this service.
To be honest, I would have liked the idea of the four of us (she and her husband and us) wearing flashy kimonos walking around the town, but she declared "they are just so sleazy!".
She herself has some quality kimonos such as the one woven in Oshima Tsumugi weave and she can wear them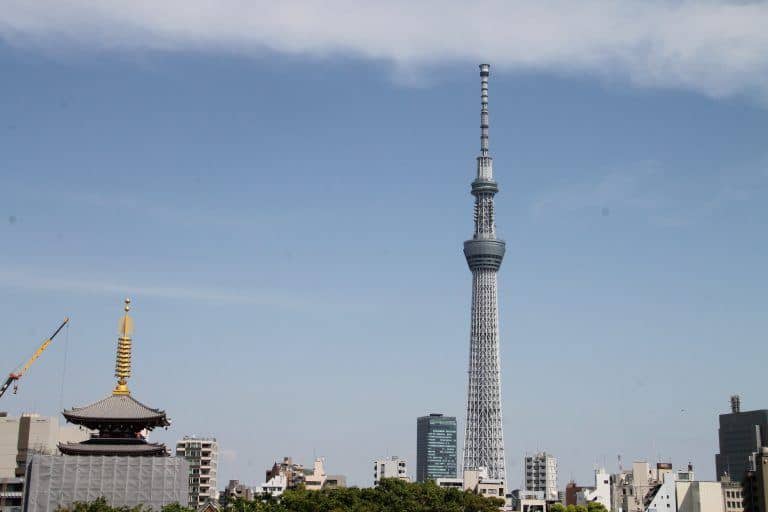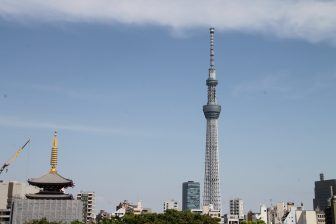 properly by herself, which I cannot even imagine doing myself.
After lunch, we went up to the top of the hotel they were staying in and saw the view of Asakusa.
There were two towers, old and new – – the five storey pagoda of Senso-ji temple and Tokyo Sky Tree.
Then, we went to Kappabashi Street which is full of kitchenware shops mainly for restaurants.
There were shops selling dishes, shops for hardware, shops specialised in labels and so on.
The most interesting one was the shop selling food samples which are to be displayed in the show windows in front of restaurants.
There were many mouthwatering foods, such as sushi, Japanese beef and beer.
They are all made of wax, but so realistic that if they were not in transparent bags, I would have stretched my hands and eaten them.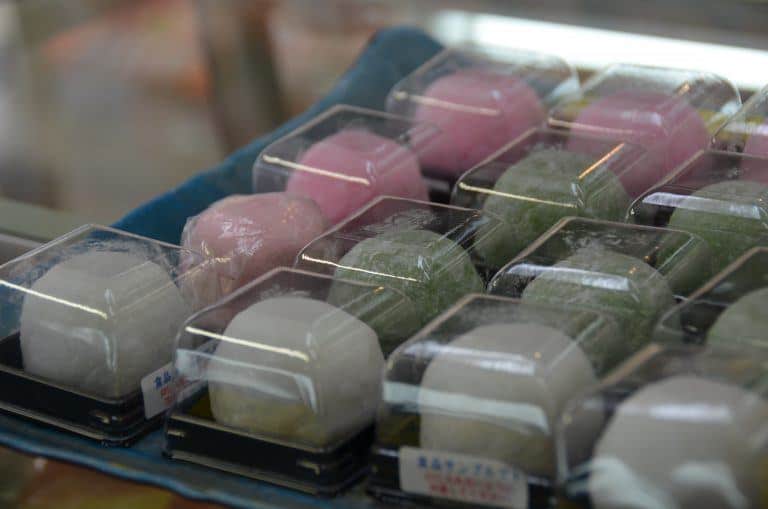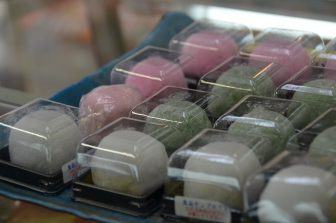 Especially the samples of Daifuku-mochi (rice cake stuffed with sweet bean jam) were surprisingly realistic.
Even my friend said "These must be real, they cannot be samples".
On the sign of this shop, it said "the producer of appetite".
I think they are exactly that.