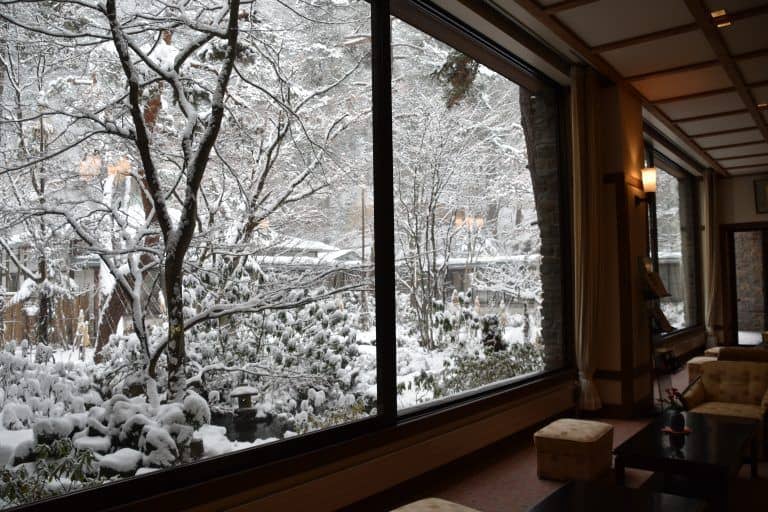 [ Dec.2017 ] We went to Jigokudani in Nagano prefecture in Japan to see Japanese Monkeys.
First, we took the Shinkansen, the bullet train, to Nagano station.
Then we changed to Nagano Electric Railway to get to the last stop called Yudanaka.
Because we had heard it was a really snowy place around here, we prepared by buying snow boots, but when we arrived at Nagano, there were no snow which was disappointing.
But when we were getting nearer to Yudanaka, snow started falling seriously.
It seemed that this was the first time they had the serious snow in this winter and our train stopped just before arriving in Yudanaka.
I did not expect this to happen in Japan, though it is normal in many countries.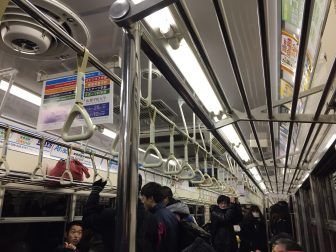 And we did not get any explanation for a long time, so the passengers, many of whom were foreigners started worrying.
I was impressed by what happened next.
A young man who looked like just one of the passengers went and got some information from somewhere and started explaining to us.
He might have been a worker of this railway company who had finished his shift, because how he explained things was quite professional.
Another interesting thing happened was that another young man sitting near us, who was going to be an English teacher in the new year (I heard he him talking about it with his friend) made an effort to translate the information into English on behalf of the foreign tourists.
Well done both!
The reason why the train stopped was that because of the snow, the tires slipped and span, so the train could not go forward.
In the end, this express train went back to the previous stop and we had to change to a slow train which arrived at Yudanaka station finally.
We were 50 minutes late and the driver from our Ryokan (Japanese style hotel) was waiting for us in the cold.
Our Ryokan was called Senjukaku.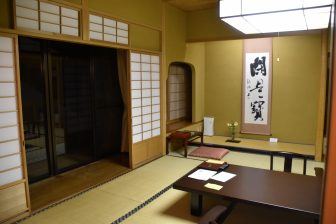 We had booked the room with the hot spring bath anyway but they upgraded it to even better room.
The staff there said "It is a room the emperor's family stayed".
The room was on the corner and very spacious and even the area of entrance hall was large, which reminded me of another Ryokan we stayed a few years ago near Kanazawa.
The hot spring bath in the room was not one in the open air,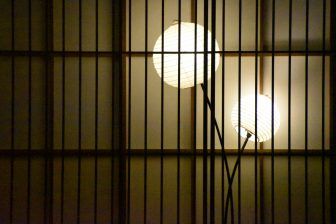 but it was nice to have it because we could have a bath anytime without any preparation (Usually in Japanese Ryokan, there are communal big baths and you have to go there carrying your towels and changes and so on).
Because we still had the jet lag, we got up in the middle of the night and had a bath, which was nice.
For the meal, we had to go to the restaurant (some of the Ryokan serves your meals in your room), but it was a private room, so we could relax.
There were many dishes cooked with apples, because this is an apple producing area.
There was a Shinshu beef dish of the cows which grew up eating apples.
Also, the simple stuff, like the boiled rice and the local pickles, such as Nozawana were very good, too.