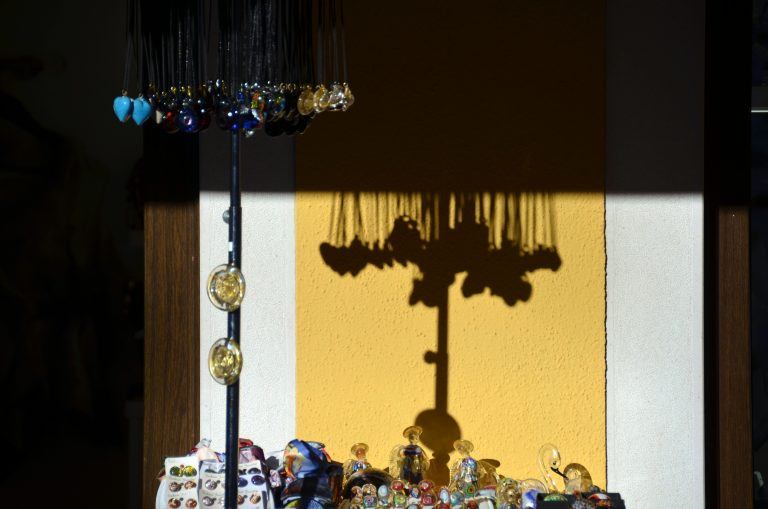 [ Mar.2017 ] One of the purposes of our holiday in Venice this time was island hopping.
So we wanted to go to the island of San Francesco del Deserto where there is a monastery from Burano island, but we could not, because there was no regular public transport to get there, and only ways to get there was either to get the private boat service run by a man called Maximilliano  or to get the expensive water taxi.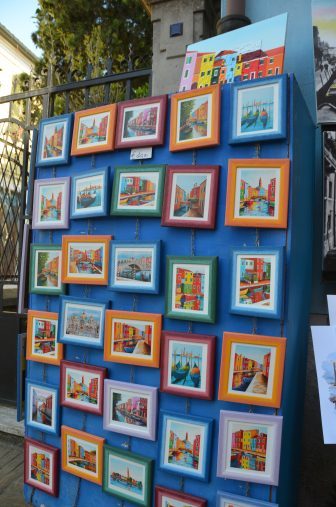 And Maximilliano's boat service had already finished for the day.
Well, you cannot expect everything to go your way.
So we went back to the town of Burano and took more photos.
The first shop which caught my eye was not far from the harbor.
It was a shop selling small paintings of colourful Burano and its name was Studio la Buranella.
There were some small mosaic pictures too, inside this small shop.
They were simple combinations of strong colours, but when we looked at them from a distance, they depicted the town of Burano very effectively.
We liked them, so bought one of them.
According to the business card, two people are running this place, and both of them were Carraro.
Maybe father and son, or brothers.
The man there was one of those artists of few words.
After that, we kept walking and came across an accessories shop whose atmosphere was more sophisticated than the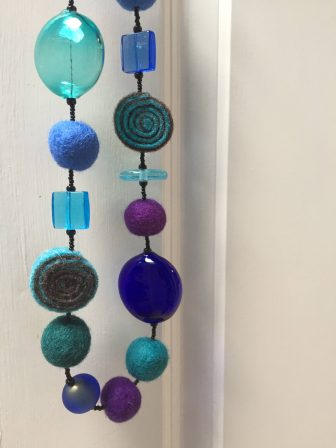 rest.
They were selling necklaces made of handmade beads of glass and felt.
Murano is famous for the glass, but not Burano, so I hesitated a bit, but they were so pretty that I decided to buy one.
They were selling the beads themselves, too, so I bought some for my own handicrafts.
This was the shop of Alice Dei Rossi, who won the young artist award in Veneto region which includes Venice and Burano a few years ago.
She was a very friendly person and we chatted a while.
The topic moved on to the language in Burano.
Apparently, the dialect of Burano is a little different from ordinary Italian and even people in Murano laugh at them.
They pronounce words as if there were double consonants when there is only one and their vowel sounds are very strong.
Their dialect is called Buranello.
When we were there, her daughter came into the shop with a friend.
She said that this friend of her daughter was French, lived in London and had a house in Burano.
"So she speaks Buranello with French and English accent, which is really cute" she laughed.