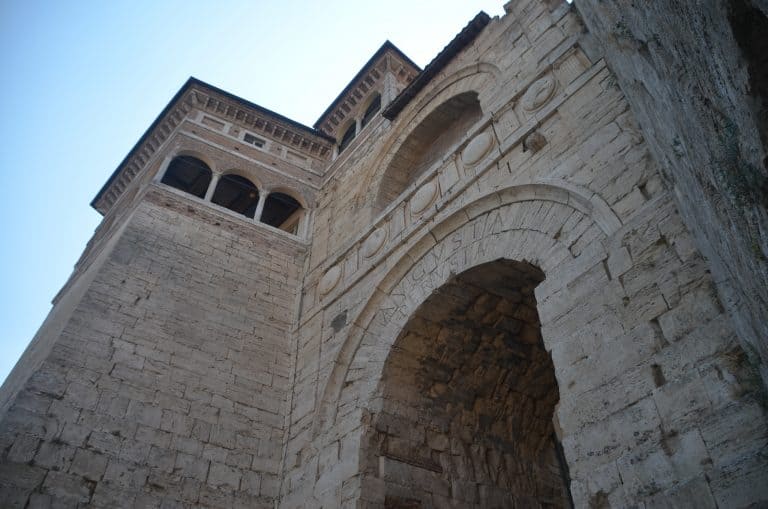 [ Aug.2019 ] We walked from Piazza IV Novembre towards Etruscan Arch in Perugia in Umbria, Italy.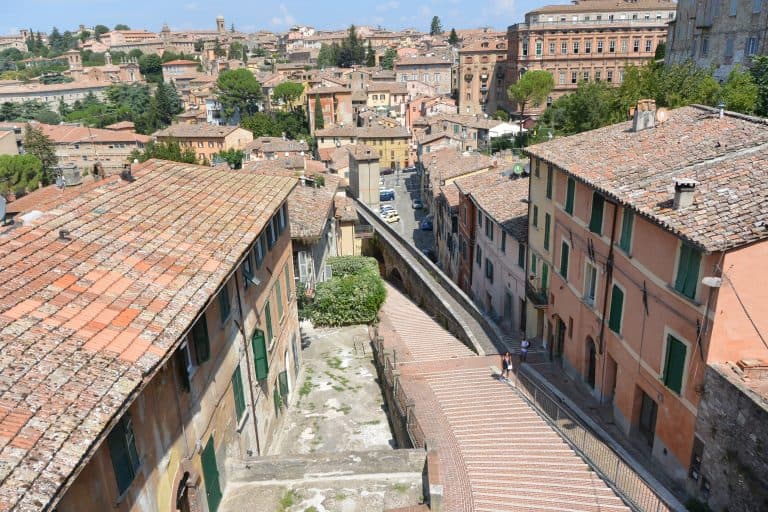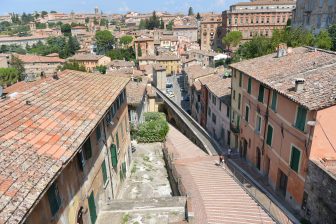 Walking west from the Cathedral of San Lorenzo into Via Battisti, we came out to the point where the view was fantastic.
Many roofs of orange colour were lined up, which was a typical Italian view.
There was a narrow street and staircase going under our street and stretching in between houses, which was unusual.
We kept going and found ourselves in a square where the Etruscan Arch was standing magnificently.
When Perugia was a town of Etruscan people, it was the north gate of the town.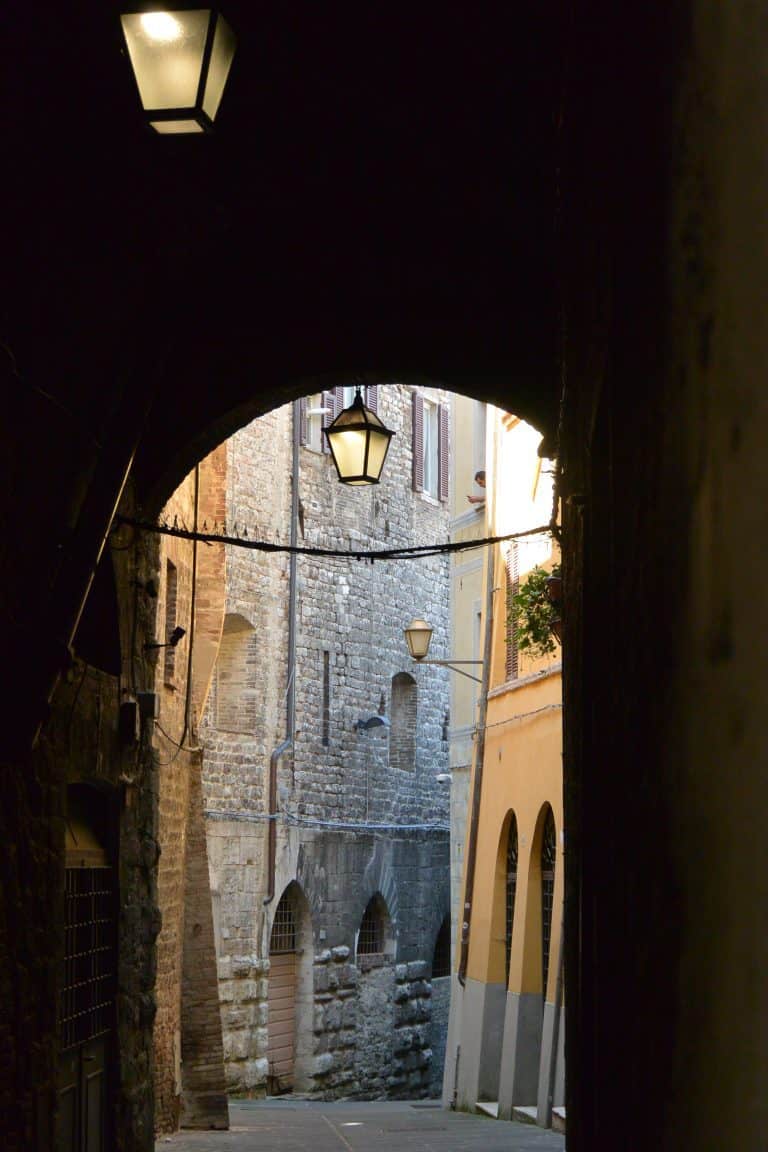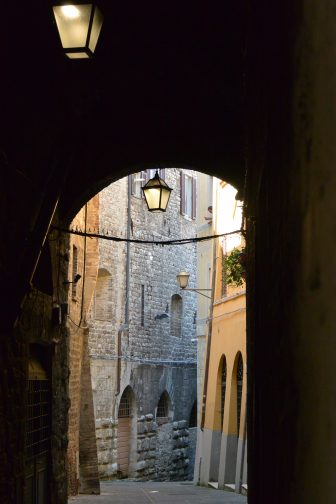 The another name of this Etruscan Arch is Arch of Augustus.
That is because the Roman emperor, Augustus restored it in the 1st century A.D.
The loggia on top of the gate were added in the 16th century.
This square where the Etruscan Arch is standing is called Piazza Fortebraccio.
One of the buildings facing it is Palazzo Gallenga Stuart which houses University of Foreigners which teaches Italian language to foreign students.
Apparently every year, thousands of students come from more than 100 countries to study here.
Perugia has a long cultural tradition and has been a centre for studies since the 14th century and this university was founded in the same century, too.
We went under the Etruscan Arch and went up the narrow slope and came out to the square on the other side of the Cathedral of San Lorenzo, called Piazza Danti.
From there, we headed for the restaurant, La Taverna which we had booked in advance.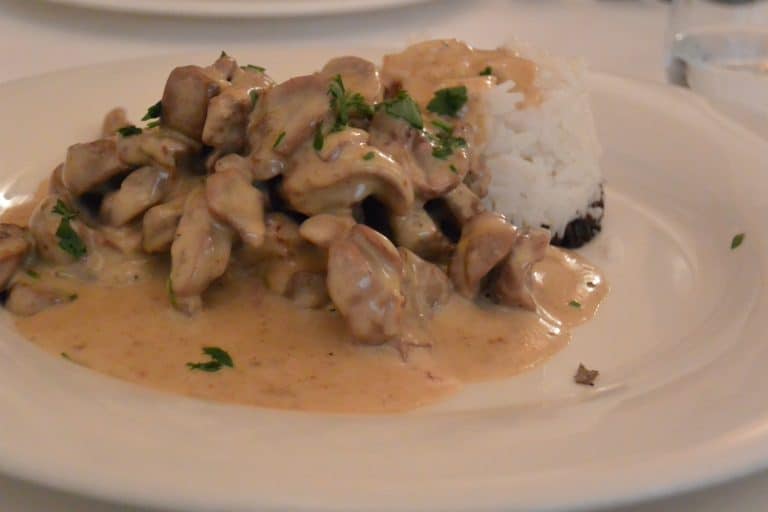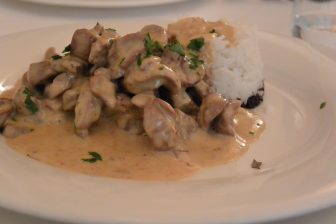 The atmosphere of the restaurant was a little posh.
I had a dish of veal kidney here.
It was cooked in the cream like Stroganoff, which was very good.
My husband had sausages and our friend had medallion steak, both of which were good, too.
Our friend and I shared a chocolate cake for the dessert and my husband had a glass of Vin Santo.
They served us a glass of chocolate liqueur and altogether the bill was €118, which was I thought quite reasonable.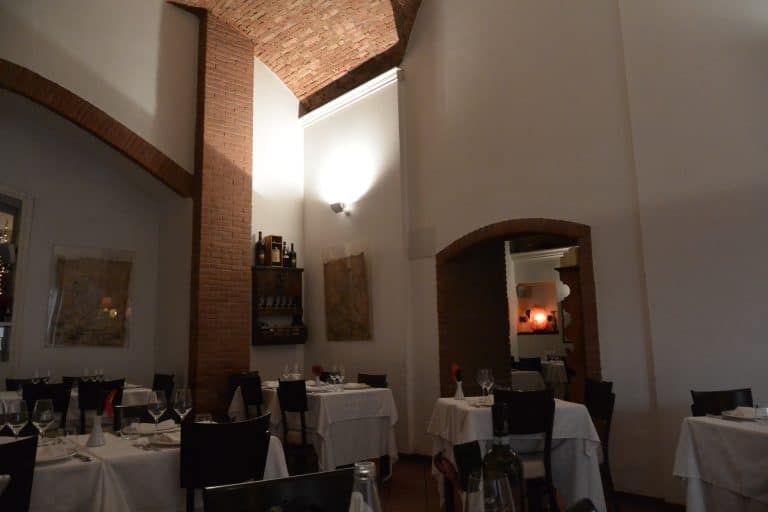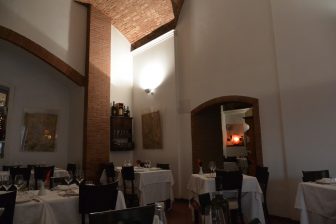 Only regrettable thing was the middle aged waitress.
She had a particular atmosphere wearing interesting jewellery and she was not Italian.
That did not matter, but when my husband asked for a telephone number for taxi after meal, she refused, saying "I am busy", though there were not so many customers.
My husband said "I will wait", then she started looking into it and gave one to him.
You cannot accept this sort of attitude in the hospitality industry, can you.