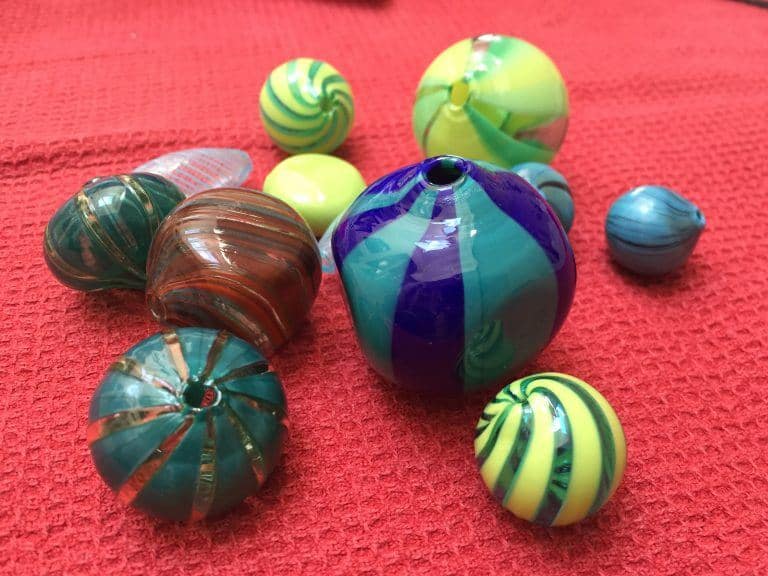 [ Apr.2017 ] Every time we go to Murano in Venice, we end up buying some glass products.
Not only jewelleries, but one time we stretched our budget to buy a colourful vase.
When I was young and could not afford anything, I remember my mother bought a gorgeous box which would suit in a palace rather than our small house.
But this time, what I was most attracted was beads.
We learned a bit about Murano beads at the local Glass Museum.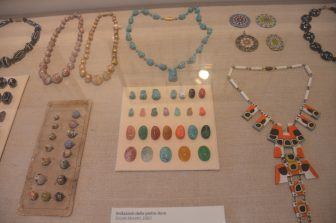 Apparently the craftsmen started making glass beads towards the end of 13th century, inspired by the beads from the East which Marco Polo brought back.
In the 15th century, they started making the glass beads imitating gemstones very well and in the 17th century, the shiny Aventurine glass was invented.
An interesting thing to note is that the gemstone called Aventurine is named that because it looks like Aventurine glass, not the other way round.
When the Murano glass industry was declining in the 19th century, only bead making flourished and even expanded, according to the booklet I bought at the museum.
And there used to be many women threading the small beads seen in the streets or in the squares.
After learning a bit of history, we went to a handmade bead shop called Salvadore which was listed in our guide book.
There were many colourful beads in many shapes and sizes sold in glass jars, which made me thrilled.
The bigger ones cost as much as €15, which were not cheap, so I had to be careful not to take everything I wanted.
They were so beautiful that I enjoyed taking my time to choose them.
Especially, the beads which looked like paper balloons were really lovely, so I bought some to make some necklaces.
This shop is run by Davide Salvadore who was born in the local glass craftsmen's family and grew up in the environment of the glass industry and after learning the skills, he became independent in 1987.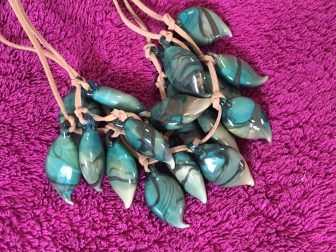 Buying beads are good because I can enjoy making them into necklaces after coming back home.
But beads were not the only things I bought to be honest.
I fell in love with a necklace in the window of a shop called Artigianato Veneziano at the foot of a bridge and bought it impulsively.
This is made up with many small leaf-like beads.
I was told that these beads were difficult to make because each one needs the hole for the leather cord to go through.
The owner of the shop is Norina D'Este and she was the designer of this necklace.
She said that she does not make the glass beads herself but order them from a factory to have them made exactly how she wants.