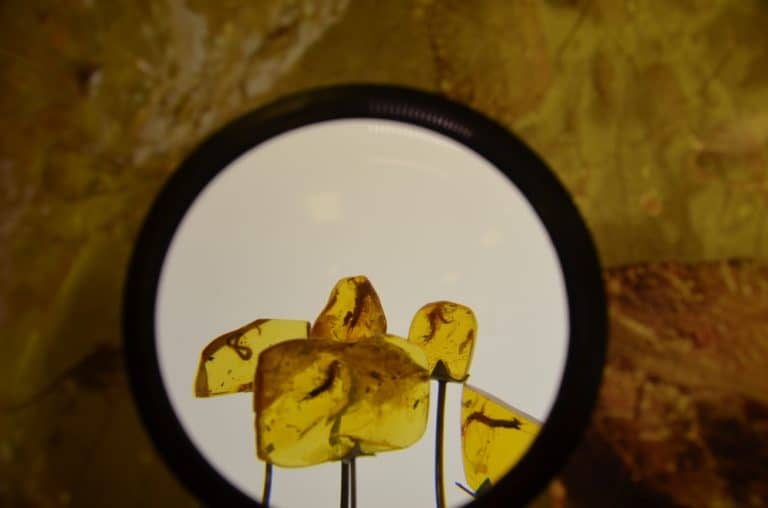 [ Sept.2014 ] There is an Amber Museum in Palanga in Lithuania.
Palanga was the centre of amber processing for a long time.
There are more than 20000 pieces of amber in the museum and the highlight is the ones with ancient insects stuck in the resin and set to have become an amber.
The amber in Baltic Sea are generally 30m-40m years old.
In those days anthoropoid apes were just about appearing or not, but insects in the amber looked more or less the same as now and they were flying in the ancient world.
Amazing.
In Lithuania, pieces of amber are supposed to be the splinters of the castle of Jurate, a sea godess, whose castle was smashed by a thunder god, and small pieces are her tears.
In the first century AD, a Roman writer already mentioned Baltic amber saying "People on the Baltic shore collect amber and sell it abroad".
Not only Roman Empire, but Baltic amber was found in the ruins of ancient Egypt, Turkey and Crete.
In one time, it was used as a medicine, too.
The amber is really rich with cultural interest, isn't it.
By the way, the museum is in a palace built in 1897.
And this palace is in a large beautiful park of 101.3 hectares.
Near the entrance of this park, there is Amber Processing Gallery which is run by local amber guild, but unfortunately it was closed on Sundays and Mondays.
According to my guide book, the shop in the gallery is very good, too.
What a shame!