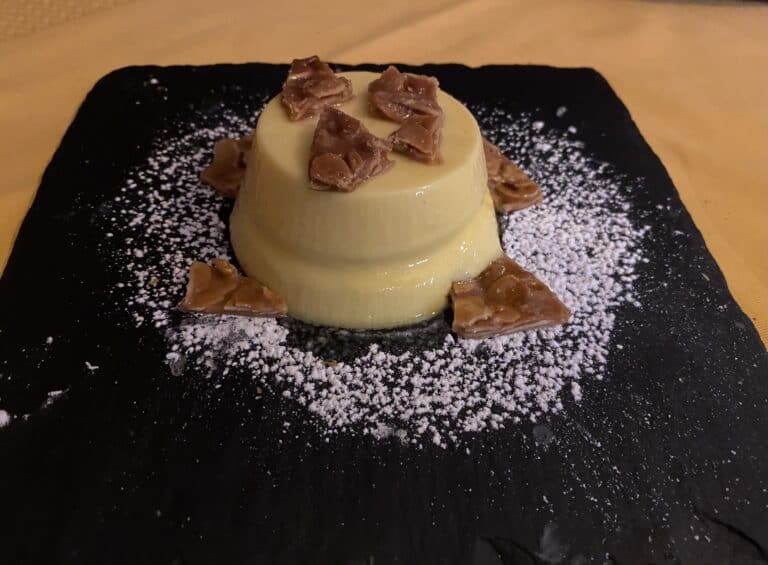 [April 2022] When we were staying in Milan, Italy, we had some spare time on Sunday, so we went on an excursion to Pavia, which is about an hour south of Milan by car.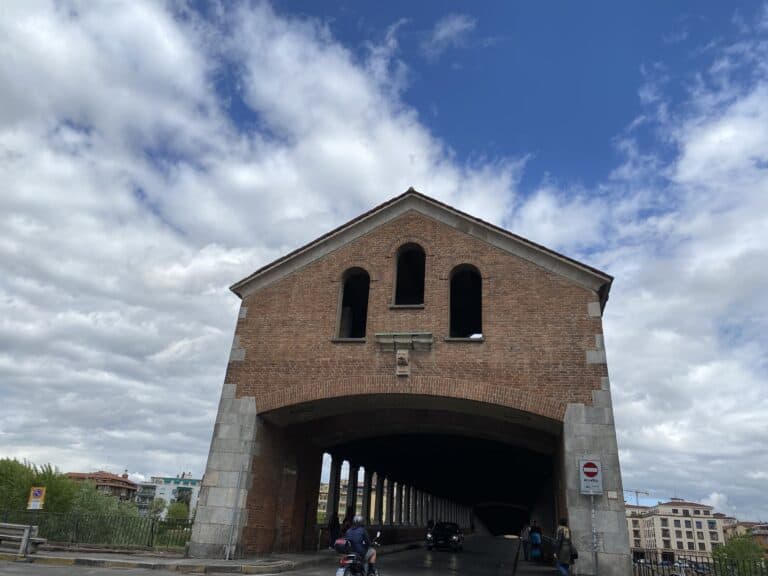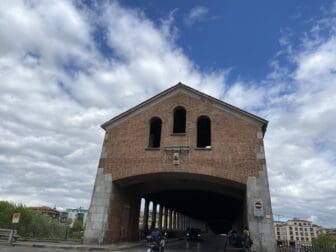 It's our custom that my husband chooses the restaurant first when we decide where to go.
This time, he made a reservation for Antica Trattoria Ferrari by phone.
At that time, he was told, "If you are late, there will be no more tables," so we left a little early.
The restaurant is not in the centre of Pavia, but in the direction of Ponte Coperto (covered bridge), so we parked our car there and took a walk until the reservation time which was 1:30.
This bridge, which I wrote about a long time ago, has a history dating back to 1354, but the current bridge was restored in 1949 after being damaged during World War II.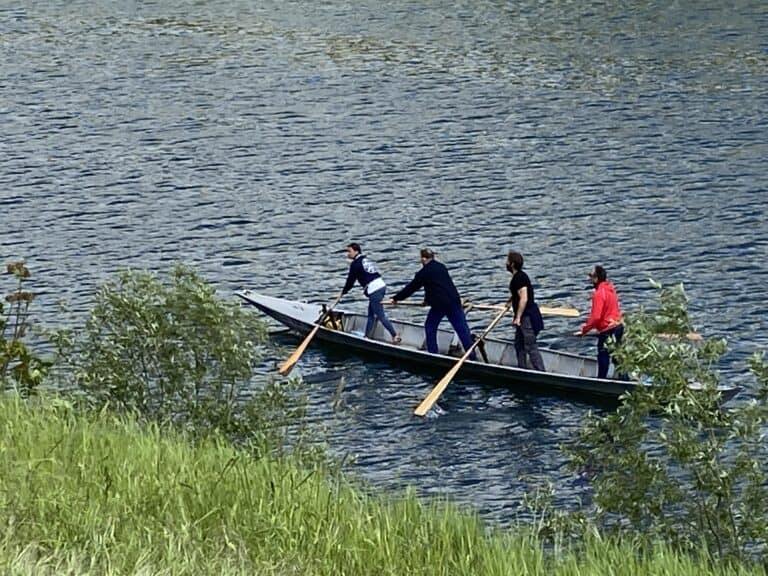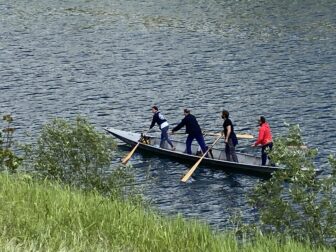 My husband found some interesting graffiti at the foot of the bridge closer to town.
It said "Life goes back and forth. It's like farting while on a swing."
We had a good laugh.
Then, when we were walking along the Ticino River, there was a gathering place for the Standing Rowing Boat Association, and there were people actually doing it.
It was my first time seeing it.
Is this also a kind of sport?
The forecast was for rain that day, but luckily the sun was shining and it was a nice walk.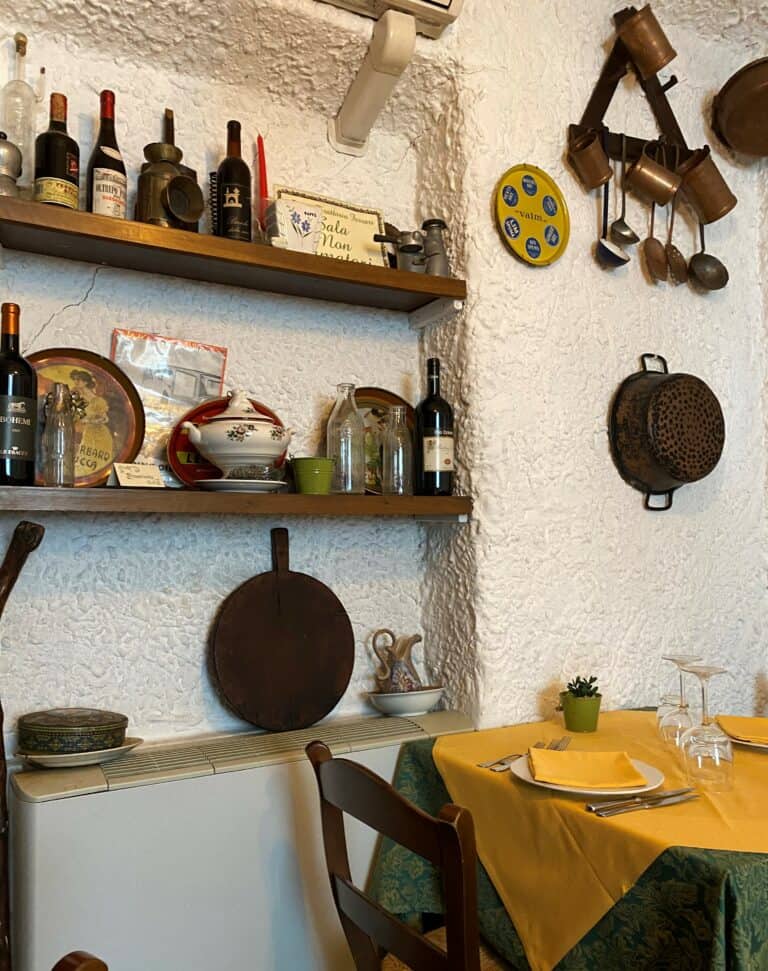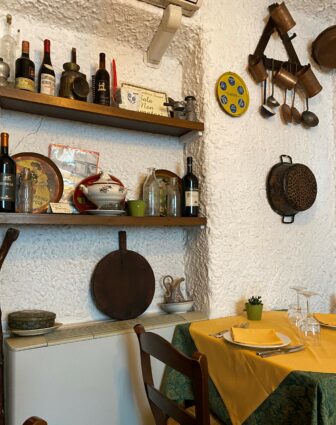 And it's time for Antica Trattoria Ferrari.
This was our third time, but for the first time, we were guided to the back room.
It was cosy and relaxing.
The starter we chose was a platter named Fantasia Antipasti.
Start with cold items such as salami and move on to warm items.
Among the warm items included deep-fried wisteria flowers.
I guess it's seasonal, and I had never had it before.
It was crispy fried and something to enjoy the texture in the mouth, and didn't have a particularly strong taste.
The name of the risotto my husband chose as the main dish was Risotto Asparagi Bottarga Gallo.
We wondered what this Bottarga Gallo was, and when my husband searched for it and found that it was made with boiled eggs, salt, and sugar and making it solid leaving it for 5 days.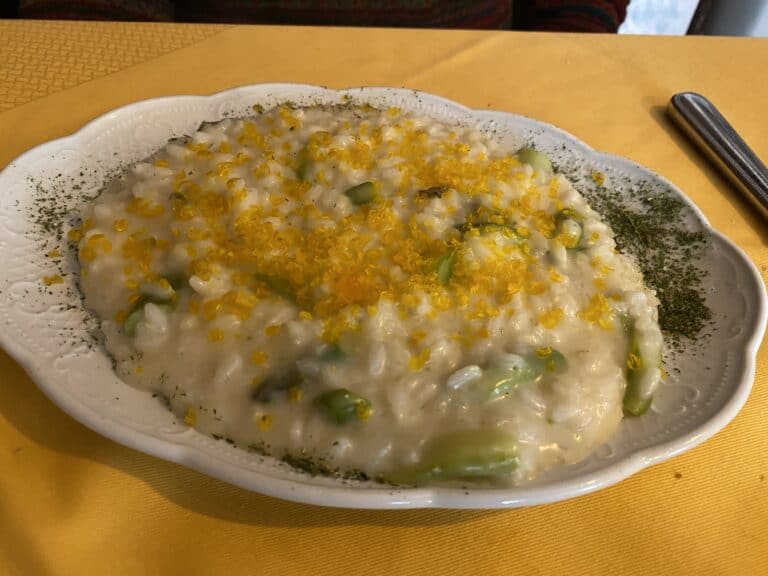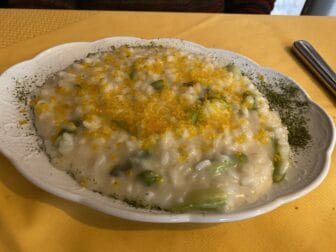 I took a bite and it had a mild and gentle taste.
My main was grilled beef tongue, which had a simple salty taste.
I ate it with green sauce.
There were 3 pieces, and I couldn't eat them all, so I gave one to my husband.
Still, dessert goes to a separate belly.
My husband and I shared the chocolate fondant with pistachios and the Bavarese al Passoto (passito bavarois) with almond crackers.
We both were very much satisfied.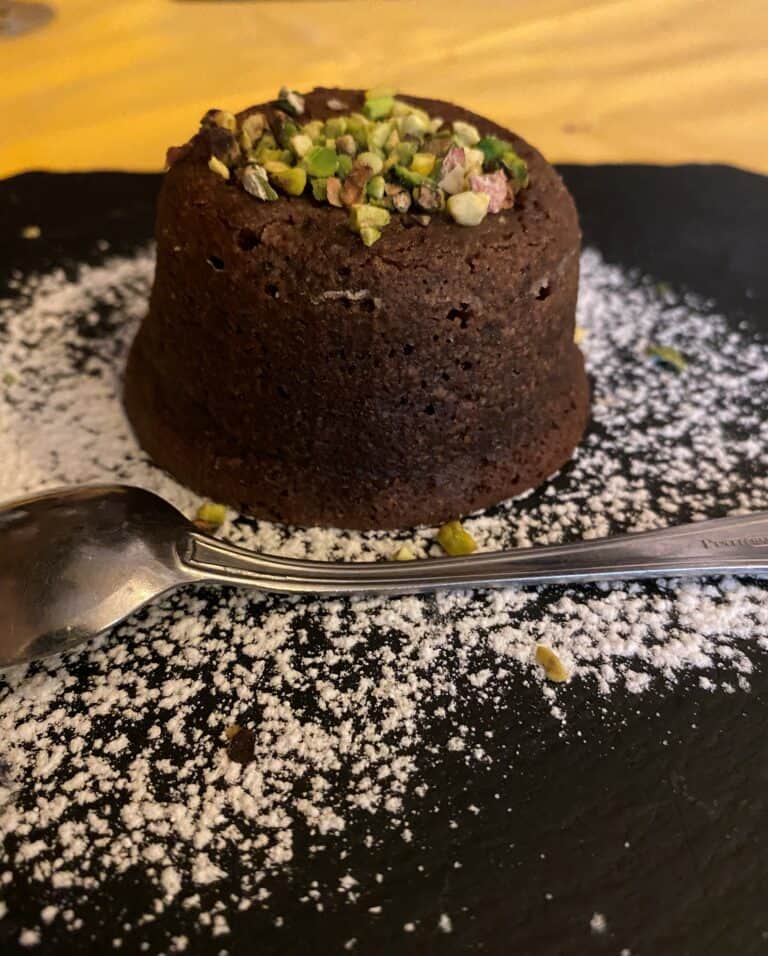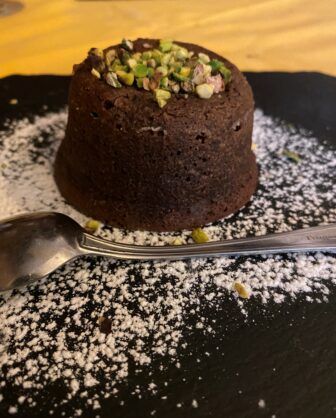 The wine of the day was Barbera, but not from Piedmont, but from the nearby Oltrepo Pavese.
We liked it so much that we said that we should visit this winery someday.
we also drank coffee, and the total was €92, which was very reasonable.