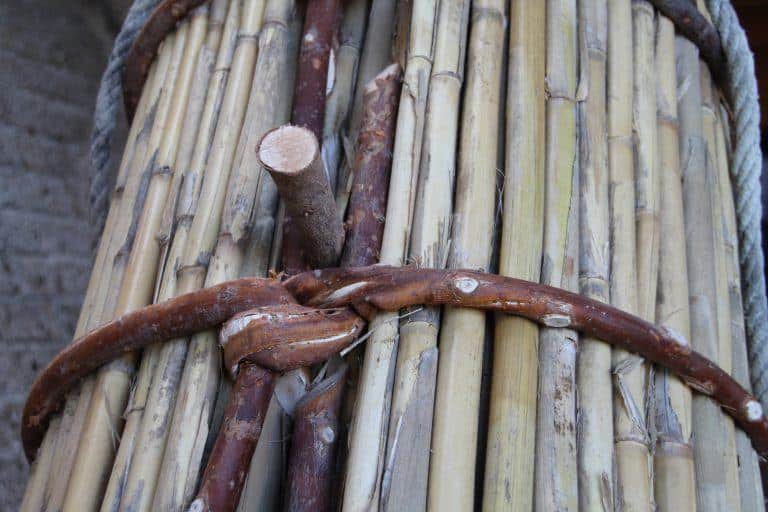 [ Nov.2017 ] On the next day we visited a small village called Fara Filiorum Petri which was about 30 minutes drive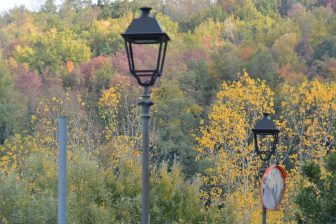 to the south inland from the seaside Pescara where we stayed in Abruzzo in the middle of Italy.
The population of this village is about 2000.
Here we met another friend.
He invited us here because on that day, they were showing the Taimatsu Akashi festival in Sugagawa in Fukushima, Japan to the villagers on the simultaneous broadcasting.
I did not know this festival, but according to the internet, Taimatsu Akashi has a long history of more than 400 years and they burn huge torches whose height is 10 metres and this is one of the three biggest fire festivals in Japan.
Unfortunately when we arrived the fire was already dying down.
So why were they showing this Japanese festival in a small village in Italy?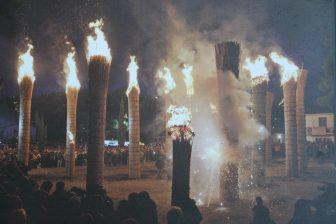 That is because in this village, they have a very similar festival called La Festa delle Farchie held in the mid January, though the Taimatsu Akashi is in November.
A woman who was watching the broadcast and who used to be an English teacher took us around and explained about their festival.
The story begins in 1799.
When the large French army started attacking the people of the town from the bottom of the hill, their saint, Sant'Antonio Abate, appeared as a general and ordered to light torches all over the hill so that it looked as if they have a huge army.
Seeing that, the French ran away apparently.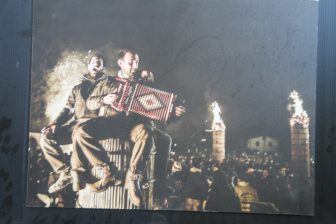 Since then, to remember this episode, they light torches in honour of Sant'Antonio.
In the village public hall, there was a copy of the torch and some photos of the festival.
The torch is made with reeds and it is as big as 1 metre in diameter and 10 metres in height.
According to her, in the past, every participating neighbourhood  of the village competed for the largest torch, but one time in 1970s, one person died, so now they are restricted to a height of 10 metres and every year, the Carabinieri (military police) will check that.
The torches are carried by tractors to the square in front of the church of Sant'Antonio and lighted.
During the festival, they sing some typical folk songs and of course eat and drink.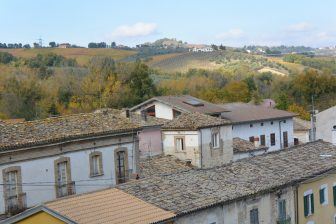 About one week later after the festival, depending on the moon, they already start collecting the reeds for the next year.
It was really a small village where the average age of the people seemed quite high, but apparently it is already very famous in Fukushima in Japan and they are communicating constantly to try to link themselves to be sister towns.
I would love to see this festival one time.