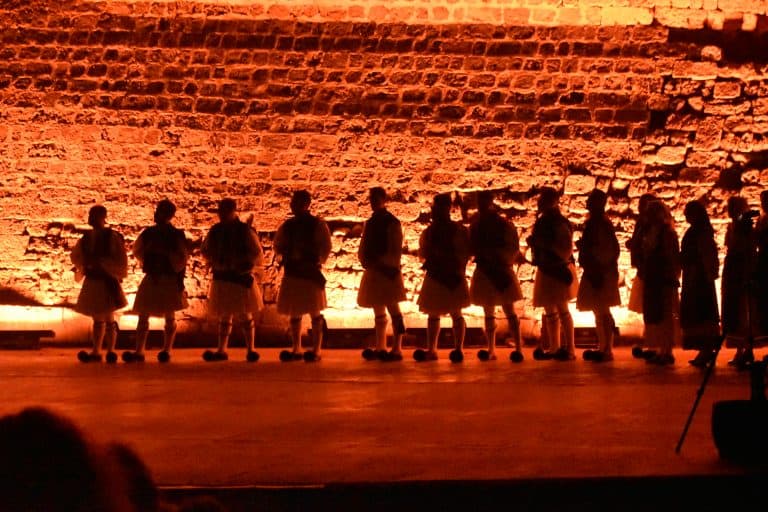 [ Sept.2019 ] On the evening of the day when we had an excursion to Lindos in Rhodes in Greece, we came back to Rhodes Town and went to the restaurant that my husband had booked.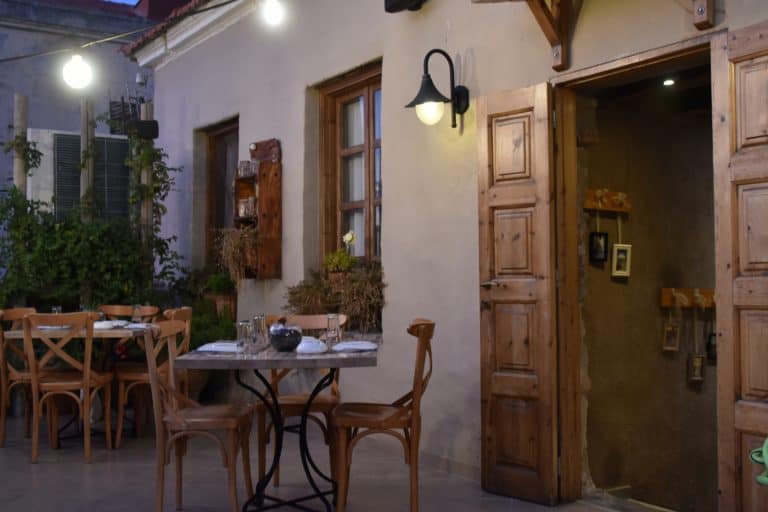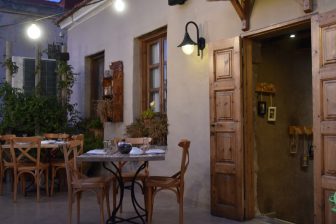 It was called Ta Kardasia located in the centre of the old town.
We could have our dinner on the rooftop terrace from where we could see a mosque, which had a lovely atmosphere.
Because it was a very busy day, we missed lunch, so we were very hungry.
We ordered this and that, then the serious and sincere waiter stopped us saying it was too much.
So we reduced two dishes.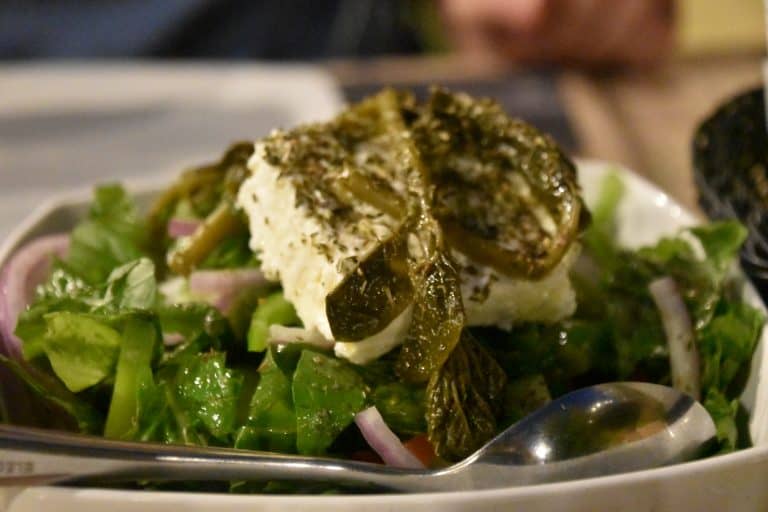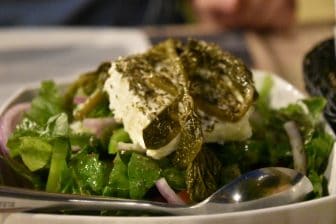 I thought it was nice of him to give us the warning.
What we ate in the end were typical Greek dishes.
The starter we shared were the Greek Salad and Tzatziki and the main was the assorted grilled meat.
Tzatziki in its place of origin is always milder and nicer than the ones that we sometimes buy from supermarkets, so we ended up eating a lot of bread with it.
As for the assorted meat, there were two kinds of sausages, hamburger and chicken Souvlaki.
The bottle of Greek red wine was good, too.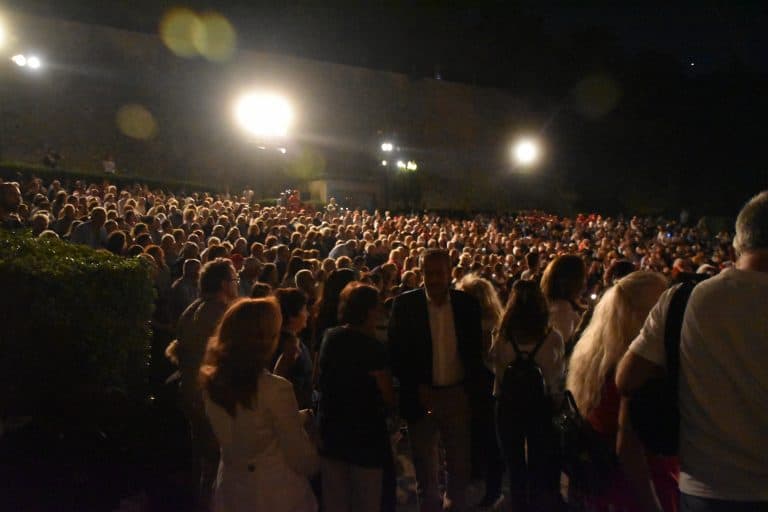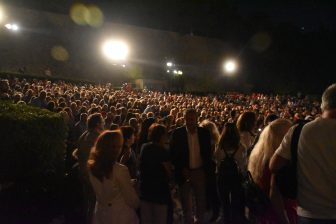 After the dinner, we hurried to see the Greek dance which was held only on the day.
This was the information we had got from the tourist office earlier.
It was held at the medieval open air theatre at the moat just outside of the city wall.
It started at 8:30 pm, but we arrived late and there were already a large crowd in the theatre.
When we got there, some people were making speeches on and on on the stage, so I wondered the dance had been finished, but in fact they started dancing after a while.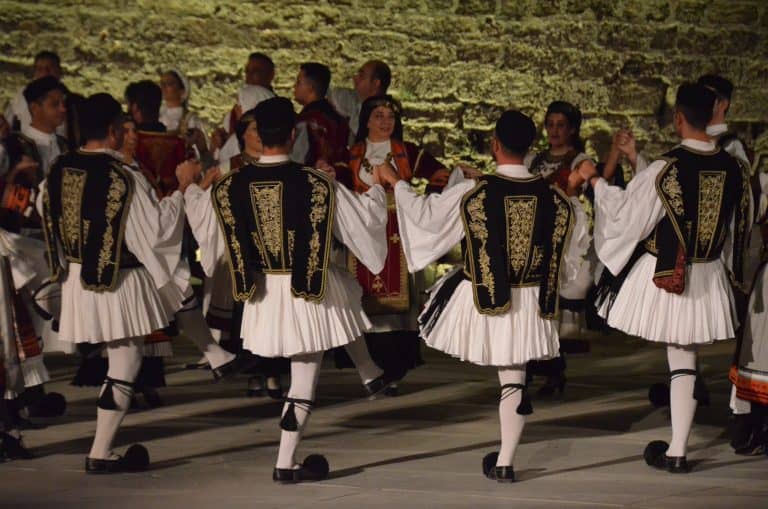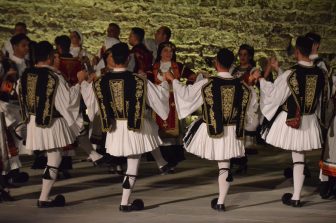 This event was only for the local people, so the leaflet was written only in Greek, so we could not see the meaning of it, but at least we could see that they were showing variety of folk dances from different regions.
They dance in a circle basically, so many of the dancers  often showed their back and maybe because of that, the back of their costumes were decorative.
The dance of the men dressed as the guards in Athens was the most interesting one.
A man was lifted up by another man.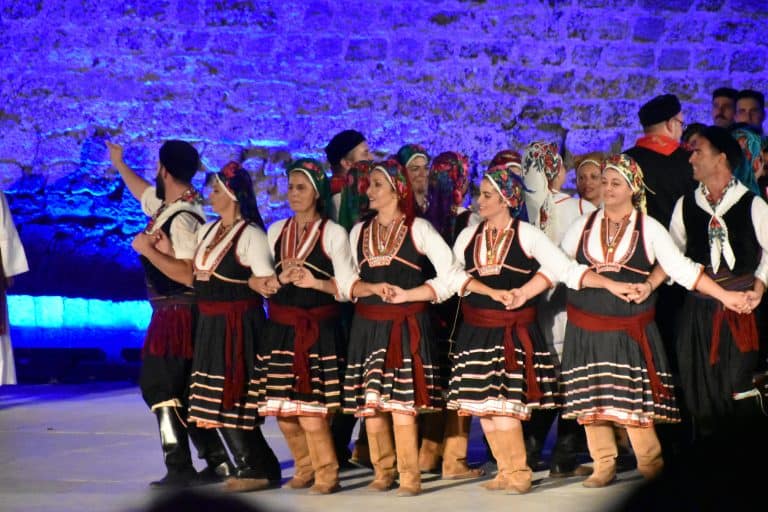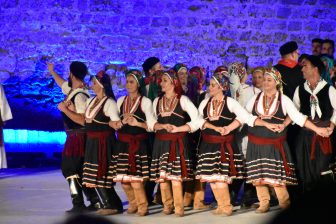 As for the women, they did not do much apart from stepping quietly, but the steps themselves were often quite complicated.
My husband liked their music, though for me it was rather difficult to get the rhythm.
The melodies were sung and they sounded like the songs from middle east or Turkey.
So many dances were shown on and on and we became sleepy, so we left without seeing staying until the end.