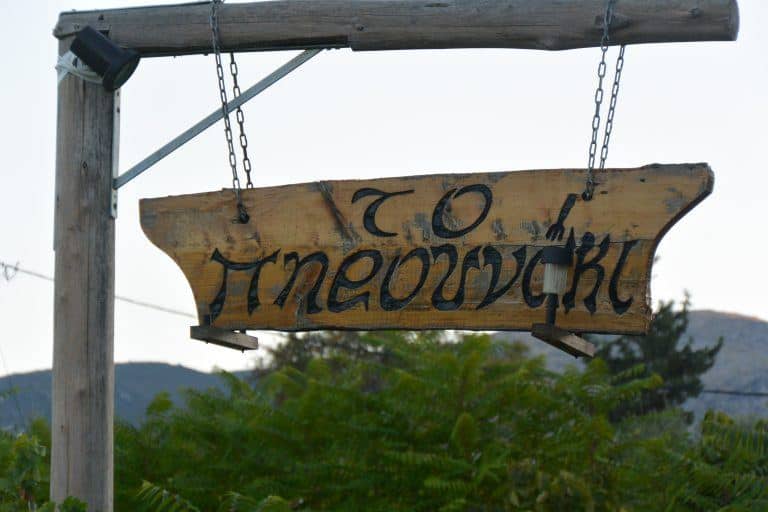 [ Sept.2017 ] The receptionist at our hotel in Zakynthos Island in Greece suggested "Why don't you going to the restaurant in my village?", so we decided to go there.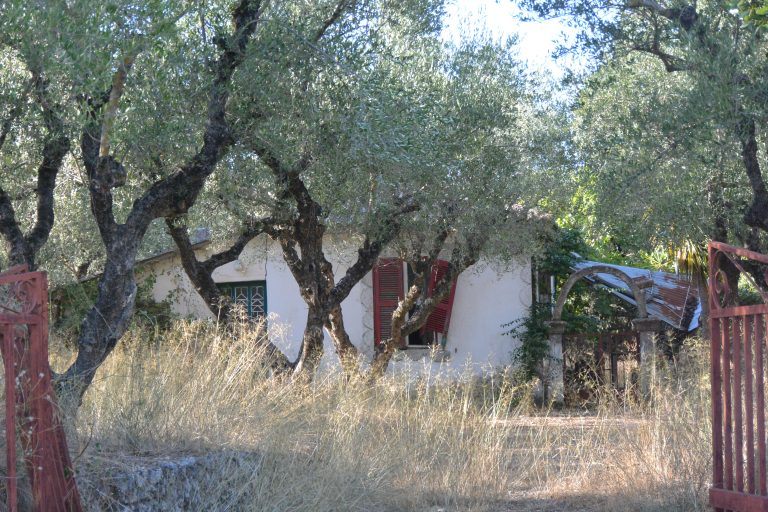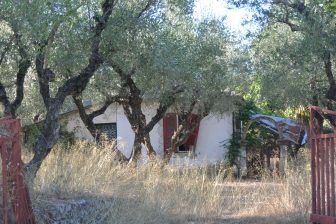 It is a small inland village called Mehairado and we went there by taxi.
The area was full of olive trees.
Unfortunately the restaurant was closed and another restaurant nearby was holding a funeral dinner.
One person there said "If you walk on this road for about 1 km, you will find a restaurant".
So we started walking on the quiet road and we met almost no one and no cars.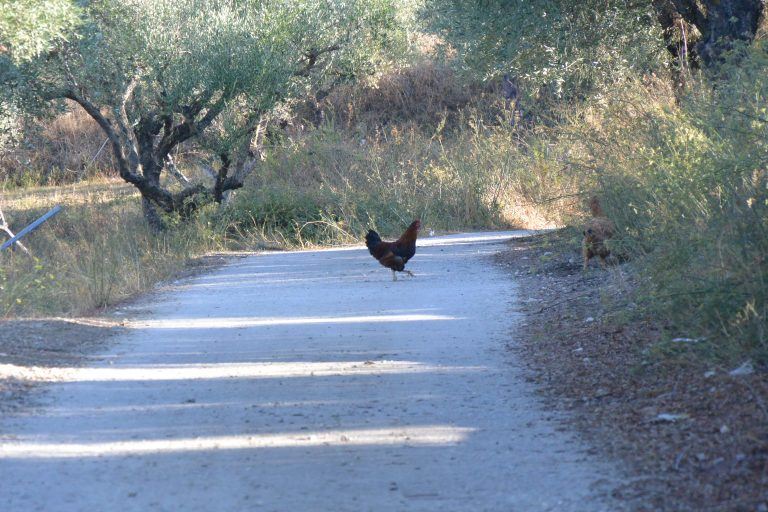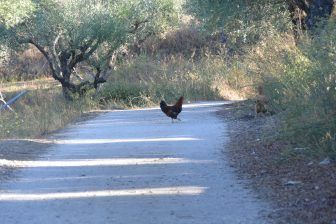 After a while, we could see a spire of a church and then a restaurant.
But we did not like the atmosphere of this one, so we went to a cafe near there and had a rest with a glass of Retsina wine.
While we were there, my husband tried to search a restaurant on the internet, but the connection was too bad for that.
So we decided to ask the staff at this cafe to recommend any restaurants.
She was sort of a Greek beauty with black hair and black eyes but spoke very good American English unexpectedly.
She said "You don't need to go to the town. There is a good restaurant not too far from here. It is only 2 or 3 km away, so you can walk there".
I was not prepared to walk that much, but we did to find this restaurant.
Basically, we needed to walk on one road on and on and  at one point we had to turn right.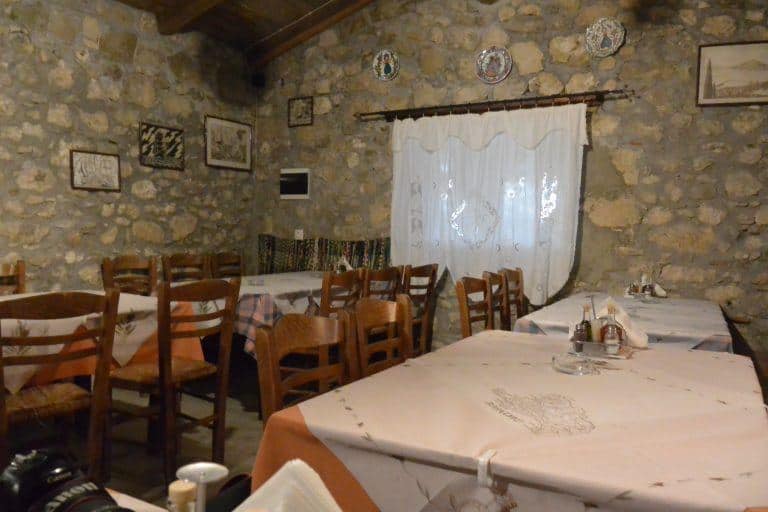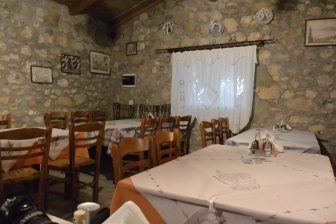 But we were not sure when to turn right, so we asked quite a few people on the way and everyone knew this restaurant called "Pirounaki".
The meaning of the name is "a small fork" apparently.
The restaurant we finally arrived at was a stone house which was bigger than I expected.
They said that during summer, they have foreign tourists from England, Italy and the Netherlands, but in wintertime, the only customers are locals.
I suppose the tourists come here by chartered buses.
They do not have menus in this restaurant.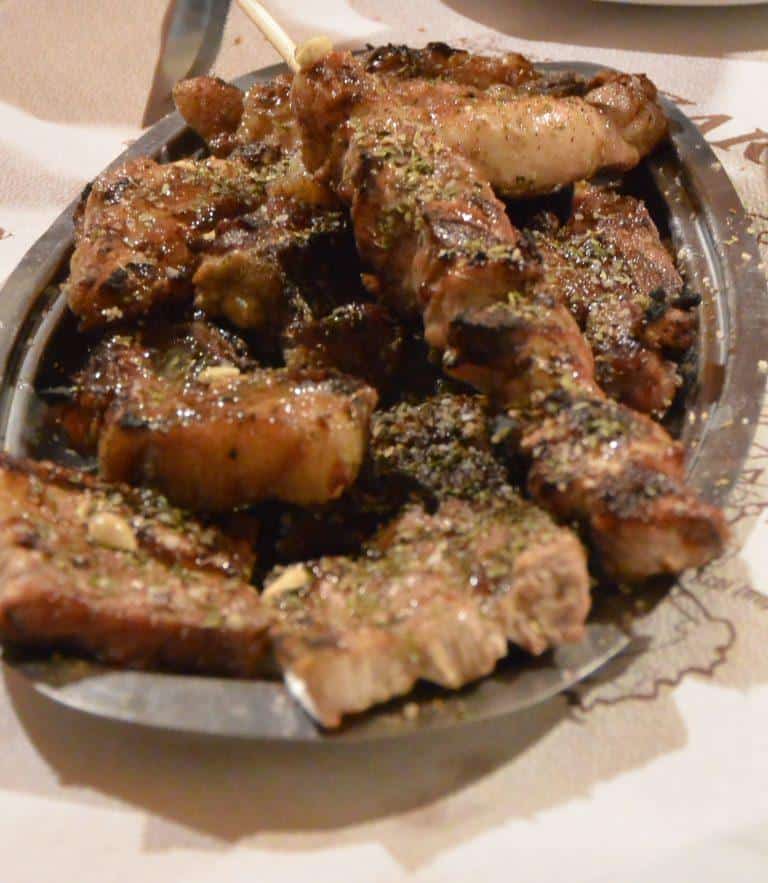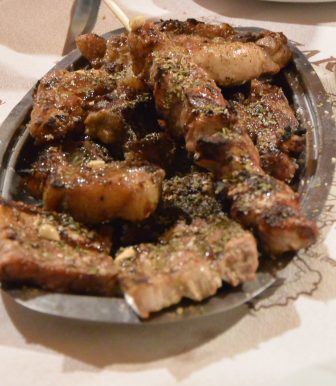 They serve 10 kinds of starters and then grilled meat of your choice.
The starter dishes were hearty and filling, including Tsatsiki, small pizza, sausages, meat balls and so on, so we were already full by the end of the starter, but we wanted to taste a bit of grilled meat, too.
We said that and they served a dish of mixed grilled meat.
Everything was good, but particularly I liked the chicken.
The foods were all very good home cooking and I felt they themselves are proud of them.
The woman who served us was very friendly and after chatting with her I asked her name to find that it was Aphrodite surprisingly.
That is the Goddess of Love in Greek mythology, isn't it.
I wonder if it is a common name in Greece.
Well, there is a tennis player called Venus, which is the same Goddess in Roman mythology, so maybe I should not be surprised.
It was very satisfactory meal and the bill was only €25!
If we have a chance to go back to Zakynthos, we will definitely go back to this restaurant.
By the way, on the next day we told the receptionist at the hotel about this, she was surprised and said "Maybe you are the only foreign people who went there on your own. That restaurant is difficult to find and almost hidden".