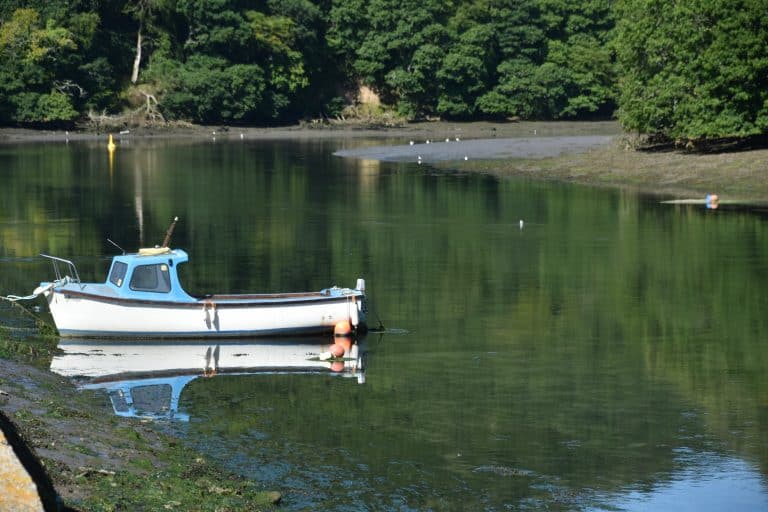 [ July, 2020 ] On the last morning in Looe in Cornwall in south western England, we both ordered the big cooked breakfast.
Mine was a dish with a thick bacon, fried egg and grilled tomato and my husband had haddock and poached egg.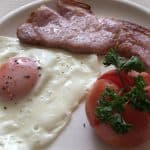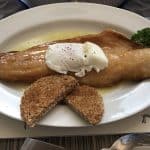 We are not familiar with eating a lot in the morning, but it was nice anyway.
The checkout time of the accommodation was 10 am and we asked them to keep our luggage for a while.
Our train was to leave after 2 pm, so we had some time.
As Looe is a small town, we had already seen most of it, but we had not been to the upper stream of Looe river, so we walked towards that area.
It was on the same side of the hotel, which was on West Looe.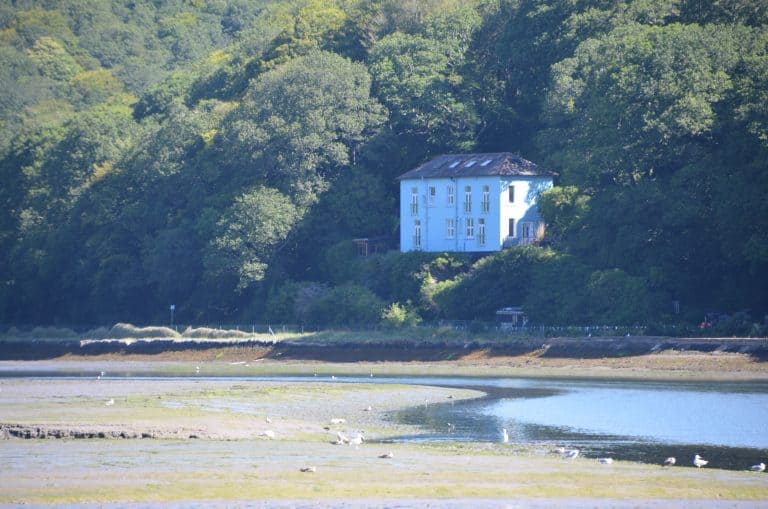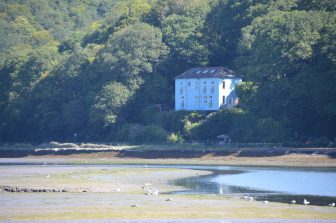 The weather was fantastic on the day, too.
This area was full of green and the reflections on the river was very beautiful.
There were fewer people around here so we enjoyed the quiet time.
The only thing was that there was a huge car park there.
I suppose there are many families coming here by car from Plymouth or somewhere for the weekends.
We did not have too much time, so we came back to the town after a while.
By the way, the main street in Looe was called Fore Street.
In St. Ives we went last year had the main street with the same name.
Our landlord had told us on the first day, "In England it is called High Street, but in Cornwall it is Fore Street".
My husband was surprised saying "But Cornwall is a part of England, isn't it?".
I remember that there is their own language in Cornwall, though it has become obsolete.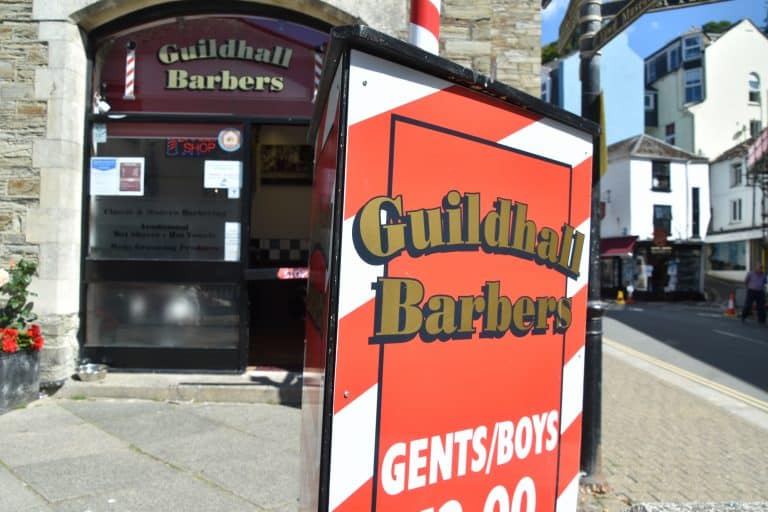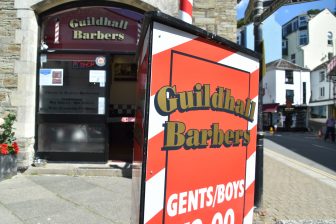 We had noticed a barbershop on Fore Street and we still had a bit of time.
Because of Covid-19, the hairdressers and barbers had been closed for a long time, but now in July, it was OK to open.
For me as a woman, the long hair was not much of a problem and I just tied my hair up, but my husband's hair had become a great mess.
It has been about 5 months since he had his haircut last time.
So we made up our mind to enter this barbershop.
My husband is known to have haircut during holiday.
It was a small shop, but there were no other customers at that time and the barbers were wearing the face shields and groves, so it should be safe.
I was waiting outside on a nearby bench.
Men's haircut is very fast.
He came out refreshed but he needed cash.
Apparently this shop accepted only cash, so I gave him some from my wallet.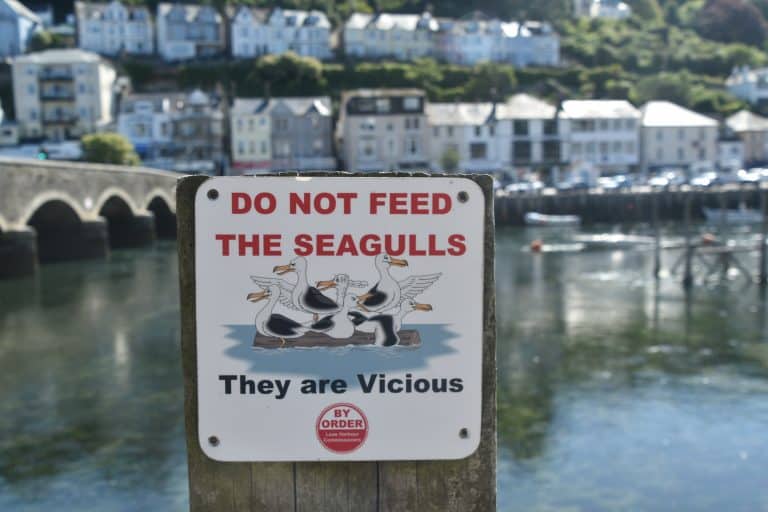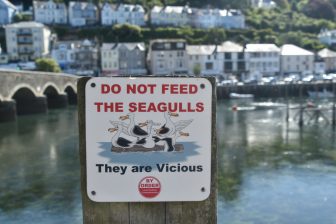 Because of the Coronavirus, we had not used or touched cash for about 4 months.
And his haircut cost only £12, much cheaper than in London.
After that, when we sat down on a bench, we noticed a sign in front of us saying "Do not feed the seagulls. They are vicious".
There were so many seagulls in Looe.
One night, when I woke up at around 2 am at the hotel, they were still crying.
As I wrote before when we were in St. Ives in Cornwall last year, the famous Hitchcock film, "The Birds" is originated from the novel by Daphne du Mourier and she often visited Cornwall, so the inspiration of the book must have come from these seagulls.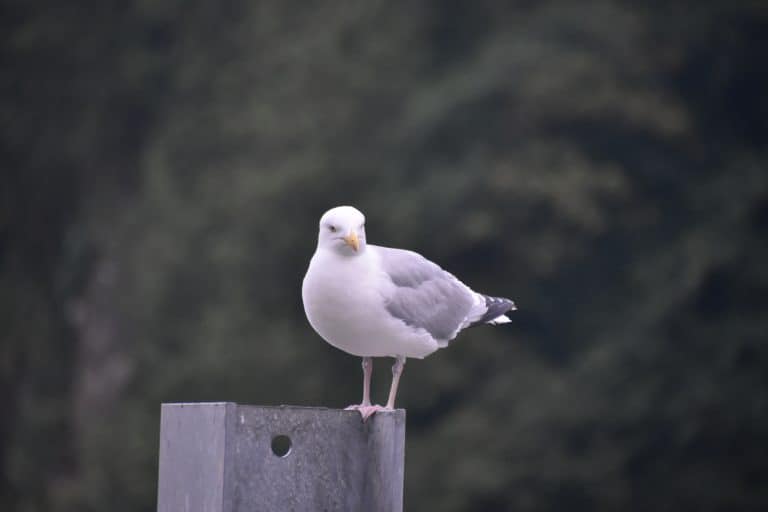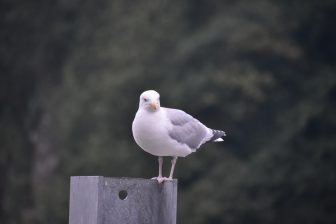 When we went back to the accommodation to get our luggage, the landlord, Colin told us about the vicious seagulls, too.
The reason why we talked about it was this: he said that he went to Tenerife in Spain every winter so that he could have a relaxed time drinking coffee under the sun, watching a nice view.
So I said that he could do that everyday at his balcony looking over the harbour on the river.
Then he said "Oh, no. The seagulls would come and attack me".
He himself as well as his grandchild had some experiences of being attacked by them while they were eating outside.
Seagulls are not to be underestimated.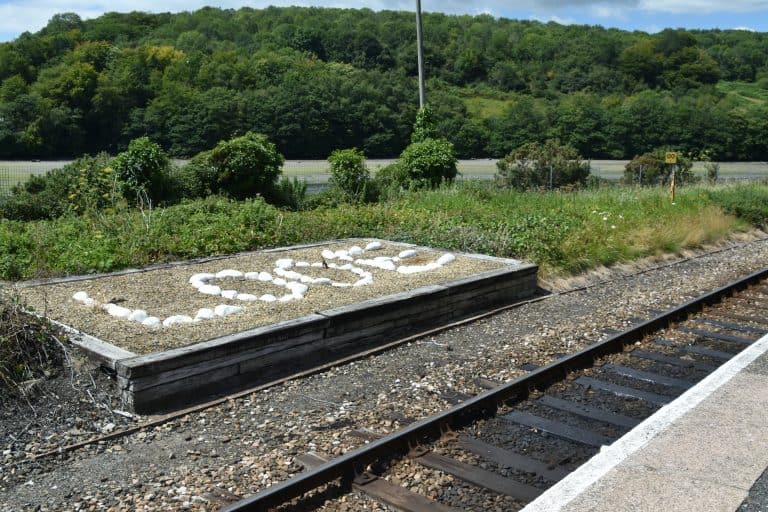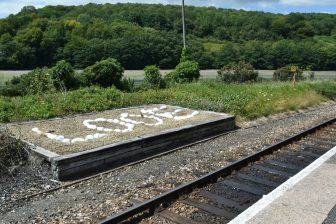 Look at their eyes, they look sinister.
Fortunately we did not have any troubles with them and finished our short holiday in Looe safely.
As we had already experienced the train journey on the way here, we were not surprised to see the disorganisation and simply looked for the carriage with fewer people and sat down.
The only thing that I did not like about was that nobody checked our tickets on the way back, so we could have ridden free.