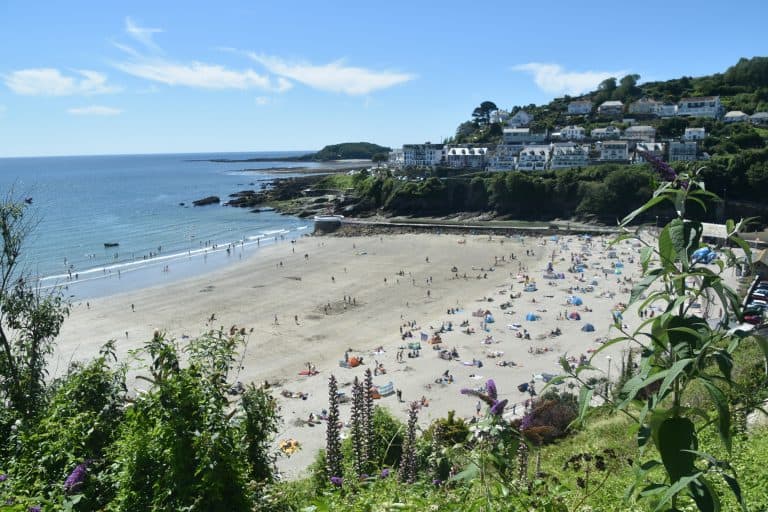 [ July, 2020 ] In the morning of the third day in Looe, the seaside town in Cornwall in south western England, I had ordered pancake for breakfast and got astonished to find that it was a gorgeous cake with the five layers of pancakes.
Between the pancakes there were bananas and strawberries with a lot of cream.
I regret that I did not have my camera with me.
I had expected a simple pancake maybe with a bit of cream.
I felt sorry but I could not finish this huge cake.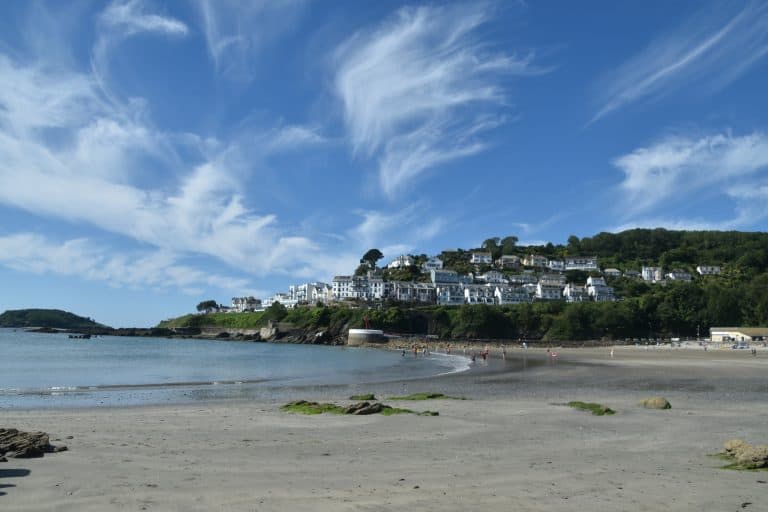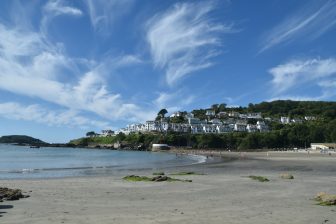 Later on the day, we saw a sign of a cafe with the pancake picture on and that was another gorgeous version, so it may be that in Looe this was the standard of pancakes.
Because we had walked a lot the day before and I had a couple of blisters on my feet, we decided to have a relaxing day.
We went to the East Looe Beach, sat on a rock and watched people.
There were many very young children as well as fathers with big bellies.
A group of young people wearing bikinis went into the sea.
We did not even touch the water, so we are not sure, but the temperature was about 20 degree centigrade, so the water could not be warm.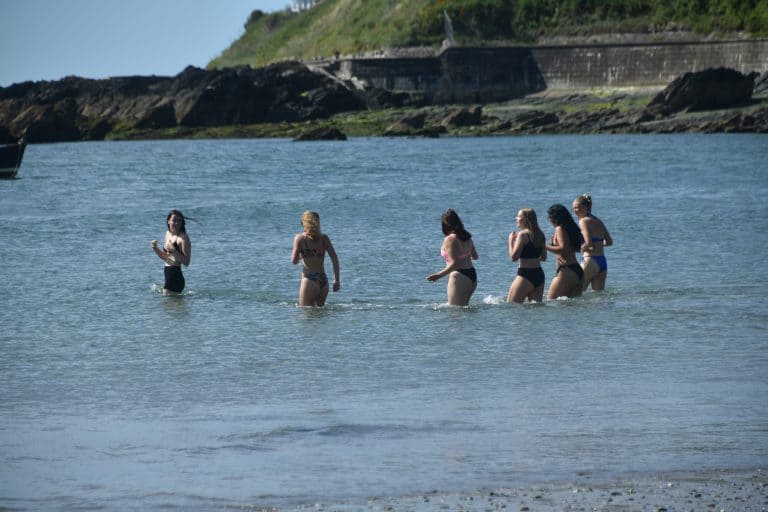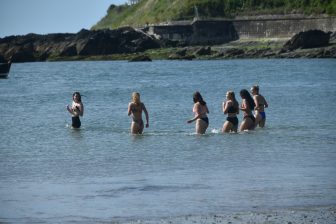 Those young people must have goose pimples.
There was an apartment block with the balconies looking over the sea and we talked "It may be a good idea to rent that sort of place for a few months".
Because of Covid-19, working at home has become a normal lifestyle, but in fact, it does not have to be your own home to work from, does it.
After a while, we went up the hill and started walking on a path which Liz, the landlady in our accommodation had told us.
But we seemed to have taken a wrong way and soon ended up with another rocky beach.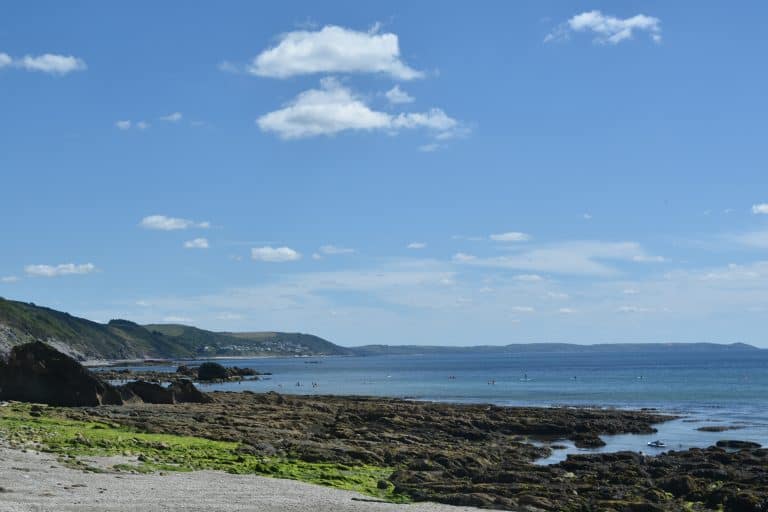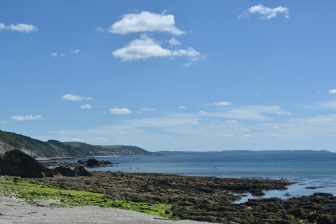 Much fewer people were here.
Later I checked and found that this beach was called Plaidy Beach.
Around here, there were newer houses which looked like the second houses of wealthy people.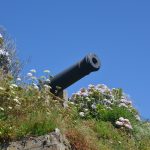 There was even a cannon in a garden of one house for some reason.
We sat here for a while again and went on the same path back to the town.
This path was lovely with shades of trees.
Because we were under the sun since the day before, after spending so long time within our home, we got sunburn, especially my husband became very red.
We bought an after sun lotion at a pharmacy and put it a lot on us in our room.
Then at 5 pm, we went to the restaurant called Old Sail Loft which we had booked.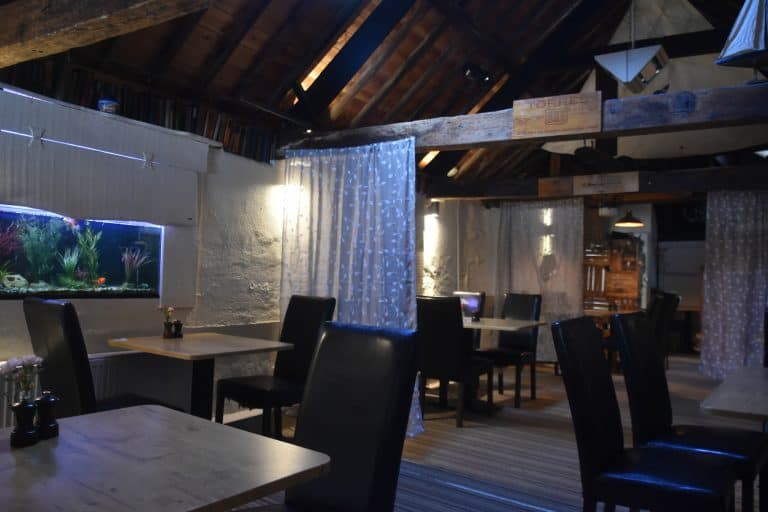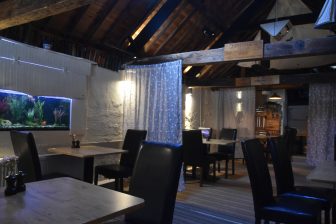 It was too early for dinner, but this was the only timing we could managed to book.
As the name suggests, it was a loft, but very spacious.
But tables were arranged not very far one another.
When we arrived, it was nearly empty, but soon people came one after another, and it became full.
Waitresses were wearing masks, but that was the only measures for the Coronavirus.
We both had scallop for the starter, which was good.
Then for the main, we had the seafood platter for two.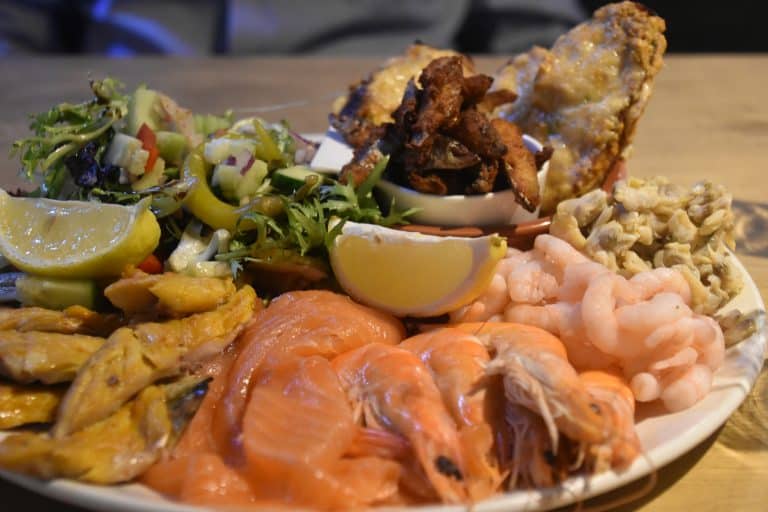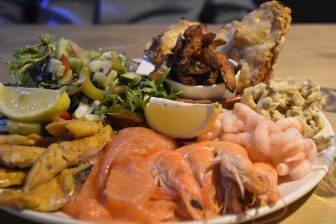 When we ordered, my husband asked if they were raw, and the waitress said 'yes', but in fact all the seafood was either cooked or smoked.
It was very British seafood platter.
The fried white baits and the prawns tasted good, but the ones with brown cream of crab on the pieces of bread had some cheese on top and baked.
Because of the strong taste of the cheese, I could not taste the crab much.
The British foods have improved a lot compared with a couple of decades ago, but I felt that it was still far behind compared with the Italian or French foods.
However, when people say national characteristics, the taste of foods must be included, so probably it would never change so much here.
We thought it had better not order something elaborate for the dessert, so we both had ice creams.
Mine was vanilla and salty caramel, and my husband had vanilla and sorbet.
Including a bottle of wine, the bill was about £91.