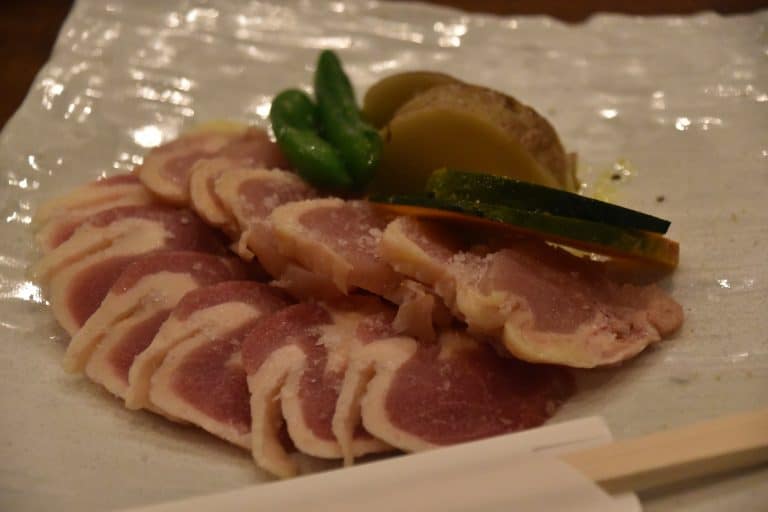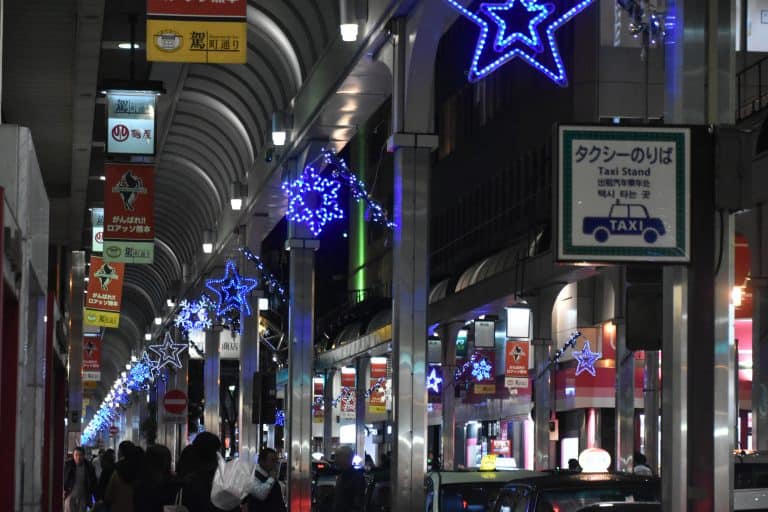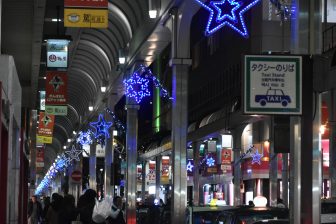 [ Dec.2019 ] On the evening of the day that we did excursion to the outskirts of Kumamoto City in Kyushu in Japan, we went to a Japanese-style bar/restaurant called "Goen" which was recommended by the people at our hotel.
It is located in the bustling shopping district near the hotel.
This restaurant was very well prepared so much so that they had provided their menu to our hotel, Nikko Hotel.
And they have a huge menu.
Among them, the one we were interested in was a dish called "Hitomoji Guruguru".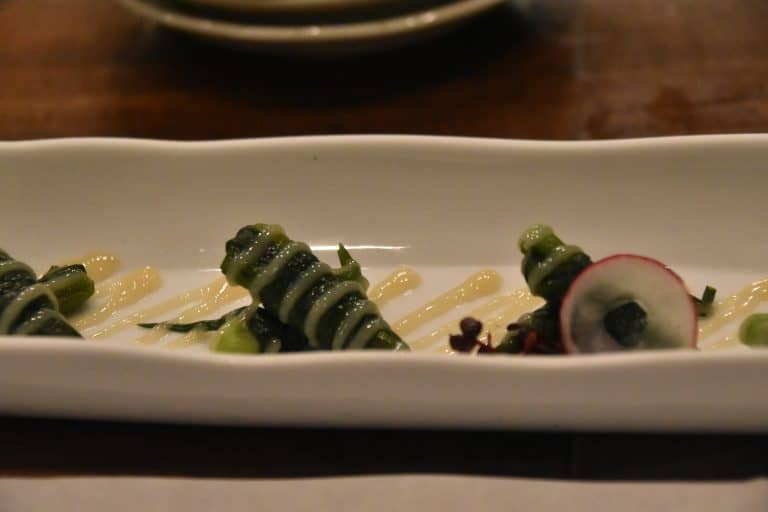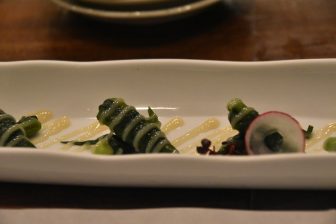 Apparently it is not the restaurant's original, but a popular local food in Kumamoto.
It is a dish of the boiled vegetable called Hitomoji, which is similar to a spring onion and its green leaves are coiled around the bulb.
They cook it at home in Kumamoto and eat it with vinegar miso sauce apparently.
We tried it right away at the restaurant and it tasted nice and light.
Another famous local dish in Kumamoto is sliced raw horsemeat, but we felt a little bit apprehensive about the raw meat, so we chose the horsemeat steak.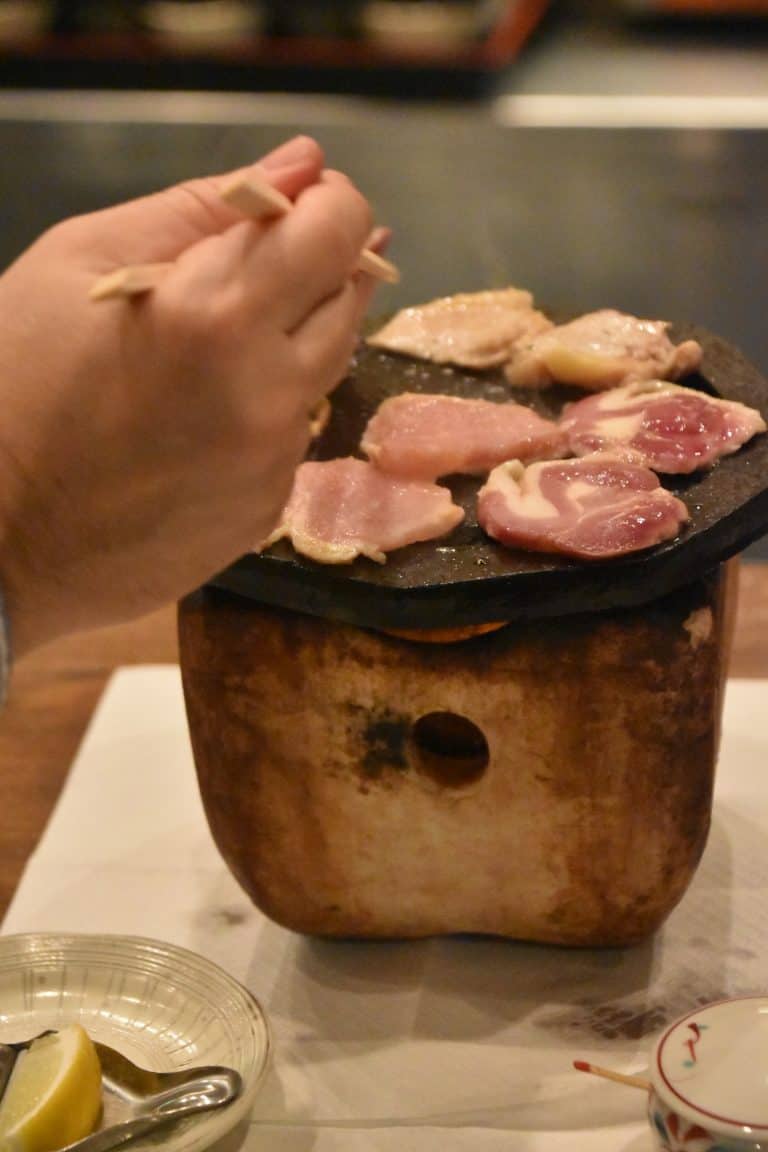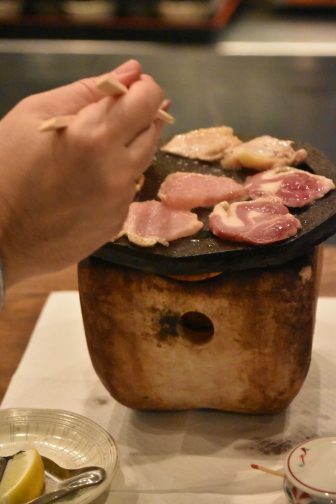 It had a very mild flavour and very easy to eat.
Amakusa Daio chicken is another speciality in Kumamoto.
It is chicken but the raw meat looked like pork.
We had it grilled on the lava plate as well as on the charcoal.
It tasted nice and strong and I liked it.
I was intrigued so I looked it up on the internet and found that Amakusa Daio was a huge chicken which used to be bred in Amakusa in Kumamoto prefecture.
Its height was up to 90 cm and the weight was nearly 7 kg.
But it became extinct at the beginning of Showa era (1926-1989), and Kumamoto Prefectural Agriculture Centre took 10 years to resurrect it and succeeded finally in 2000.
Even now it is bred only in Kumamoto prefecture and it is recognized as the nationally protected chicken breed in 2004 after having all sort of requirements to become one.
So it is a very precious chicken.
Apparently every part of the chicken can be used and in this restaurant, they were offering this chicken as Tataki and as soup, too.
We ate other dishes, too, such as various kinds of grilled skewers and became really full.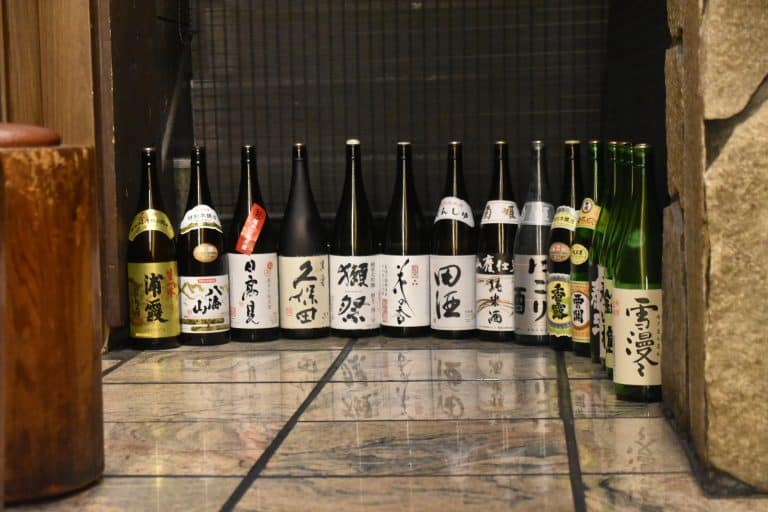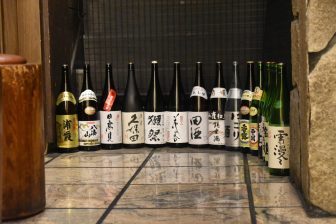 As for sake, we tried four kinds, mainly the local ones.
Although the concierge at the hotel had booked a table for us, we were taken to the counter seats and I could not see any other parts of the restaurant, but the atmosphere was relaxed and friendly.
There were other local menus such as dishes of Japanese Brown Cattle beef from Aso (the famous mountain in Kumamoto) and the Chinese style local dish called Taipien, so next time when we visit Kumamoto, we would like to try them.