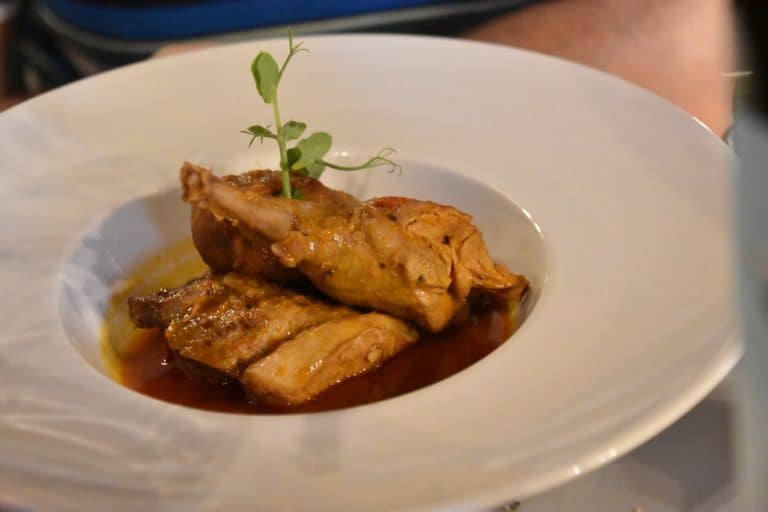 [ Dec.2018 ] On the last day in La Laguna, the old capital city of Tenerife in Spain, it was a fairly cool day, so we chose to walk in the sunshine, unlike the day before.
It was lunch time, so we looked for the restaurant we had found on the internet.
Our first choice was a little outside of the old town and we found it eventually, but unfortunately it was full.
The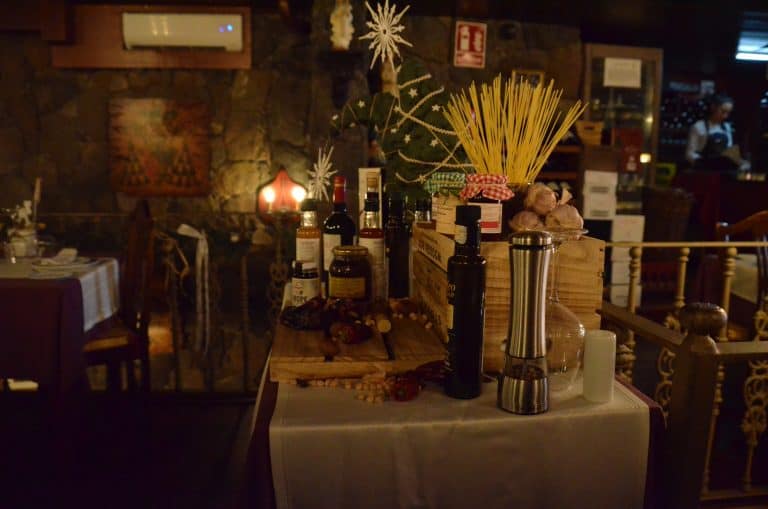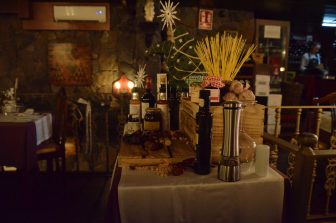 second choice was in one of the main streets in La Laguna called Calle Herradores and the name of the restaurant was Tasca el Obispado.
On the ground floor near the entrance, it looked like a pub, so my husband hesitated a bit and asked for the menu before taking a table.
But when they took us to the first floor, we found that it was a proper restaurant.
Apparently, the name 'Obispado' means bishopric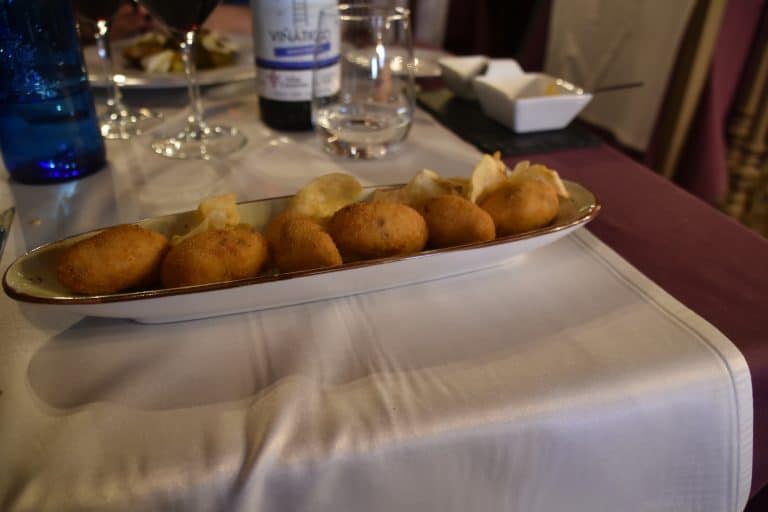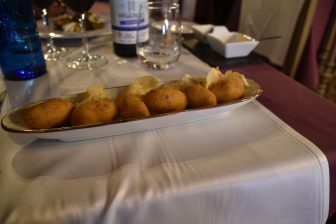 and maybe because of that, there were many religious pictures on the wall.
Apart from the fact that the waiters were not very efficient, the restaurant was perfect and their food was all good.
My starter was croquettes of Iberian pork and my husband's was artichoke.
For the main, I chose simply grilled Iberian pork and he chose the rabbit dish.
The wine we chose was sold out and the waiter recommended a more expensive one, but it was very good, so I have no complaints.
As for the dessert, I ate a lovely coffee creme caramel, which was very nice.
My husband's was brownie with white chocolate.
Altogether, it was about €81, which was reasonable.
After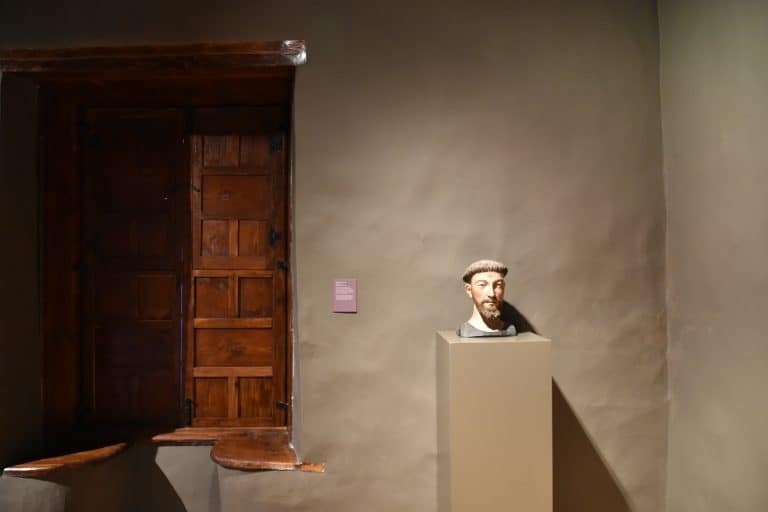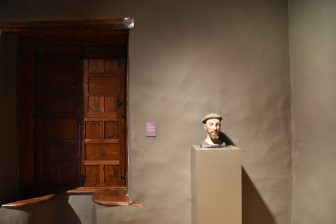 lunch, we continued our sight seeing in the town.
We visited Iglesia-Convento de Santa Catalina de Siena founded in 1606.
This place was started by four nuns from Seville and was eventually developed into a rich convent with more than 100 nuns at one point.
However, because of the Spanish Confiscation, which happened mainly in the 19th century, it was damaged a lot.
This Spanish Confiscation is a law to confiscate the properties owned by churches and aristocrats from generation to generation and to put them up for auction to try to empower the developing middle class and rich farmers, apparently.
According to our guidebook, this convent is still working, but the places we could enter were all museums: one part was for religious art and the other part was for modern art.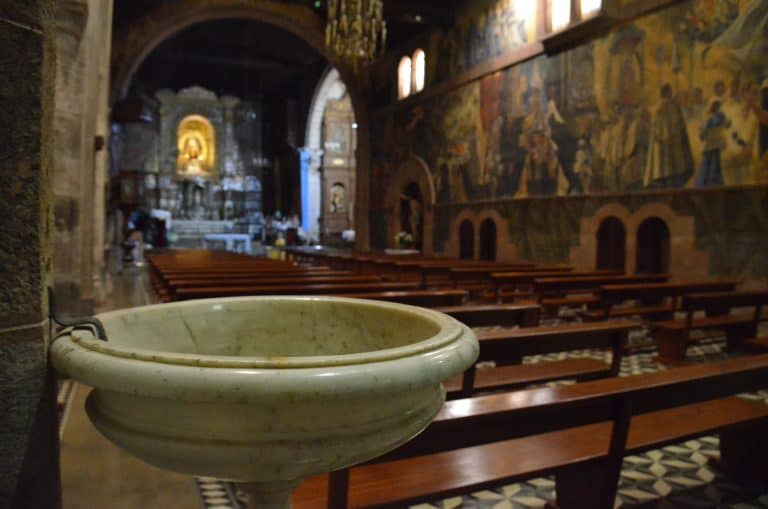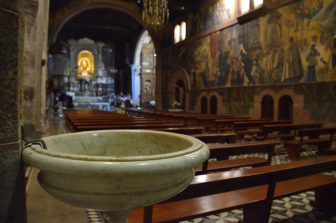 I wonder if it had changed recently.
The last place we visited was Iglesia de Santo Domingo.
Our guidebook says that it used to be a hermitage and it was developed to be a church in the 17th century.
The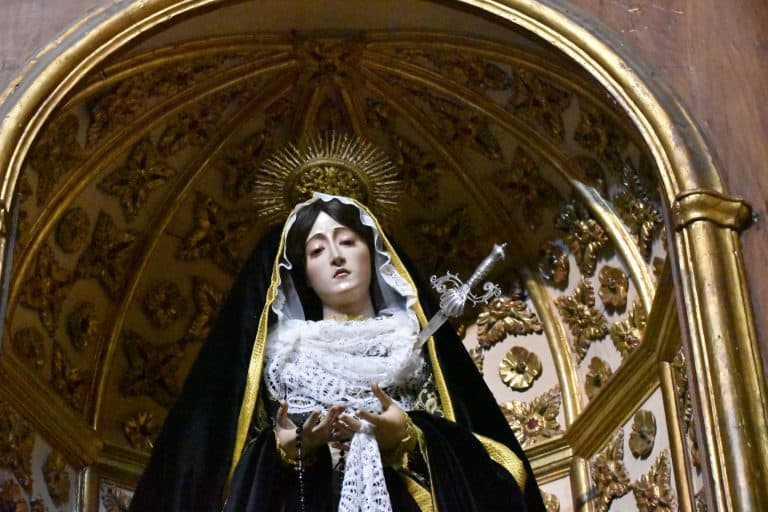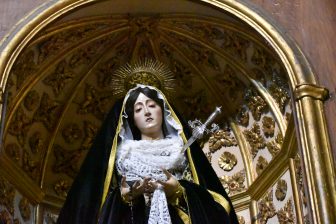 tasteful murals were painted in the 20th century.
My husband expressed his impression of this church, "I like it here. It has a warm feeling".
By the way, on the day during our sight seeing, I noticed on two separate occasions a woman's statue with a knife sticking out of her chest.
She must be a saint with some historical anecdote, but who is she?