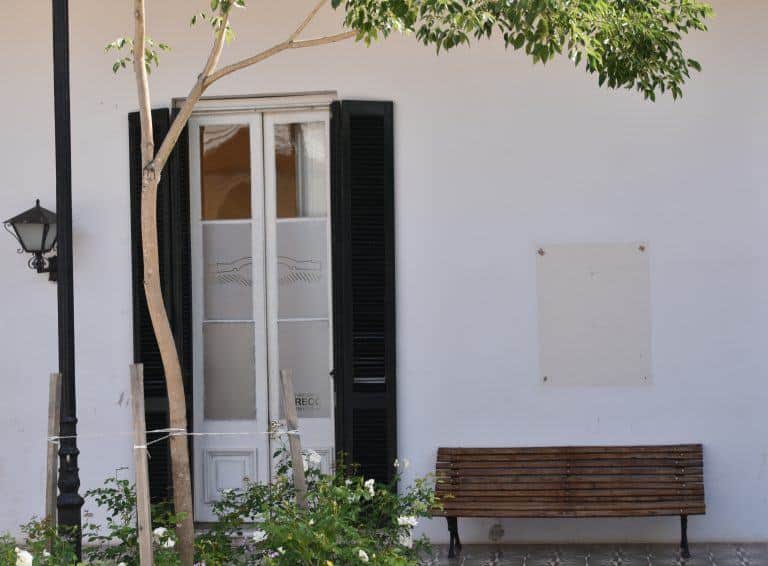 [ Mar.2018 ] The next day, we had an excursion to San Antonio de Areco from Buenos Aires in Argentina.
This town is situated 113km northwest of Buenos Aires in the Pampas with the population of 24,000 people.
And most of them are Gauchos.
So, who are the Gauchos?
According to my dictionary, they are "herdboys in Pampas. A symbol of masculinity, being undisturbed by others".
Our guide, Elisabet, told us that they are the vagabonds who came mainly from Andalucia in Spain in the 1700s and they are happy as long as they have Mate tea, horses and guitars.
In the 1900s they started being employed in farms and that was the end of their freedom.
Every November, they have an event in San Antonio de Areco called Dia de la Tradicion to which all the Gauchos in the Pampas will come. The town is said to be very lively, but when we were there on a weekday afternoon, it was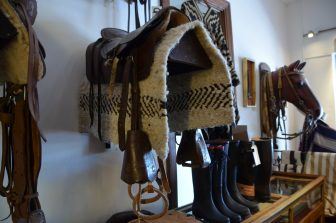 so quiet even in the town centre, Plaza Luiz de Arellano.
After visiting an old typical colonial house, we visited some shops.
The first shop we went to was called Arandu, which was selling knives, harnesses and other things traditionally used by Gauchos.
But this shop was too pristine for them to come and do their everyday shopping, so I think this was mainly for tourists.
They were selling lovely scarves and bags for women, using the traditional patterns.
We learned about an animal called the Capibara here.
According to the leaflet, this is the largest rodent, which can grow to become as long as 122cm with a weight of 80kg.
They live in lagoons and rivers and they are very good at swimming.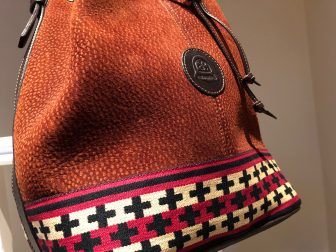 The leather from them is soft, strong and waterproof, so it is used for clothing and accessories. However, their skins often have scars because they fight so often; for example, male Capibaras fight for the females.
The leather is bright brown with patterns on the surface like pigskin.
We liked it, so I bought a bag and my husband bought some belts.
In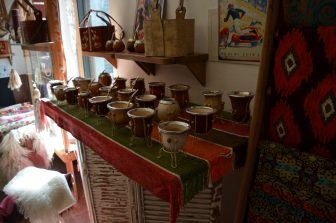 the next shop, called El Bagual, they were selling mainly textile goods such as Gauchos' Ponchos.
We found some lovely wooden Mate cups wrapped in Capibara skin there, so we bought one.
Although we were going to use it as an ornament, they added the metal straw they normally use for drinking Mate.
The last shop, Casas Oberti, was selling mainly silver goods.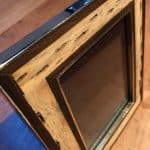 Silver is used in Gauchos' knives and their special belts.
But what I learned here was about an alloy called Alpaca.
I thought Alpaca was an animal whose hair is soft and very good for jumpers, but apparently the alloy, which is the mixture of copper, nickel and zinc, is called Alpaca, too.
Because its texture is similar to silver, it is often used instead of expensive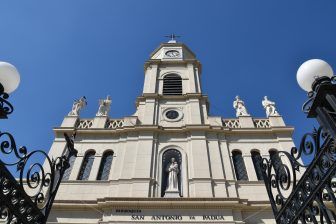 silver.
We bought a photo frame made of this Alpaca and the cactus material.
I am always attracted to the local goods.
Whenever I see them at home, I remember the far away places we have been to and remember the particular atmosphere there.
After shopping, we visited San Antonio de Padua church facing the main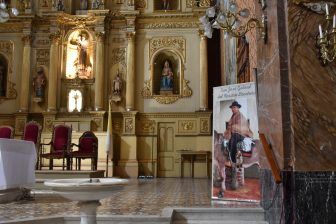 square.
This town was founded because this church was built and the 23rd of October 1730, the birth date of town, is written on the facade of the church.
It was quite large and gorgeous.
I noticed a photograph of a Gaucho at the side of the altar.
Elisabet told us that that man was a Gaucho who became a saint.
According to the internet, his name was Jose Gabriel del Rosario Brochero, born in 1840 in Cordoba province about 700km north of Buenos Aires.
He was loved as "Gaucho priest" and became a saint only in 2016.