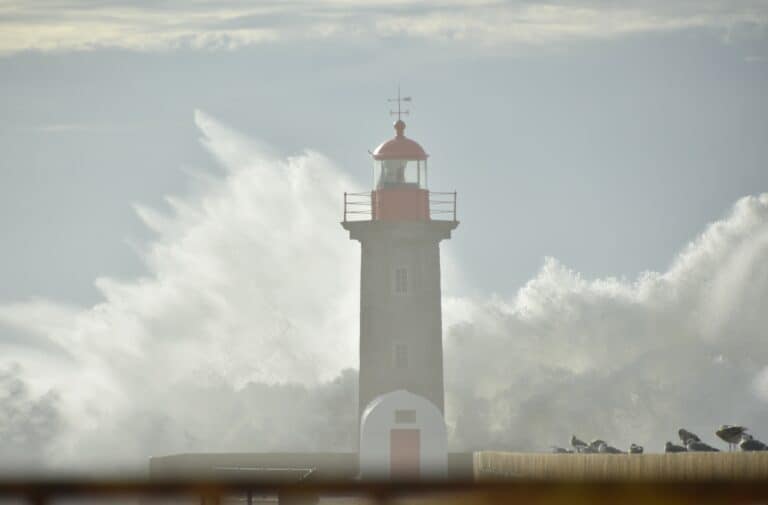 [Jan. 2022] We celebrated New Year of 2022 in Oporto, Portugal.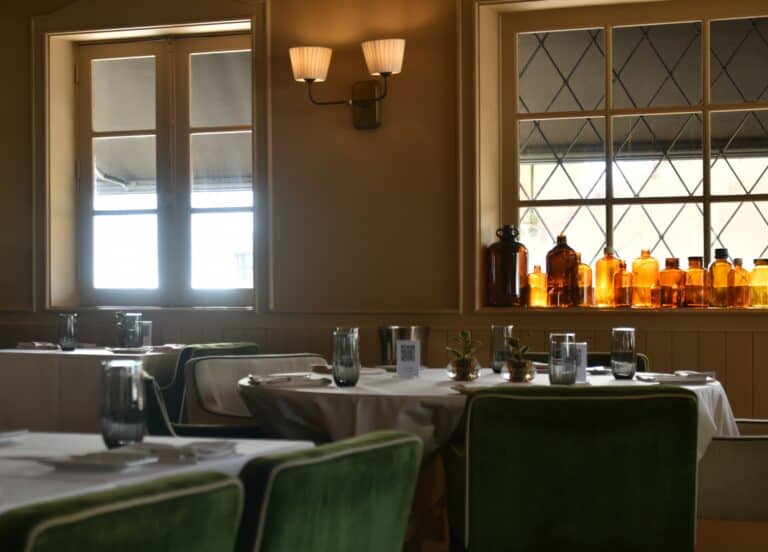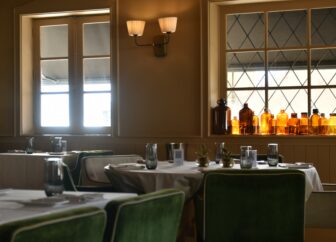 We were planning to relax on the day of the New Year, and the only thing we decided on was a Japanese lunch.
It's New Year, so it's a Japanese mood (for me at least).
We searched online and made a reservation for a restaurant named Wish Sushi.
It is located far downstream of the river on the verge of going out to the sea, so we took a taxi waiting for customers at Sao Bento station.
I felt suspicious because this taxi was a fine black Mercedes car, not a usual taxi with a black fuselage and a green roof, which is common in Portugal, but the driver promised that it is a normal price, so we got on this.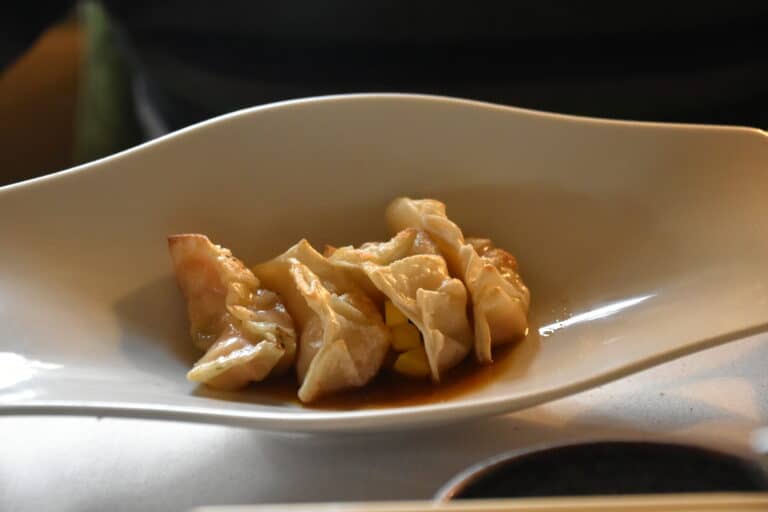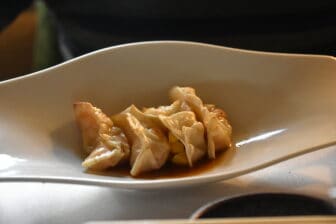 He said that he used to be a VIP driver, and because of Covid-19, those customers stopped coming, so he was operating as a regular taxi.
Now we arrived at Wish Sushi which was much more posh than I expected.
It is a restaurant that serves not only Japanese food but also Mediterranean food, and is characterised by a wide range of menus.
My husband chose Gyoza for the starter.
There were only four pieces, which was pretentious.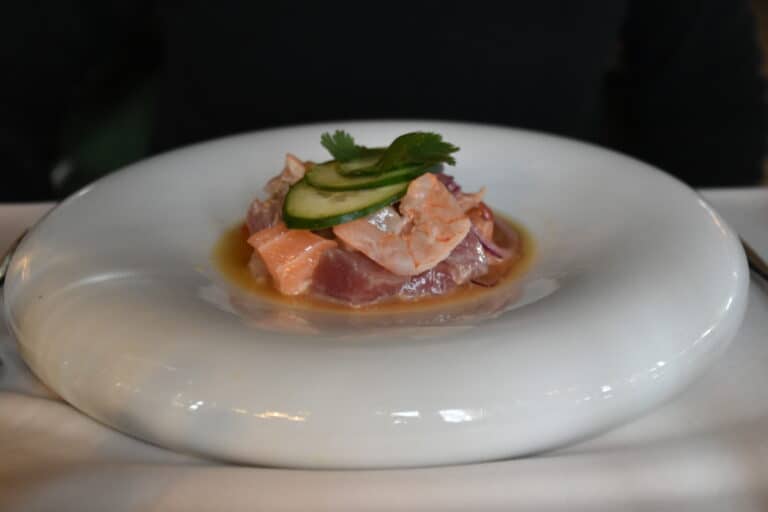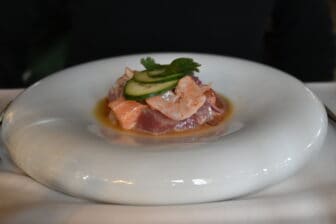 But he said it was delicious.
I chose Ceviche, the marinated seafood which is a Peruvian specialty.
There were plenty of white fish, tuna and shrimp, with a slightly spicy seasoning.
It was delicious and worth eating.
Both of us chose sushi as the main dish, but my husband's was "traditional" and mine "freestyle".
It is colourfully served on a black plate, which was a pleasant effect for the eyes.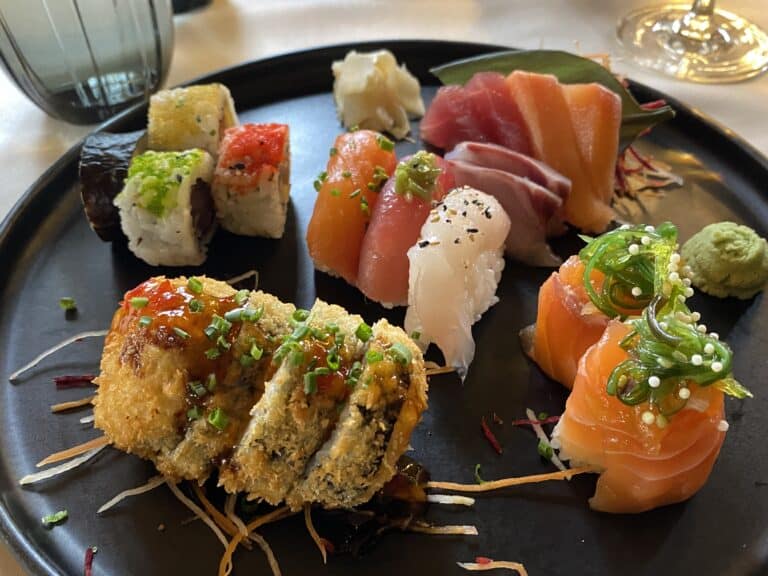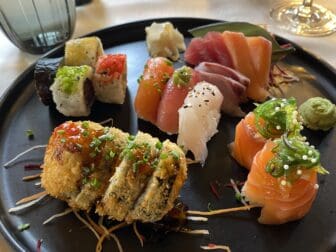 My husband's sushi set consisted of 16 pieces, and mine was a fusion type with fried food with Thai-style sauce but it wasn't bad at all.
It might be that some traditional Japanese people could frown at this, but for me who have been living away from Japan so long, it was very satisfactory.
Only thing was that the rice was a little al dente.
The dessert we chose was not Japanese food: my husband chose grilled banana, and mine was lemon pie with meringue.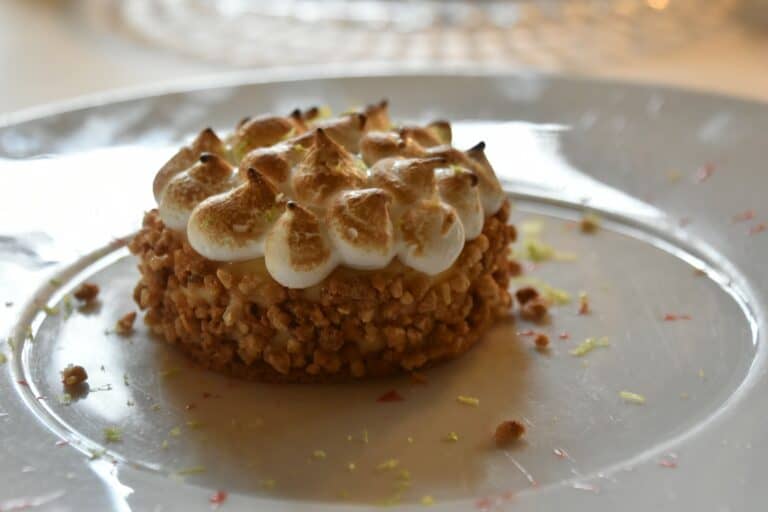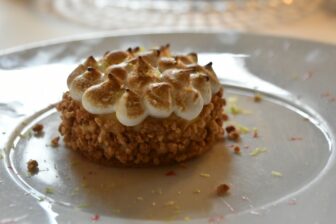 It cost 108 euros including a bottle of white wine and coffee.
It was a very good New Year's commemorative lunch.
After meal, we walked toward the sea.
As expected, because it is the Atlantic Ocean and the waves were huge.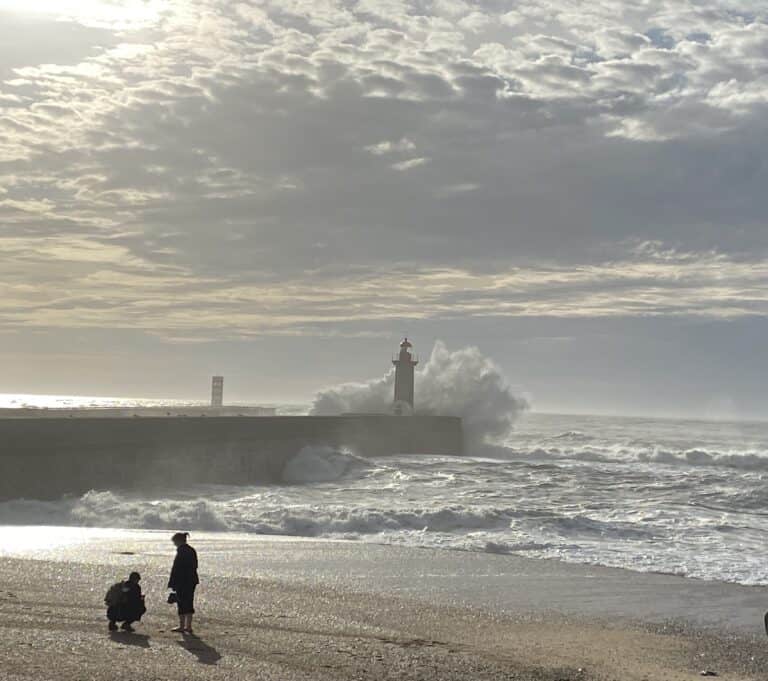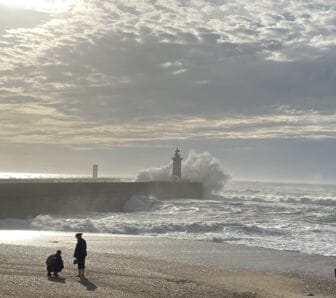 The temperature was over 20 degrees centigrade, a record warmth, but the wind was tremendous.
We took many pictures of the breaking waves without getting tired of it.
And I felt that I received a lot of positive energy from the nature, suitable for the New Year.