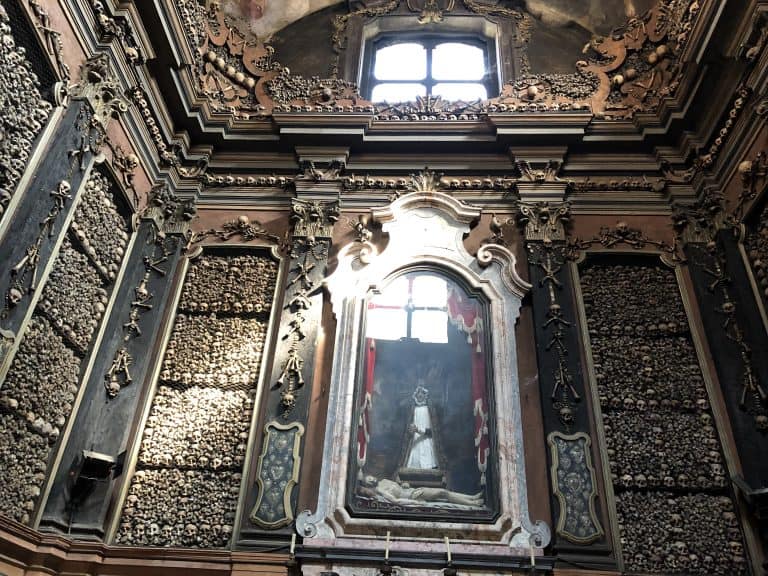 [ Aug.2019 ] We often go to Milan in Italy, but I did not know that there were the walls made of bones here, too until recently.
I saw a photo on a social media and wanted to see it.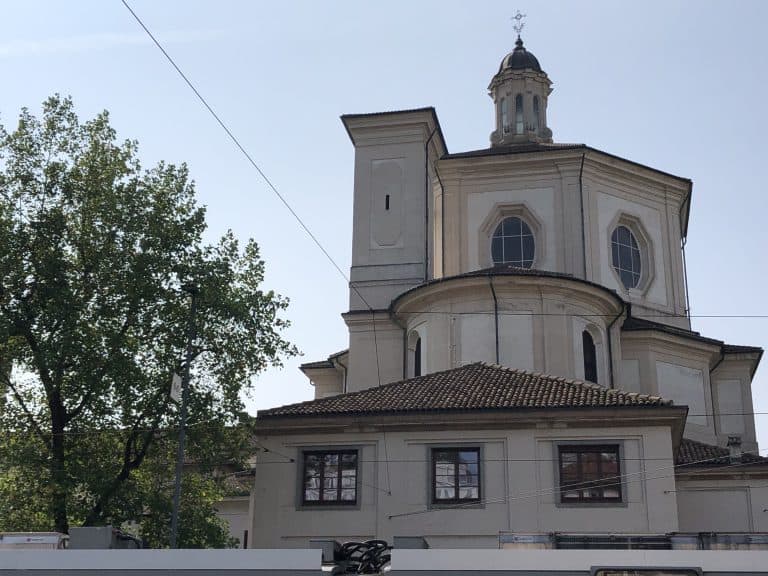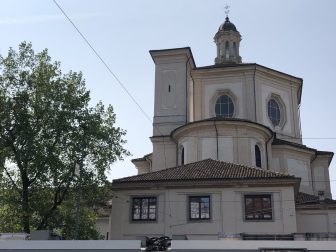 This time, a friend of ours came from Japan, so we decided to go there together, though she was at first hesitated saying "I might have a nightmare".
I have been interested in this kind of religious display since I saw one in Faro in Portugal for the first time a few years ago, and since then I saw a few of them so far and I am always wondering "Who made them for what?".
The one in Milan is inside Church of San Bernardino.
We checked the address and found that it was very close to the famous Duomo, which surprised me.
It is so close, and yet, I did not know that.
They say that there are two churches next to each other and San Bernardino is the smaller one, but it would be easier to say that it was the nearer one to the Duomo.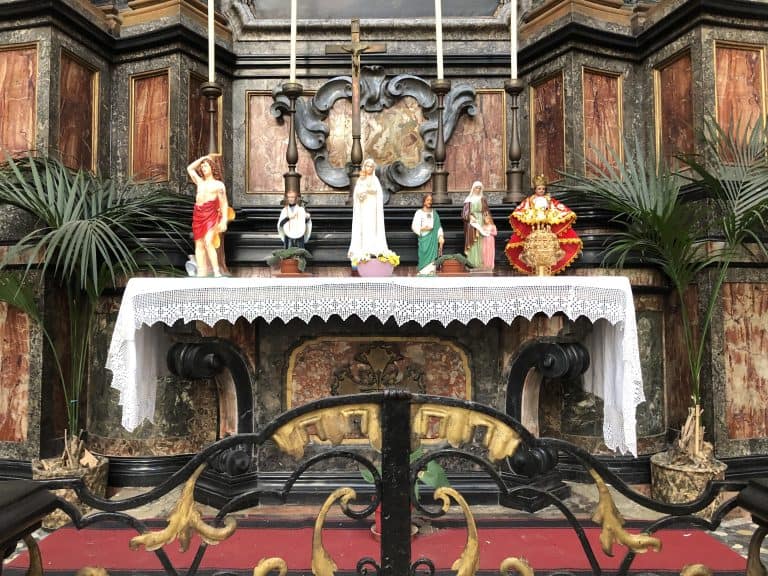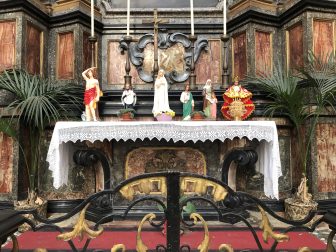 According to the information board outside, this church was originally built in the medieval time and standing on the ancient cemetery site called Brolo.
The old bell tower collapsed in 1642 and in 1712 it was destroyed by a fire and they rebuilt and completed it in 1754.
When we entered, first we found main chapel in a round shape.
I could not see anything unusual here except the kitschy offerings.
We went out to the corridor, wondering where the bone chapel was, then an dark Asian looking man came up to us and showed us the bone chapel's photo and said bluntly and even aggressively "This box. Donation €1 each!".
He was not friendly at all, so I ignored it, but my friend gave a couple of coins and lit a candle.
Probably she will go to heaven more easily than me…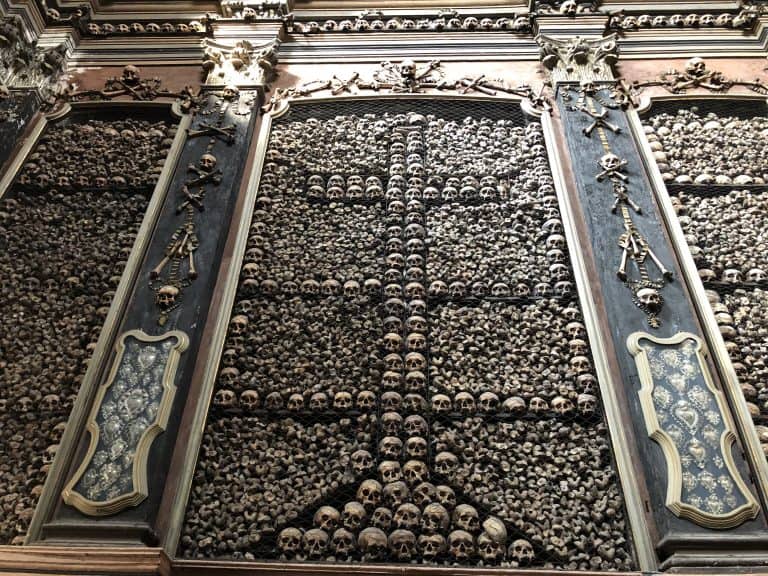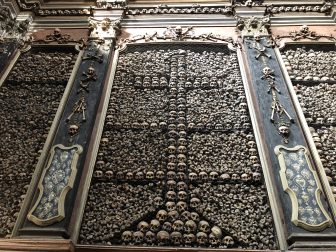 The bone chapel was in a square room which was smaller that I had imagined.
All of the four walls were made of great many bones and in spite of ourselves, we cried out with admiration.
The information board outside said that it was reconstructed in the late 17th century to the original medieval design.
The front faces onto an alley called "Dead Man's Alley".
According to the online information, when this was the cemetery, the space for the bones ran out and they made a room for the excess bones and that was the beginning of this chapel.
And when the king of Portugal visited here in 1738, he was so impressed that he made a similar one in Evora in Portugal.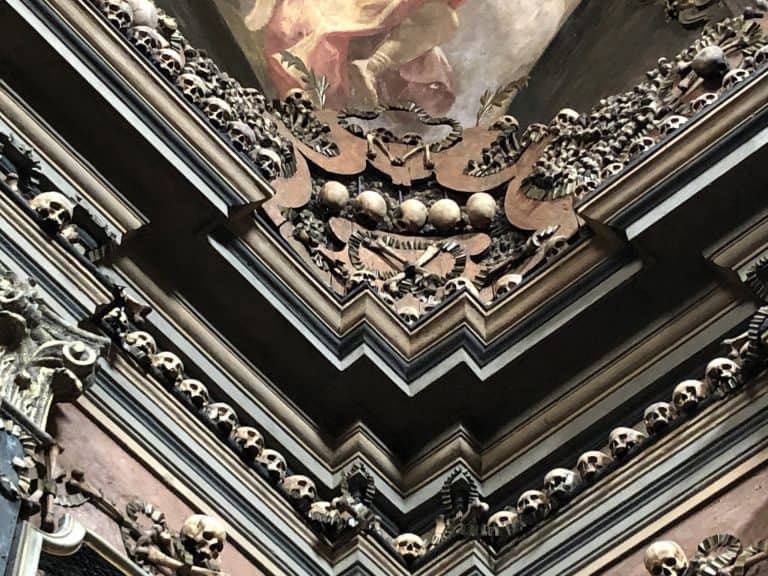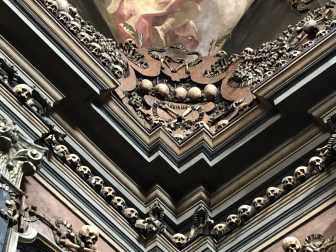 On the corners of the ceiling in this room, the skulls of the same size were placed neatly in a row.
"So someone chose and picked the same size skulls and carefully arranged them up there" said my friend, which made me laugh, but certainly everything was nice and neat here.
Apparently there is a legend that on the 2nd November, Day of the Dead, the skeleton of a girl at the altar gets up and invites the bones of men and they all start dancing with the clattering noises.
We saw the room thoroughly taking our time as my friend who had been frightened at first got really interested, too and then went out.
We saw a timetable for the Mass outside and interestingly they have a Mass in Sri Lankan language, too.
So the Asian looking person we met inside the church must have been a Sri Lankan.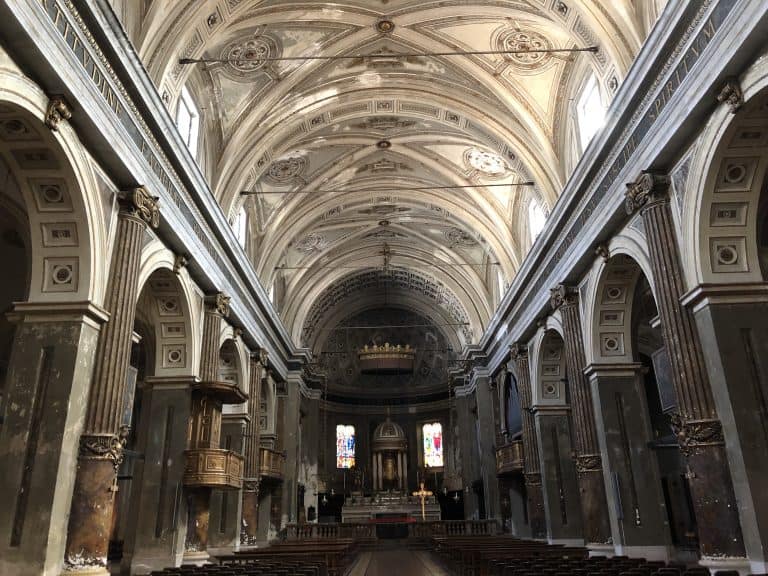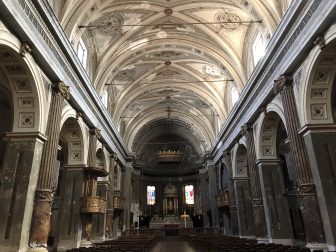 We still do not know about the connection between this church and Sri Lanka, though.
We went into the next door church, Basilica di Santo Stefano Maggiore, too.
This church has even longer history since the 5th century.
It was a large rectangular church, but we could see that they needed a lot of work for restoration.
Even so, there was a person in the corner praying earnestly.