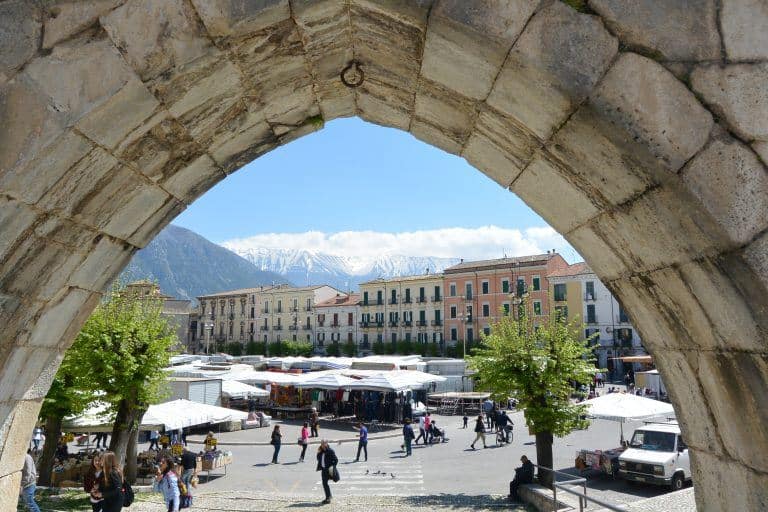 [ Apr.2018 ] We visited Sulmona in Abruzzo in the middle part of Italy.
This time, a guide called Guido, who was introduced to us by friends, showed us around.
This town is situated inland among mountains, so we could see the lovely view of snow capped mountains on the day in April.
One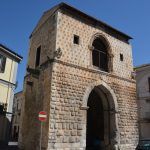 of the things that this town has been known for since ancient times is that it was on the main commercial and cultural route called Via del Abruzzi which connects Naples and Florence.
Also, it was the key transport hub towards the Adriatic sea in the East.
We went into the old town through Naples Gate on the road towards Naples in the south side of the town.
In the past, there were 6 or 7 gates, but only 4 have survived.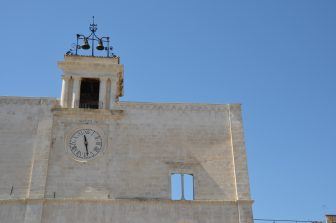 The first place we visited was a church called Santa Maria della Tomba.
Tomba means tomb.
It is a church with the tomb of Ovid, the Roman poet.
I did not know him, but apparently he was born in this town and lived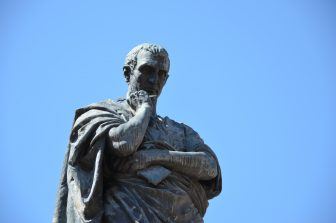 and worked around the time of the transition from B.C. to A.D.
We saw his statue later in a square a bit further on.
This Tomba church was originally built in the 12th century and, in the past, it was full of frescoes both inside and outside, but they were destroyed by earthquakes.
Now the facade is a simple flat white square.
Inside the church we could see some old frescoes.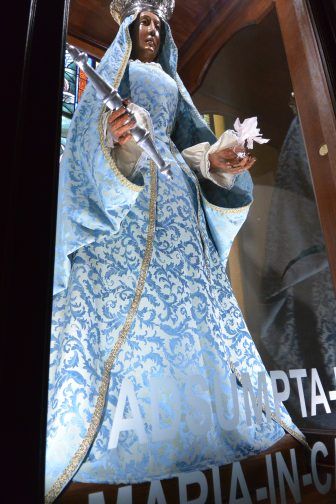 In the church, there was a statue of the Virgin Mary, which looked like a quiet version of a Western doll I used to have.
The pattern of the blue dress she was wearing is a copy of the old fabric made in a historic factory near Naples.
This factory invented the technology to weave gold into silk.
The main job of Guido, who explained all these things, is to manage a museum and he apparently specialises in historical textiles.
When we got out of the church, we found a small jewellery shop which was selling some star-shaped pendants.
According to Guido, the star shape has been often used in Abruzzo.
After saying that, he walked up to a textile shop nearby to point out some stars woven in the tablecloths and other things displayed in front of the shop.
Then the shop owner came out and started his sales talk vigorously.
Apparently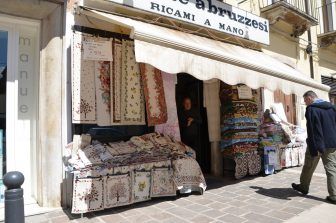 , all of those goods were from a closed factory and were hand-woven.
He said they are robust.
It seemed that he was in trouble and had too much stock and so they were discounted a lot.
Feeling sorry for him, my husband bought one 10 euro tablecloth.
It is something that would not match with our home interior, so it is, in fact, still kept folded now.
Guido looked rather sorry for us because he did not expect this development.
But this kind of happening is memorable whilst travelling, isn't it?