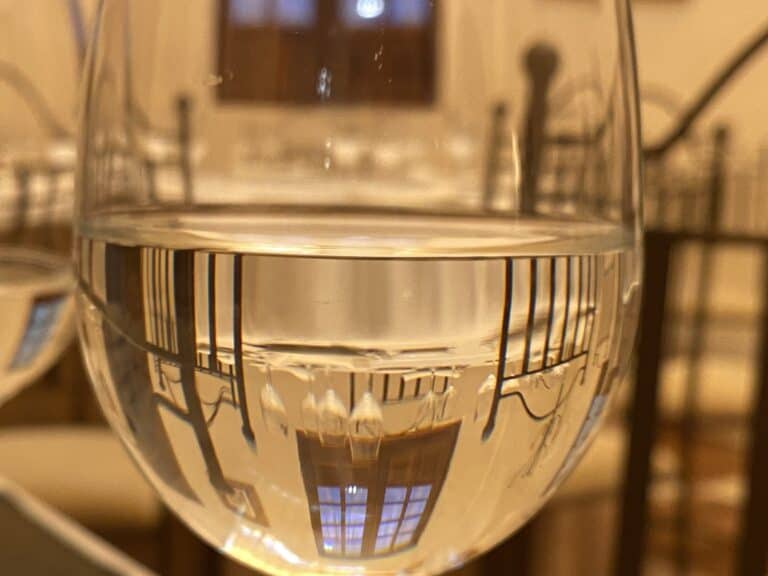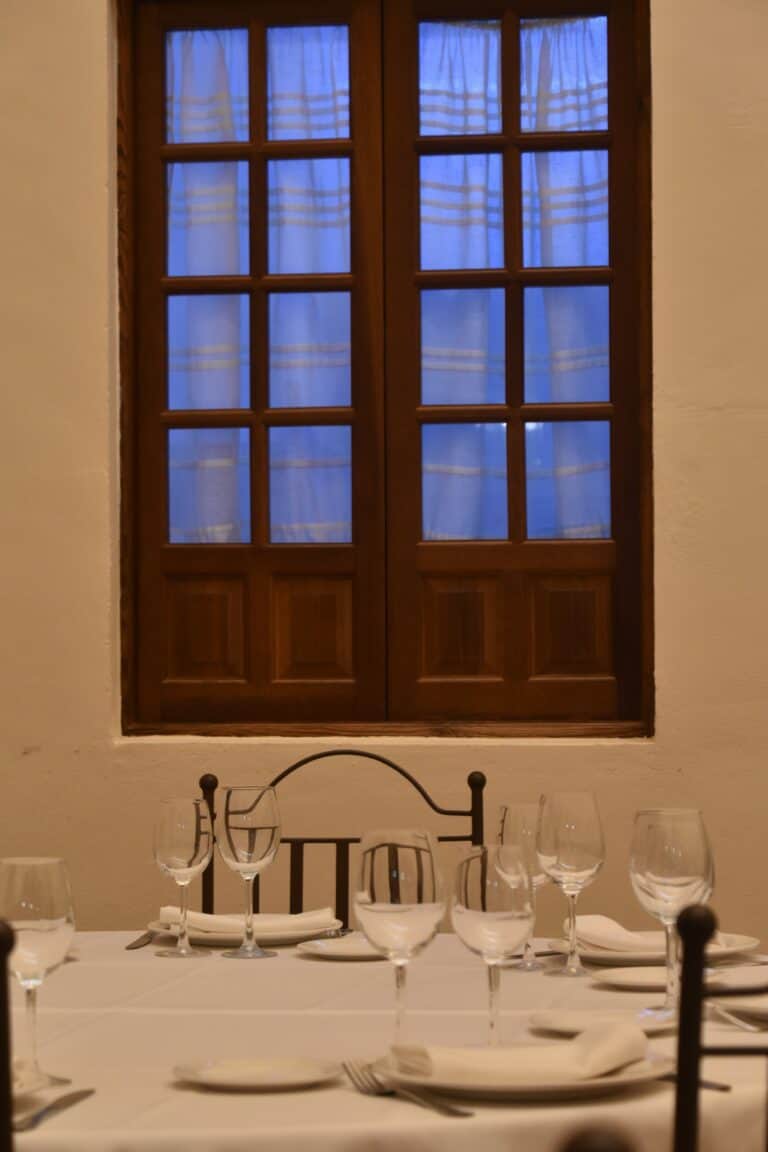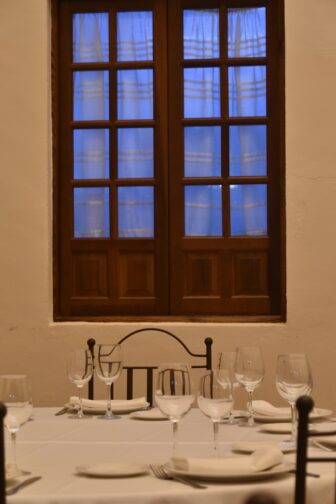 [Nov. 2021] In Ecija, a town in the Andalusian region of Spain, after visiting the museum, we went to the restaurant Casa Machin that we wanted to go to.
The restaurant was housed in an elegant mansion, Casa Senorial, with the patio part as a dining room.
It was past 1 pm, but we were the only customers.
Nobody came until after 2 o'clock.
The living hours in Spain is so different.
We shared a platter of ham and cheese for the starter.
We had s bottle of a rich wine named HITO with 14.5 degrees, and it was very delicious.
Warm and rustic bread was also good.
However, the veal fillet I ordered for the main was lukewarm, though the garnished potatoes are hot.
The lamb meat that my husband ordered was decent and he looked happy, but in the end I asked them to reheat my meat.
I guessed that they grilled my meat first, then my husband's lamb, and then potatoes.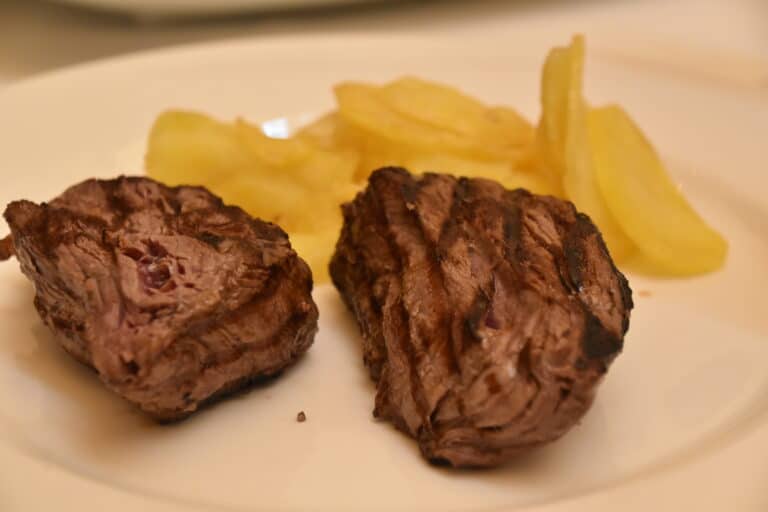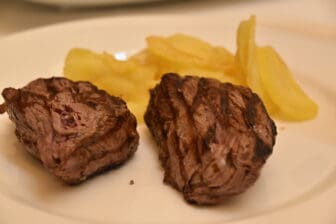 I wondered if there was not a facility to keep the food warm, or if the Spaniards like to cool the steak and eat it.
This was the second experience after Carmona, so at least it may be commonplace in this region.
When the meat was served again, it was warm and tasted very good.
For dessert, we  shared a cake called Tarta Zanahorias recommended by the waiter.
It was a sponge cake with nuts and white chocolate on it, and it was good.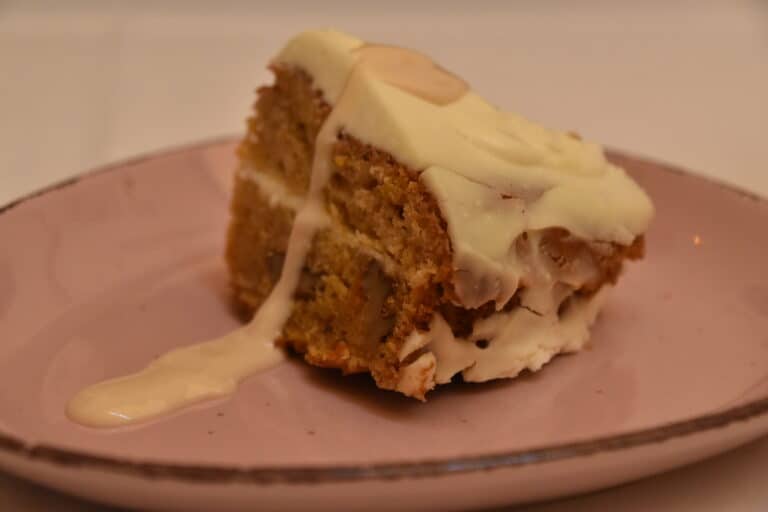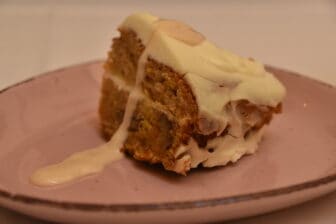 With the above, the bill was 97.50 euros.
After the meal, we visited the points of interest taught by the tourist information centre, but this time around 3:00 pm everywhere was closed.
One interesting place about the exterior was the mansion called Palacio de Penaflor, which features a long balcony.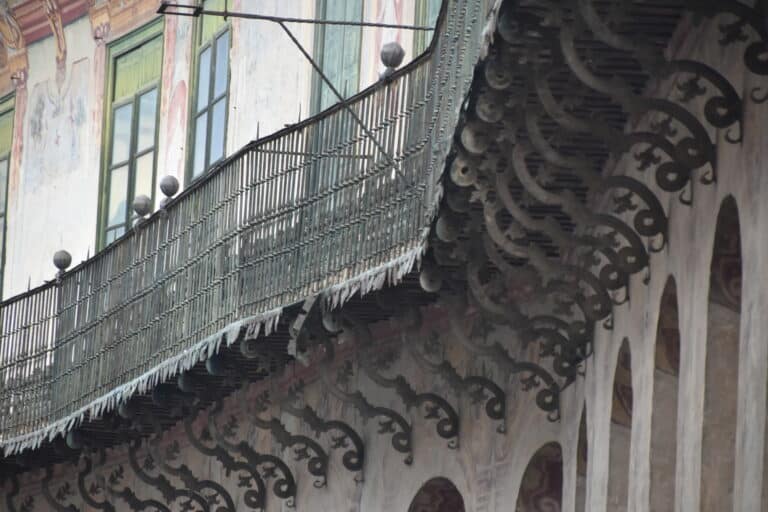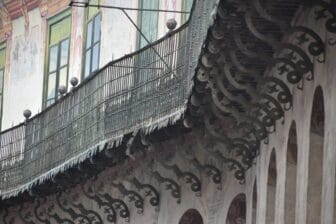 It was an 18th-century building and was the residence of the Marquis Penaflor, the landowner of the region, but according to the guidebook, it was sold cheaply to the town of Ecija due to the end of the family line in 1958.
It says that it may be sold again and become a luxury hotel because the maintenance cost is too high.
The inside seems to be luxurious, so I would like to stay there when it becomes the hotel.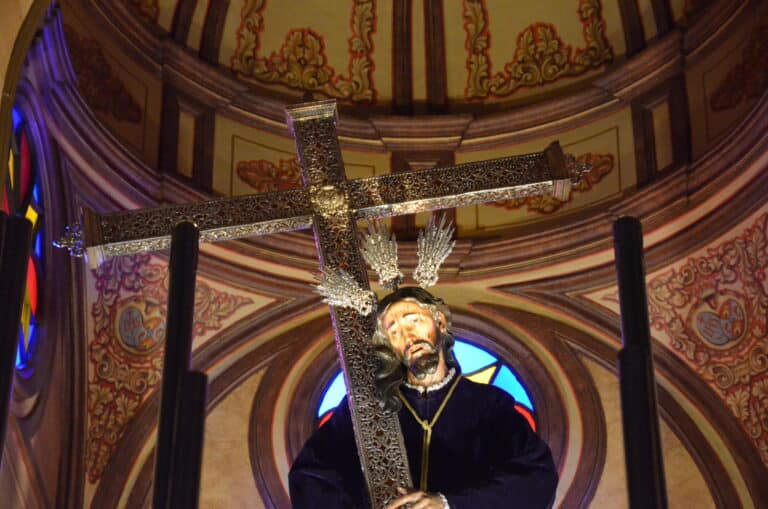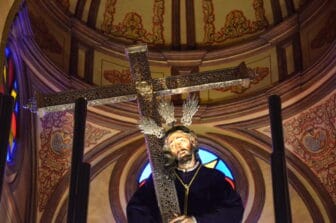 There are many churches in Ecija, and the bell towers are particularly elaborate, so Ecija is sometimes called "Town of Towers".
One of them, the church of Santa Cruz, which has a bell tower that was originally a minaret of a mosque, opened at 4 o'clock, so we went in.
The inside was dark and had a heavy atmosphere.
There were many wooden mannequin-like statues often found in Spanish churches.
Children about 6 to 7 years old were taken by a man and went into the back of the altar.
Perhaps they were studying the Bible, but I thought that the dim church would look like a scary place to the eyes of children.