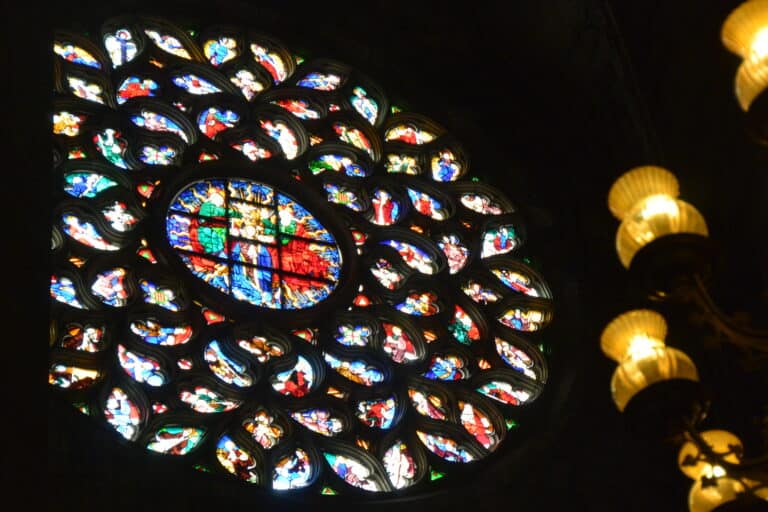 [Nov. 2022] We searched for Basilica de Santa Maria del Mar in Barcelona, Spain.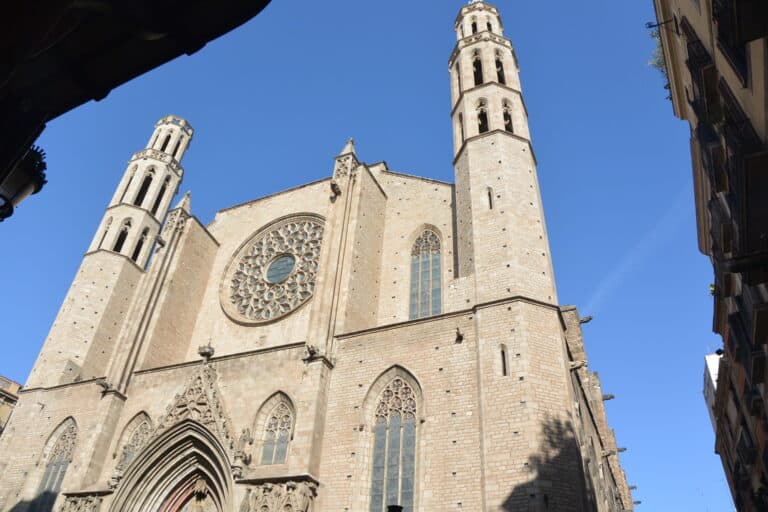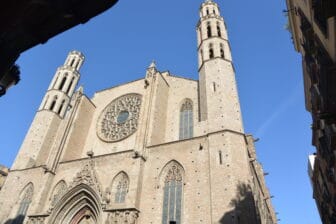 The reason why I wanted to visit here was that when I looked at the picture of this church in the guidebook, the front looked round and unique.
But when we went, it was normal.
It was just a guidebook photo taken with a wide -angle lens.
Certainly, the square in front of the church was not very large, and a wide -angle lens was needed to put the entire facade in one photo.
To be honest, I was a little disappointed.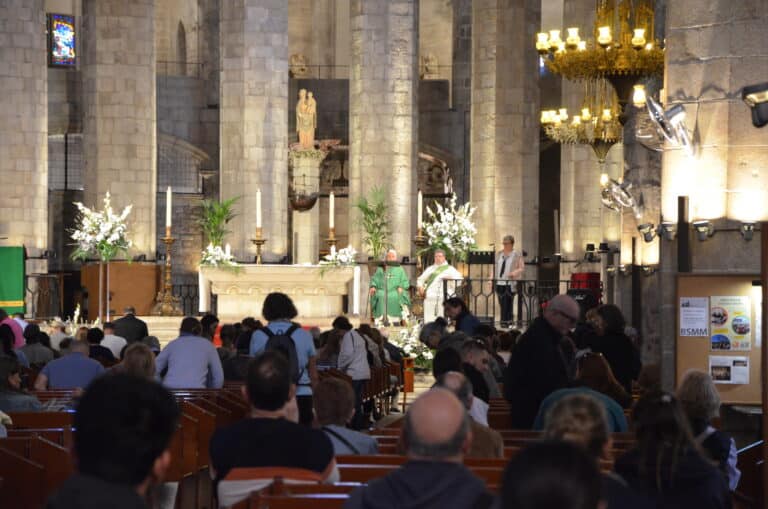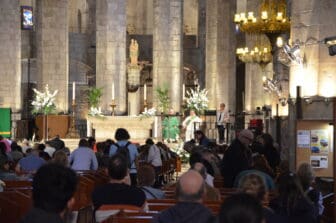 And when we entered, it was just in the middle of the mass.
Mass from noon was called International Mass, and some English were heard.
We were tired of walking, so we decided to sit down and watch the Mass.
According to my husband, Mass's progress was the same as in Italy.
But on the way, there was a scene where they sang "We are a big family" and danced a bit, which was unique,
This reminded me of the 'YMCA' of Village People, but is it unscrupulous?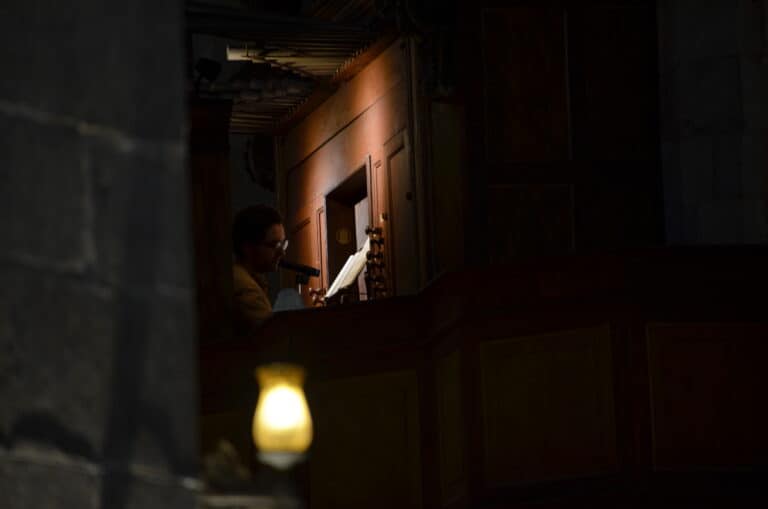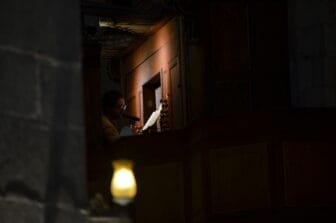 The performance of the pipe organ was very beautiful.
So the priest here has to be able to sing.
As I saw this, Mass was in fact a performance, and the church resembled a theatre.
I have never thought this before.
The performers recite and play the music in front of the audience who sit on the chairs lined up and listen to them gratefully.
Perhaps because of that, it is true that the church is sometimes used for the performance venue.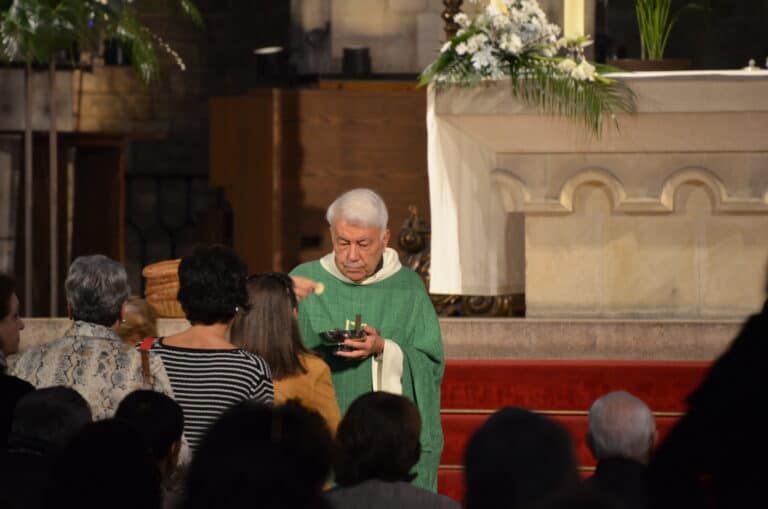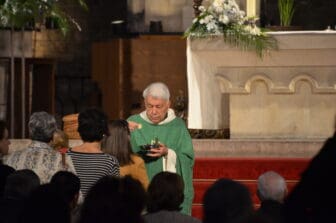 Now the main part of the Mass was over and the Communion (bread and wine worship) began, so we left there quietly.
Because of the Mass, we couldn't see every corner of the church, but it was a good experience.
This church was started being built in 1329 and was completed in 1383.
At that time, this place was facing the sea, and apparently parish people such as port workers spent time and worked on construction.
In more recent years, in 1936, when the Spanish Civil War began, there was an arson by anticlerical people and the church continued to burn for 11 days.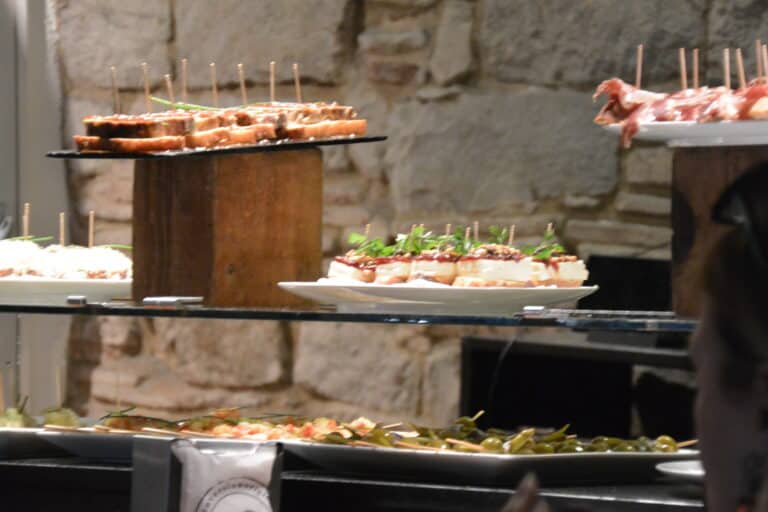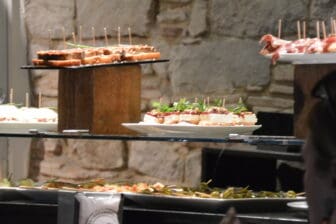 After leaving here, we had lunch at a Pintxos restaurant in the neighbourhood.
They had a system that they count the the number of toothpicks stuck in the Pintxos for the bill, similar to conveyer belt sushi restaurants which count the plates of the sushi customers eat.
In fact, I think that there is a similarity between Pintxos and sushi; Pintxos has the ingredients on the bread, while sushi has the ingredient on the rice.
I ate five and my husband ate six Pintxos, and we drank one glass of wine each, and it was an affordable price of about € 35.