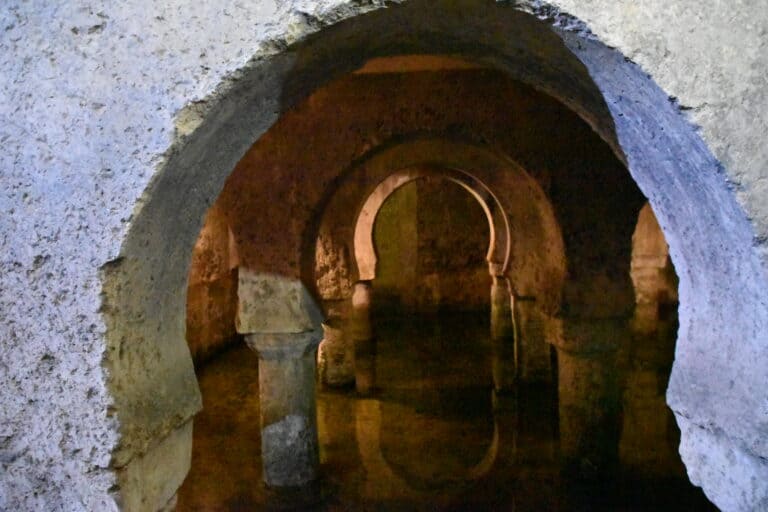 [ Dec.2022 ] I think the highlight of sightseeing in Caceres, a town in Extremadura, Spain, is the cistern in the basement of the museum.
When I first saw the photo at the tourist information centre, it looked somewhat mysterious and I really wanted to see it.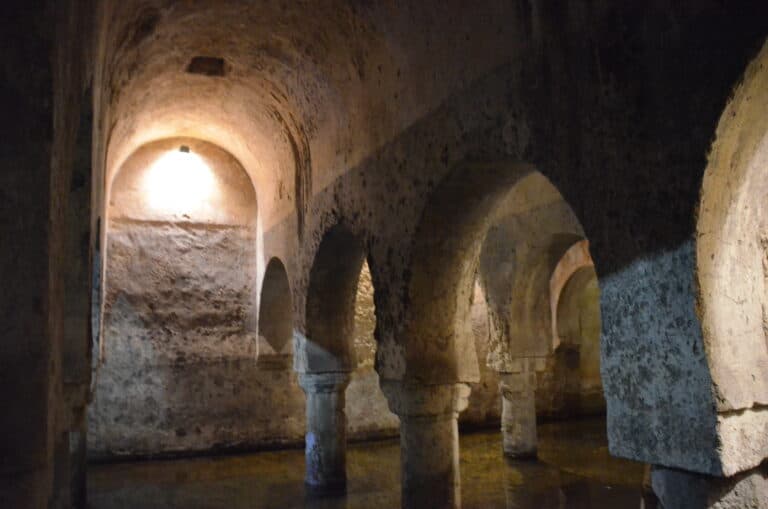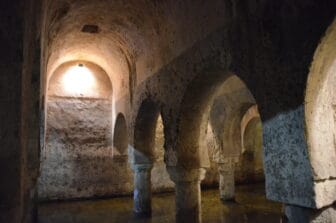 The museum, Museo de Caceres (€1.20) is housed in the Casa de las Veletas, a 15th-century mansion, but before this mansion was built, there was a Moorish fortress there.
This cistern is from that time, and it is said that it was made in the 9th to 11th century.
After the Christians recaptured the land from the Moors, the Moorish fort was demolished, leaving only the cistern, which continued to serve as a source of water for the people.
At 13.7 metres long and 9.8 metres wide, the cistern is the largest and best preserved on the Iberian Peninsula.
My husband said he read somewhere that it was the second largest after the one in Istanbul, Turkey.
After seeing this, I learned that the water was drawn from the Marco River, which flows outside the city walls, and was stored there, which was the lifeline of the town.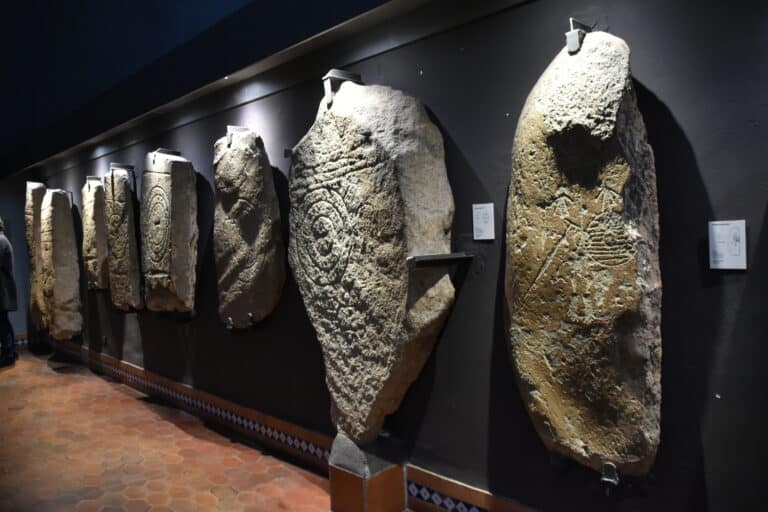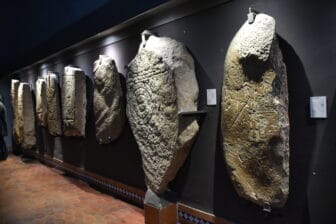 It is said that when the enemy poisoned the Marco River, the city was saved because the cistern was already filled with water.
Come to think of it, I remember seeing another cistern in Lisbon just a year ago.
The museum, of course, has a wide variety of exhibits, divided into archaeological and ethnological ones.
What was interesting to me was the folk costume room, where we could see that some people wore fancy hats and worked in the fields, while others traditionally wore many layers of skirts and blue socks.
I also learned that there is a festival where people wear animal costumes.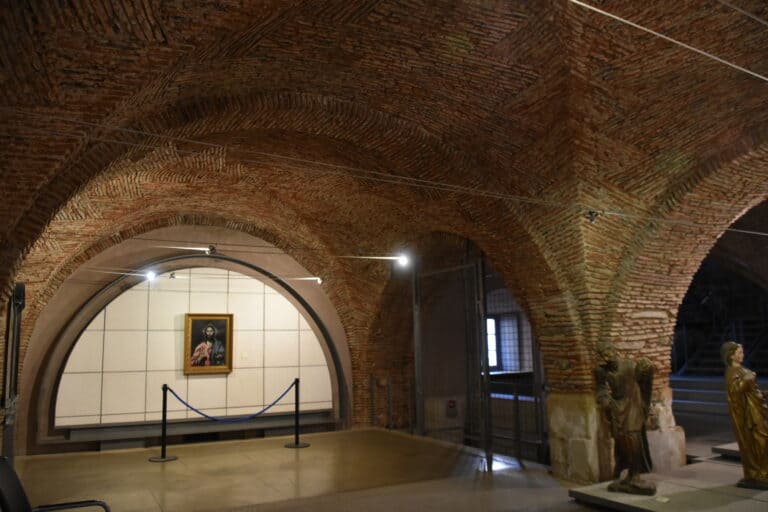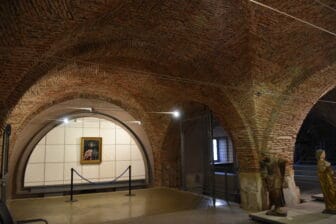 The museum also has an annex building, Casa de los Caballos, which used to be a stable.
There are works of art on display here.
When we entered, it was already closing time for lunch, but the person in charge said, "Hurry up and take a look" and opened it for us.
It displayed works by contemporary local artists, as well as paintings by Miró and El Greco.
After leaving the museum, we walked around the Jewish Quarter, took a short peek at the Ermila de San Antonio, a former synagogue, and then went to the Torre de los Pozos, a 12th-century tower (€2.50).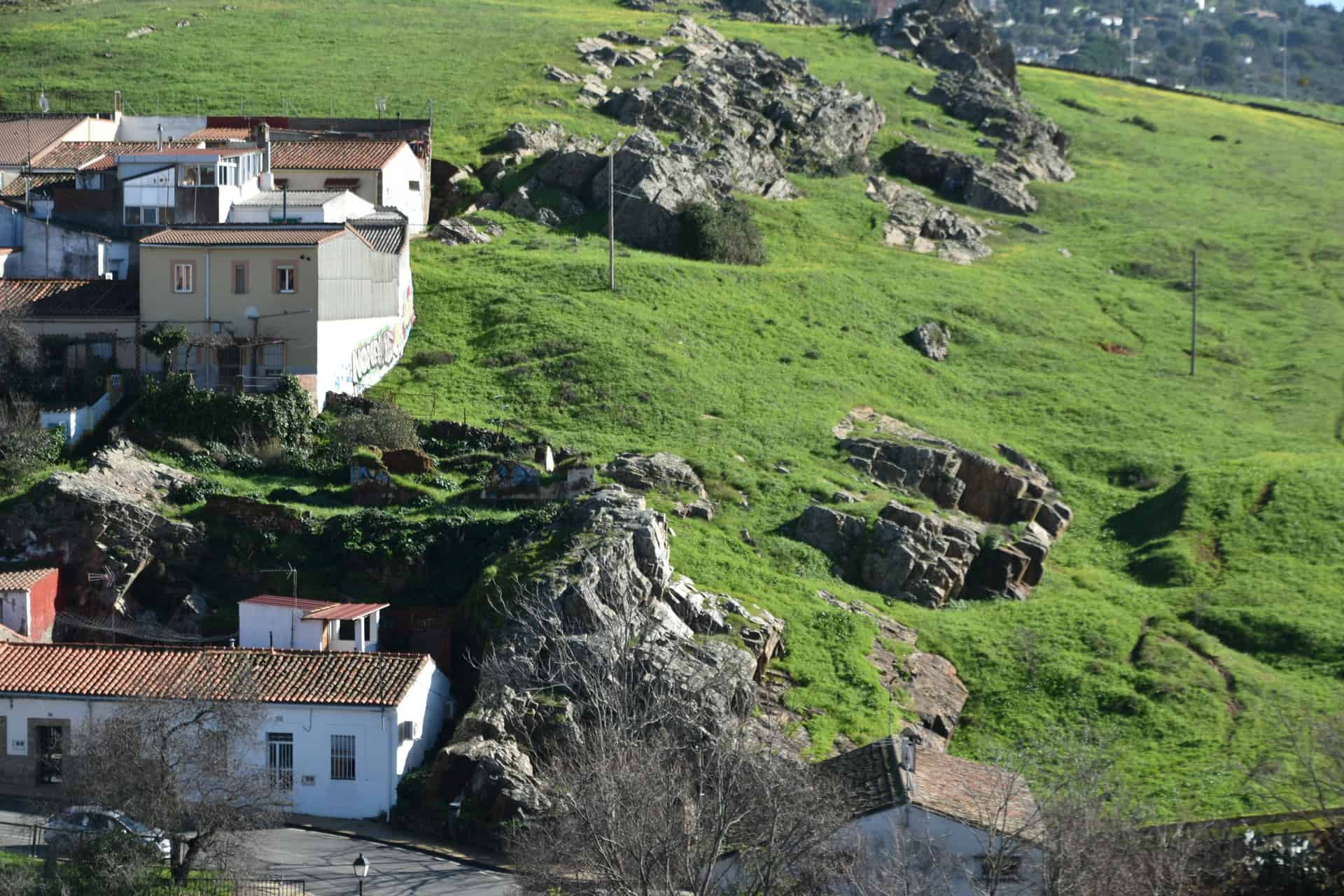 It is said that this tower was a watchtower for the purpose of protecting the cistern, and the enthusiastic staff here told us the above story of the Marco River.
We looked around the view again from the tower.
The sunlight was so strong that my husband was saying that he could not open his eyes there.