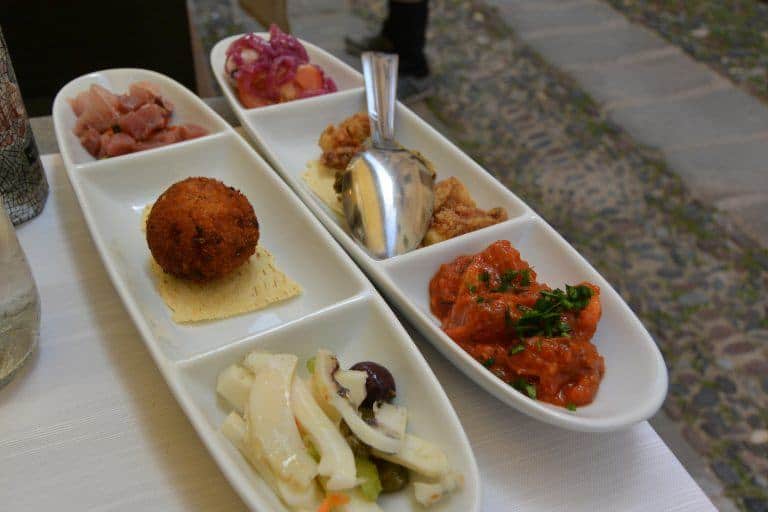 [ May 2018 ] The main purpose of our holiday to Sardinia in Italy this time was to go to the beautiful beach in a small town called Stintino.
We decided to stay in Alghero, because Stintino looked quite near from there on a map.
But in fact, we found that it was very difficult to get there either by bus or by boat at this time of the year, the end of May.
Apparently, they start most tours in June.
On the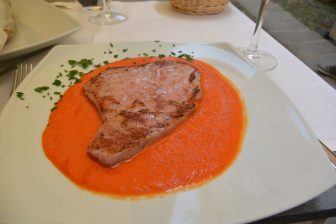 day of our arrival, we found out about these things and, on top of that, the weather forecast for the next few days was not very good.
"This is too bad. Well, let's eat something".
So we looked up on the internet and found a restaurant called Trattoria da Mirko that looked good.
It was a very small restaurant in a narrow alley.
The small tables were on the small balcony, which was a bit of problem, but apart from that, it was very good.
It is a seafood restaurant only using the materials from this island.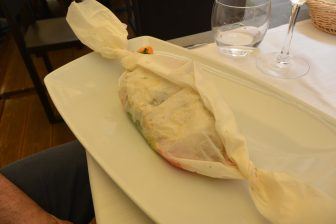 That reminded me of another island, Sado Island, in Japan.
Both are proud of their local foods.
Here, we shared an assorted seafood for one between us for the starter.
A small quantity of various types of seafood were on some plates and each one was very good.
One for two was more than enough for us.
For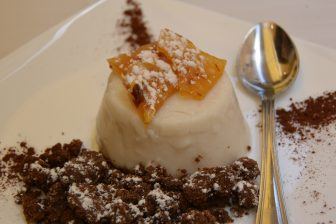 the main, I had the tuna steak with orange coloured sauce, which was slightly sweet and tasty.
My husband had a swordfish grilled in foil.
I tasted a bit of it and found that the fish had a stronger flavour than the ones we eat in Milan.
My dessert was the lovely almond Bavarois.
As for wine, because I do not like white with a too fruity or strong taste, we asked for a lighter one.
The waiter told us the ones on the menu are all local wines and they tend to be heavy.
So he brought a bottle which was not on the menu.
Apparently, the production of this wine is small.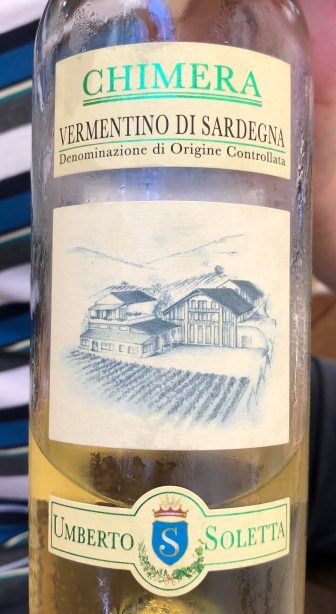 This one is made in Sardinia, too, but it was light and easy to drink.
The waiter looked genuinely happy when he saw us enjoying eating their food, which was nice.
This very satisfactory meal cost €83, which I thought was reasonable.
During our meal, my husband told me that he knew someone who used to live in Milan and had a problem with one of his lungs.
However, when he moved to Sardinia, he became healthy and happy.
"It might be a good idea to retire here in Sardinia" we said, and asked the waiter what this town is like in winter.
His face clouded over and he said "It is so quiet, like a death".
We asked the same question to other people, too.
One said "Particularly this winter, because Ryanair (a low cost airline) cancelled many flights, it was literally an isolated island".
Also, the temperature seemed have gone down unusually this past winter and someone told us "Even in the house, we could see our breath!".
Houses in this area are probably made for the hot weather, so it would be hard to live under the unusual cold weather.
Well, we may have to give up on the idea of spending our retirement here, then…