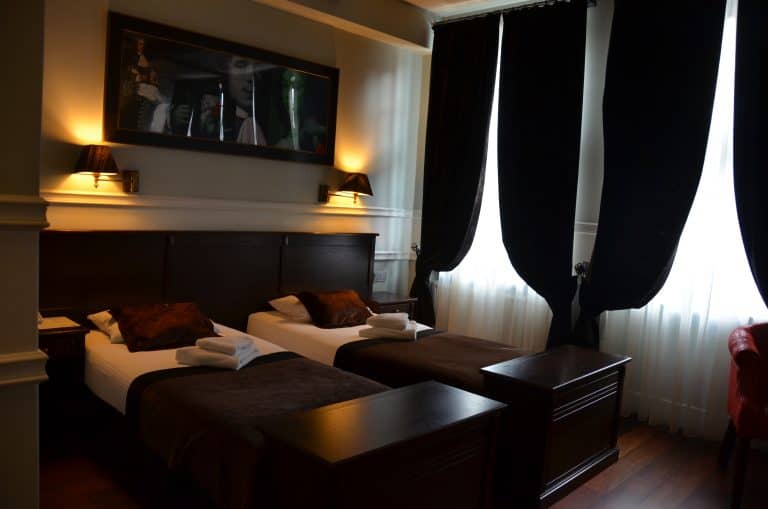 [ Aug.2016 ] We visited Gdansk in Poland again.
The last time was only 10 months before.
This time, our hotel was Holland House which was located in the main pedestrian street called Dulgi Targ (meaning Long Market).
It is in a historical building which tourists led by a guide would look up.
The room was fairly spacious and quaint.
The floor was wooden in dark brown colour and there were beams on the ceiling.
The good things end here.
The attitude of the staff was awful.
For example, when we found that all the bread has gone when we were having breakfast and pointed out to a member of staff, she said something like, "because it is a bit late" and ignored our request.
When I went to the reception to ask what was happening in the Dulgi Targ as some fences were set in the street, a woman at the desk looked annoyed and poked a male colleague sitting next to her without saying anything.
The male staff answered me as if it was a bother.
After coming back home, I checked this hotel's reputation in the internet and found that it is infamous for the bad attitude of the staff.
The hotel had answered the complaints, saying 'We have changed our staff recently'.
I wonder if it has got better.
We found that the attitude of Polish people in the tourist industry was polarized.
Not only this hotel, but in the tourist office, we had an unpleasant experience.
On the other hand, we met a very nice and genuine shop assistant and a very friendly taxi driver, too.
Anyway, in Eastern and Northern Europe, people do not smile easily.