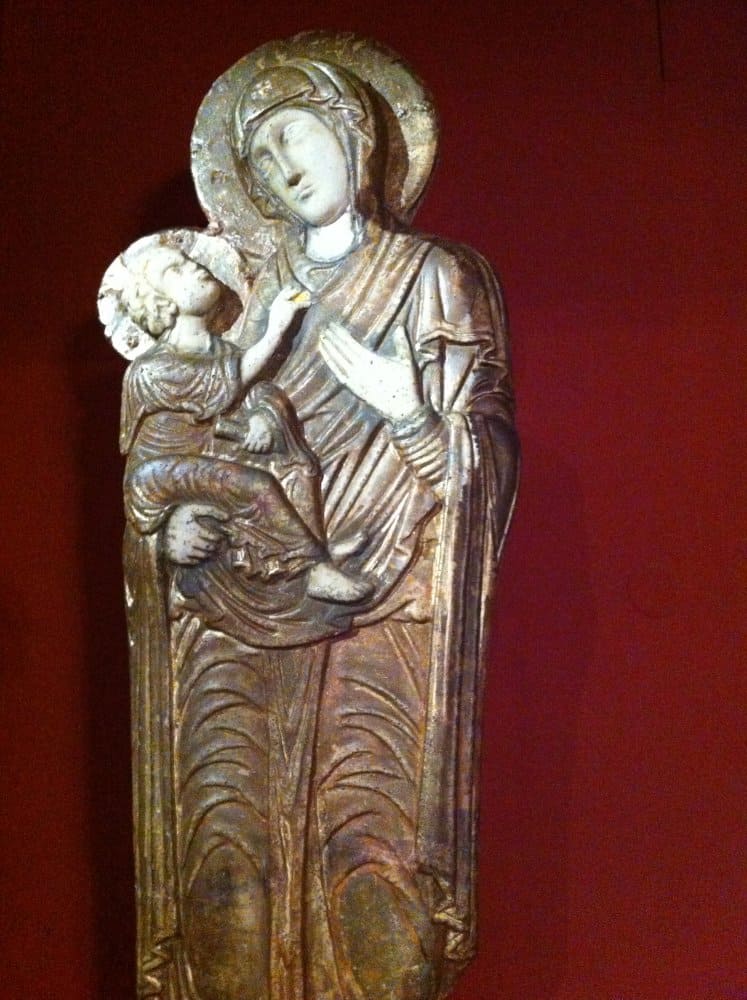 [ July, 2014 ] If I only heard "Church Art Museum", I would not have got interested, but because I saw some photos of its exhibits in a leaflet introducing Zadar, Croatia, I definitely wanted to go there.
This museum is run by a Benedictine monastery and the staff is all nuns.
The photography in this quiet museum was not allowed of course, but some other visitors were taking photo by mobile phones, so I followed them (this photo is the result).
I was found and told off, though.
The most interesting things were arm shaped gold sculptures in a glass case.
We asked what they were to a nun and found that they were containers which contained bones of arms of saints or bishops.
Another thing I noticed was a silver object which resempled a board with pictures which we often see in touristy area, the ones you can take photos with your head out of a hole of the board.
Again we asked what it was and she said it was a cover for a religious painting to protect it from the smoke of incense which they use for the services.
Moreover, we found some books written in a language I had never seen.
Apparetnly there used to be a language used only this area in the past.
During the socialist era, it died out.
I bought a bookmark of this alphabet.
The back of this bookmark has got pressed flowers made here.
By the way, one of the nuns asked me "Are you Chinese or Korean?".
In Zadar, all those Oriental looking tourists were from either China or Korea.
I did not hear any Japanese spoken whole week.