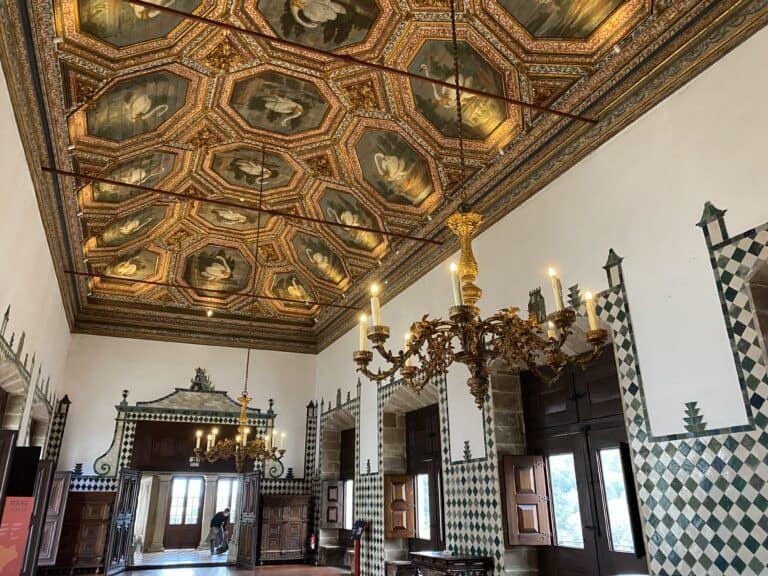 [Dec. 2021] The Sintra National Palace in the middle of the town of Sintra in Portugal was as eccentric as the Pena Palace on the mountain.
For example, "Swan Room" (pictured on the cover), which is right after entering.
Pictures of swans are drawn all over the ceiling.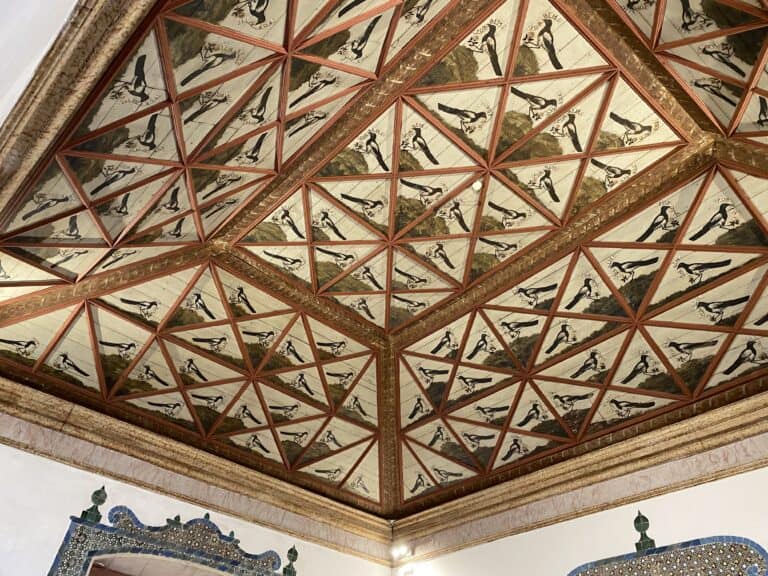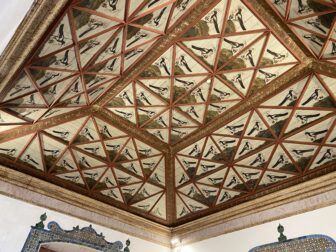 I didn't count it, but according to the guidebook, there are 27 birds.
There are some descriptions that describe this room as beautiful, but I was horrified because I am not a fan of birds.
Next is "Magpie Room".
There are also many magpies on the ceiling.
There is a legend here.
King John I of Portugal from the end of the 14th century to the beginning of the 15th century was accused of kissing one of the Queen's maids, but he claimed to be "an innocent kiss."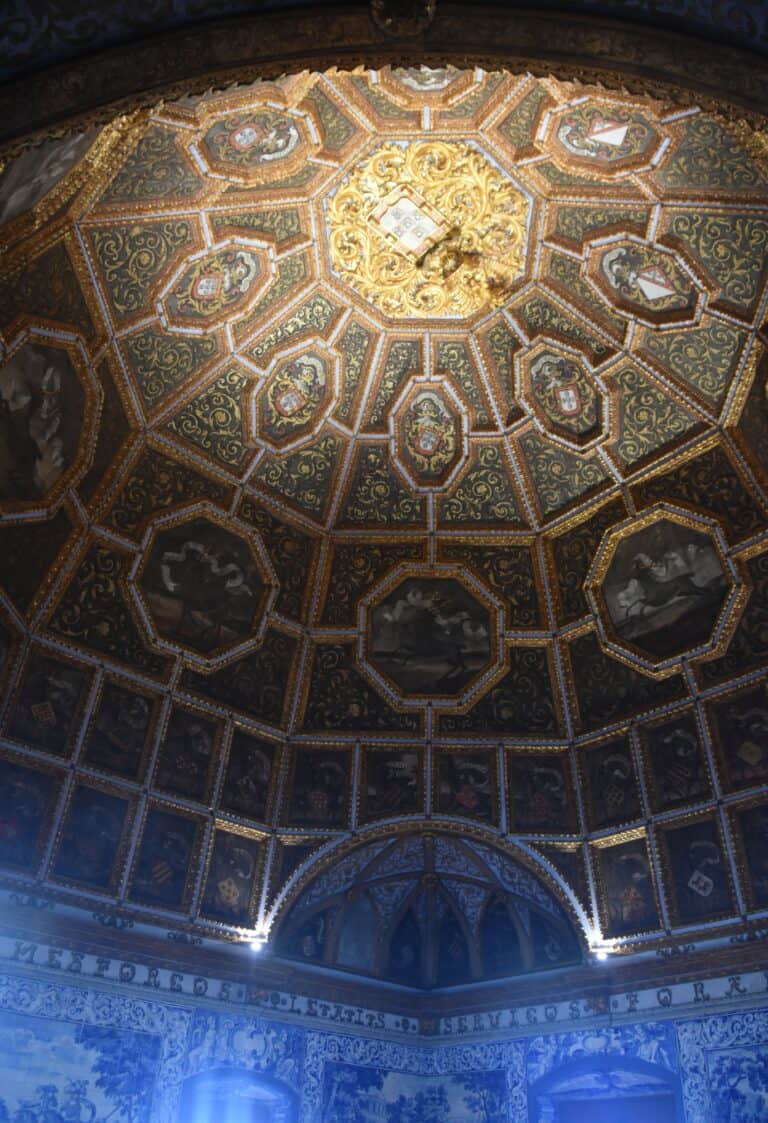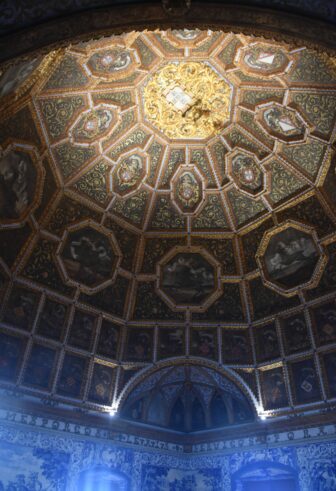 However, rumours of the king's kiss spread among the maids.
Therefore, it is said that the king ordered to draw pictures of magpies, known as chatty characters, on the ceiling as many as the number of maids.
The history of this Sintra Palace is said to begin when Portugal was ruled by Muslims, but most of what you see now is from the time of John I.
The Pena Palace is relatively new (19th century), and it was a work of Ferdinand II who was artistic, so it is no wonder that it is eccentric, but Sintra National Palace was the royal family's residence from the 15th century to the 19th century.
So, this was probably the taste of the Portuguese royal family.
It is a palace with a mixture of Gothic, Portuguese Manueline, Islamic decoration, and azulejos.
There is also a "heraldic room" which reminded me of the Alhambra in Granada, Spain.
I don't dislike this kind of Islamic ornate decorations, but I am not sure if I want to live in here…
There was also a beautiful chapel.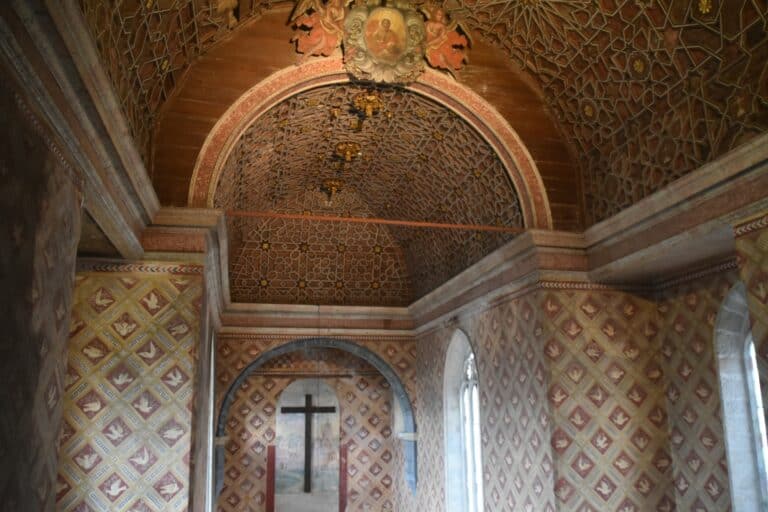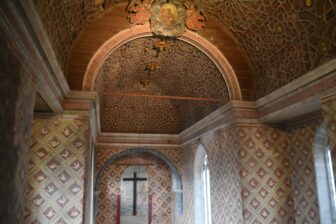 This seems to have been built before John I.
The colour was based on light pink, and it had a soft image, but when I looked closely, it was still birds that was drawn all over the wall.
Also the room called "Water Grotto" with plenty of old azulejos is worth seeing.
Some rooms had a calm atmosphere with geometric tiles covering the walls.
The two conical towers that stand out when you look at the palace from outside were the chimneys of the kitchen.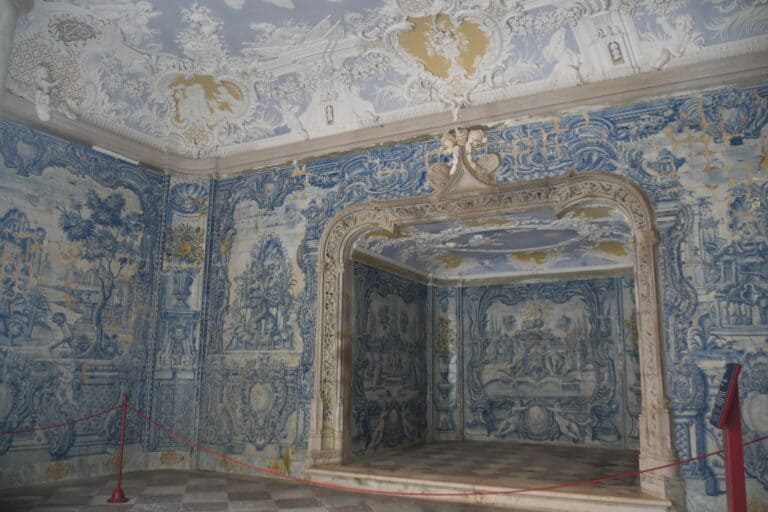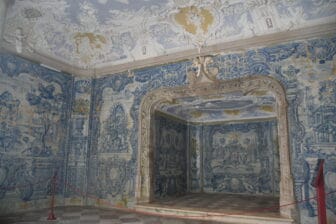 For some reason, it was quieter than the Pena Palace, which was full of tourists, and we could take a leisurely look around, and that is why this Sintra National Palace left me a strong impression.
That's all for Sintra this time.
Due to my husband's hip injury, we decided not to walk around Sintra which has a lot of slopes and took the bus 434 again to the station and back in Lisbon.