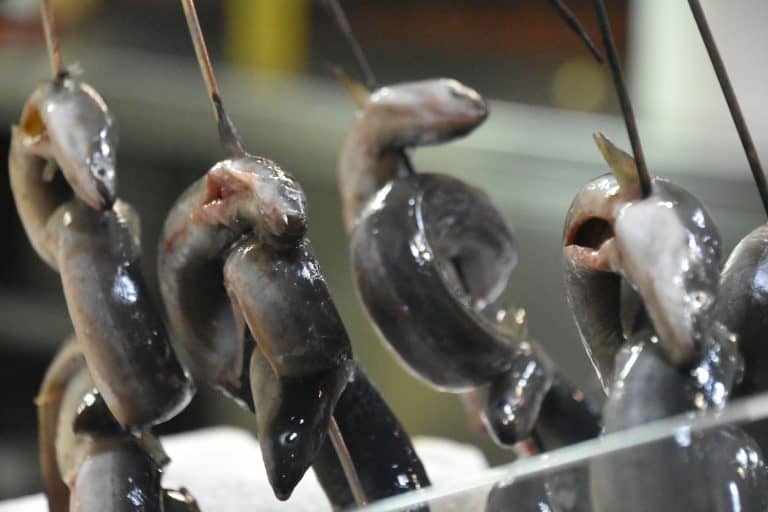 [ Sept. 2020 ] This day in Alghero, a town in the northwestern part of Sardinia, Italy, was a normal day.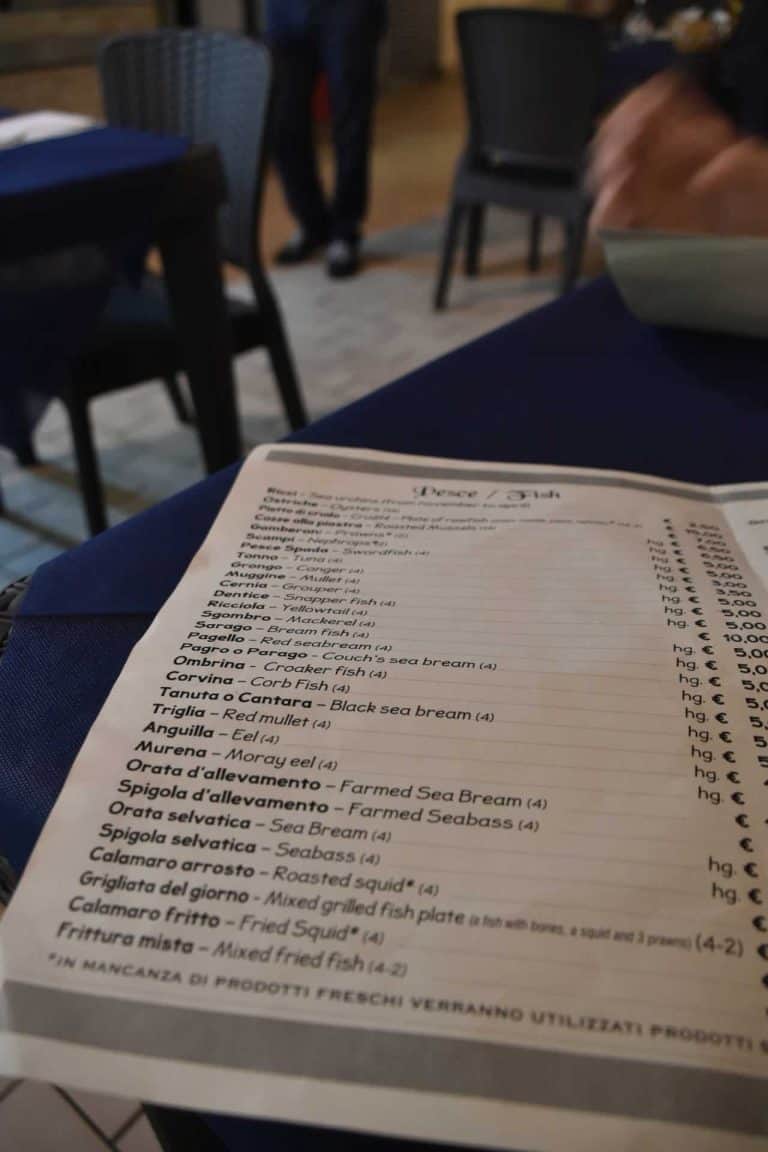 The only event was a lunch break between work, going to a market in the town and having a meal.
This was the second time we had lunch at the market.
When we went there for the first time, we were excited so we went around to look at everything and bought vegetables, but on this day we went straight to the restaurant.
We knew that the restaurant opened at 12:30, so we went there in time.
I noticed that eels, which were not available last time, were lined up in a glass case of seafood in a skewered manner.
When we asked the waiter how they cooked, he said it would be roasted.
I was curious, so I ordered an eel.
The roasted eel had a bone in the middle and was thin, so it was difficult to loosen it, but it tasted better than I expected.
The taste was a little closer to fish than that of Kabayaki eel which I am familiar with.
It was fatty and tasted perfect.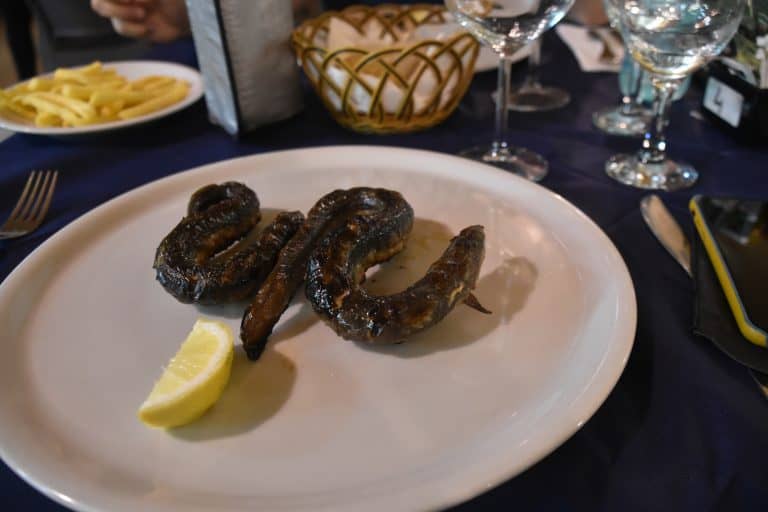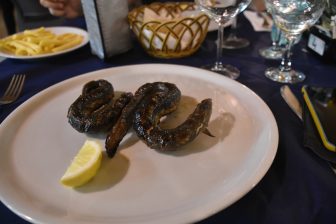 My husband made the safer chose, which was the grilled sea bream with salt.
Both my husband, who particularly dislikes fish bones, and I were concentrating on separating the flesh from the bone, so it was a silent lunch.
We ordered a half bottle of white wine as well as French fries that other people had eaten last time and looked delicious.
Still, it was € 36  in total.
We also wanted to eat dessert after meals, so we went to the bakery right next to the market.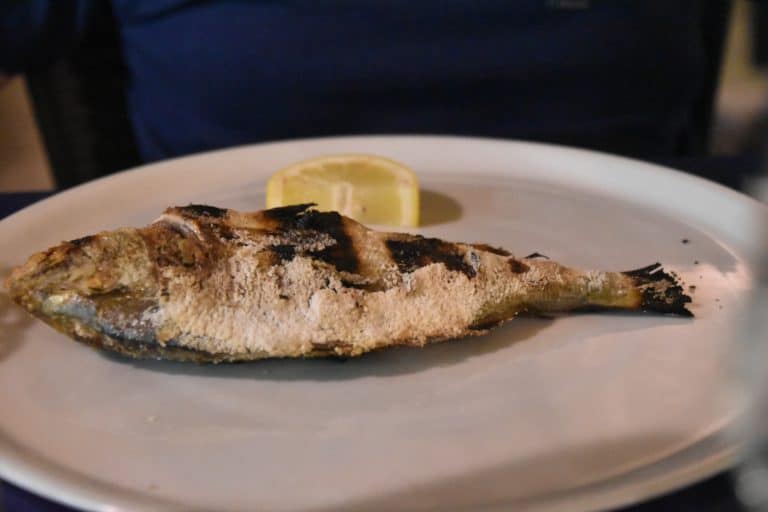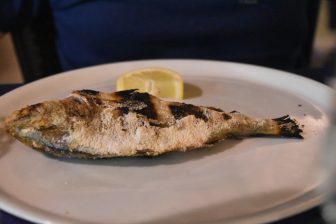 The baked cake with raisins and coffee.
They didn't serve coffee at the bakery and we were asked to buy it from the shop next door, so we did so.
It was a simple cake and it was delicious as it was.
This cost € 2.60.
Alghero is really a cheap and easy-to-live town.
We spent the evening watching TV at home (Airbnb) without going out.
We saw a Hungarian film called "1945".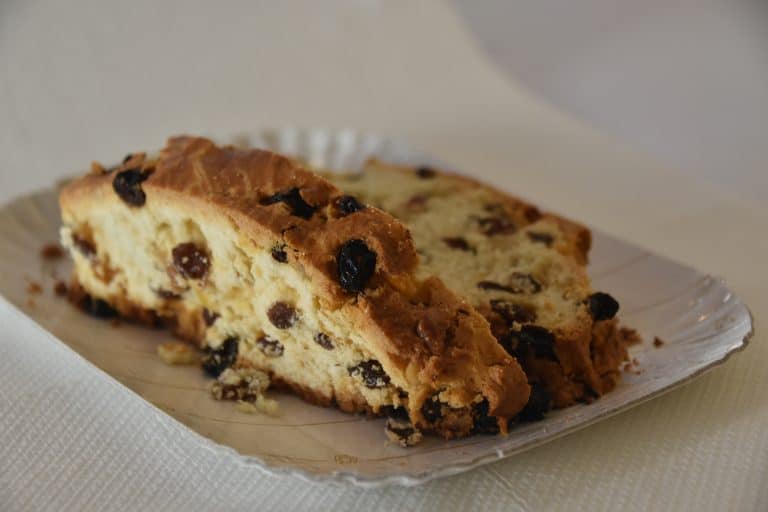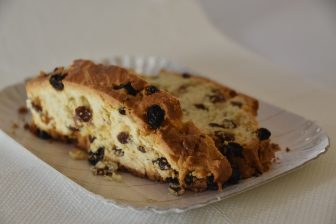 It is a story in a small village in Hungary immediately after the end of the second world war.
One day two Jews arrived in a village with a box.
All the villagers go back and forth for fear that the wrongdoing done by each villager against the Jews under the Nazi umbrella will be revealed.
In the end, it becomes clear that the two Jews came only to bury their relics, but within those hours, one committed suicide, a marriage broke out, and a fire broke out.
It was a film that very well expressed how ordinary people are humanly small.
As I wrote before, in Italy all the foreign programmes are dubbed, not subtitles.
So I watched it while having my husband explain it.
However, even with Hungarian + Italian subtitles, I must have had a hard time.