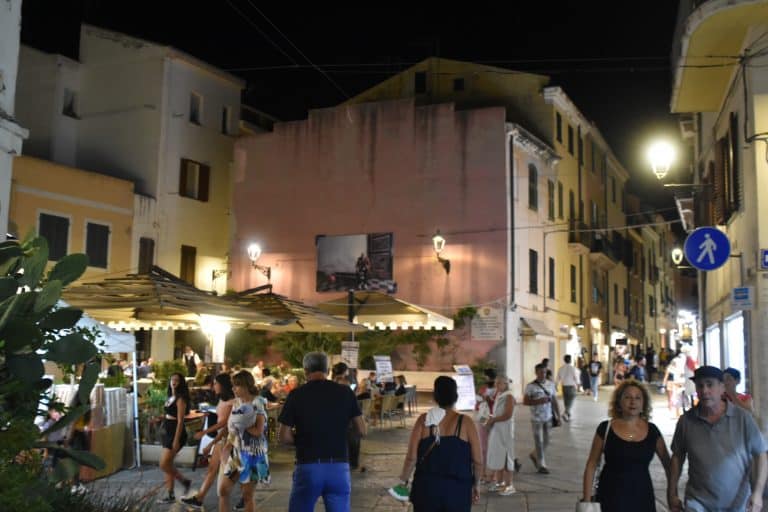 [ Aug.2020 ] As I said earlier, our stay in Alghero in Sardinia in Italy was for 'worcation', so we cook for ourselves, too.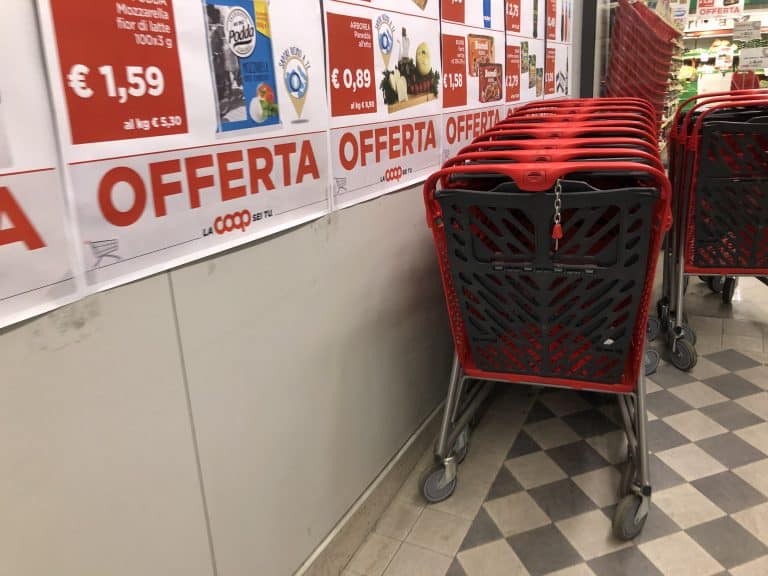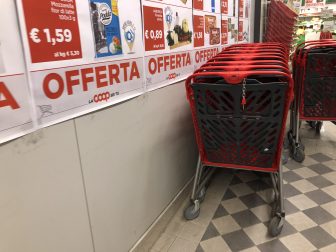 Therefore we went to a supermarket on the first day.
The owner of our Airbnb told us that the Co-op on Via Sassari which was about 10 minutes away was good, so we went there.
Supermarkets are similar all over the world, but if I have to say something about Italian ones, they sell a lot of tomato sauces and pastas.
This Co-op was not so large, but in large supermarkets in the suburbs of Milan, the pasta shelf occupies whole aisle.
There is one impressive story in this Co-op: it was not on the first day, but when my husband went there on his own, he saw that the casher woman was arguing with a customer who was an old man.
The casher was saying harshly "I have told you that you should wear a face mask. This is the third time. Do not come here anymore".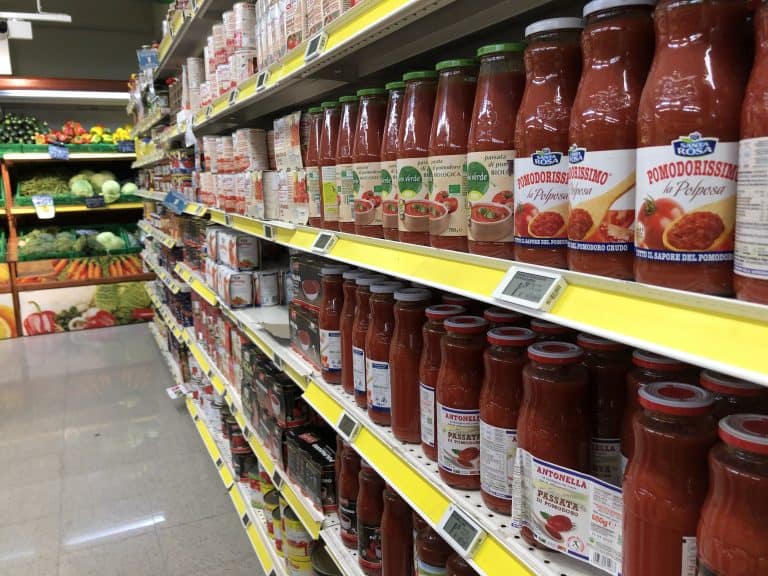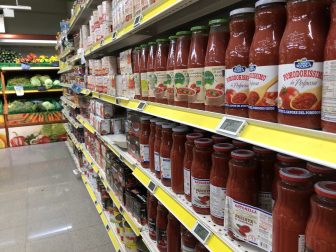 The old man was arguing back saying "I have the antibody", then she said without flinching "If so, let me see the evidence from hospital and police".
Other customers watching the scene cheered to the casher, according to my husband.
This is an example to show that Italy, where they had been suffered first in Europe badly, has the serious attitude to keep the Covid-19 away following the medical advises.
Another example was our flight with Alitalia.
On the contrary, in England, although it is the rule that we all have to have face masks on in trains and buses as well as in shops, too, about 20% of people rebel and do not wear the masks, which makes me very angry.
And Boris Johnson (prime minister) is in a way supporting them, saying "Our country has a long history of freedom".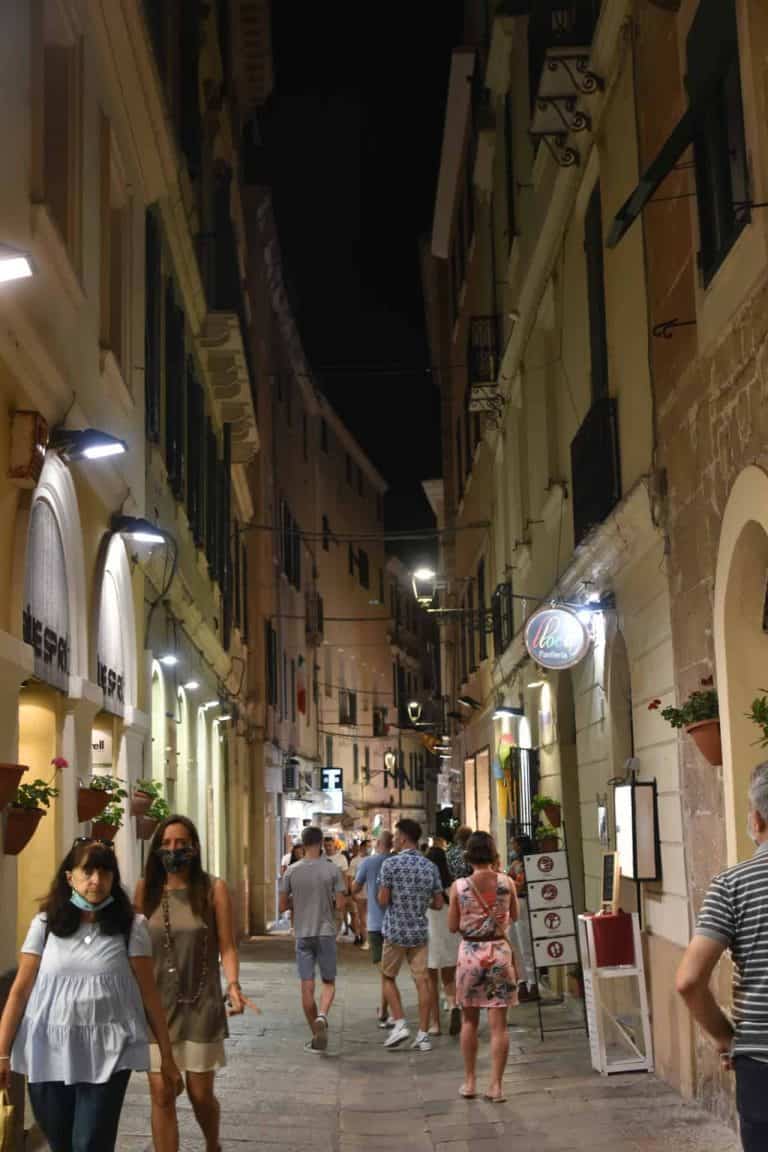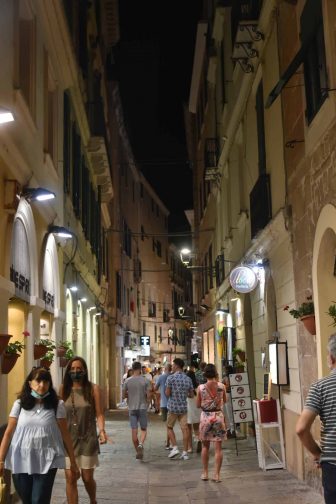 Outrageous, isn't it!
Anyway, after leaving our heavy shopping at home (I had already started feeling that our Airbnb was our home),we went out to the old town for a walk.
It was already dark and at this time of the day, there were many people enjoying the Passeggiata (stroll) and the town was full of holiday feeling.
As we had had a big lunch, we wanted a light supper, so looked for a Pintxos restaurant we had been two years ago, but we did not remember even the name and could not find it.
After looked around for it for a while, we came across a wine bar called L'Altra Vineria and one outside table was free, so we settled there.
We asked for a glass of light white wine and the one they served was excellent, so we had another glass each.
They gave us the light snack to go with the wine, cream cheese and other things on bread, which was good, too.
We chatted with the owner of the bar a little and found that he was originally from Brescia in the north Italy and moved to Aghero.
He pointed out one customer and said "He is from England but started living here".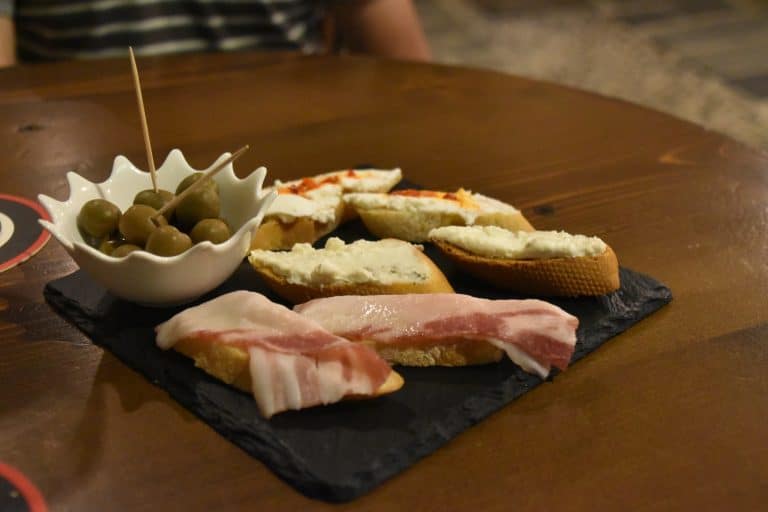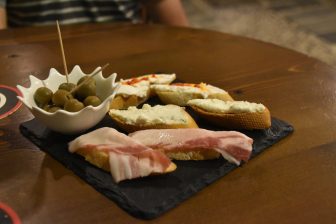 Apparently Alghero is a town with a reasonable size, whose population is about 45000.
"Lovely environment, great foods… Why don't you move here, too?" he invited.
After staying at home for five months without meeting anyone, coming here in this delightful environment, our emotions were soaring high and we felt this idea was fantastic, without thinking of the consequences.
We were going back home with this high spirits when we saw an ice cream shop.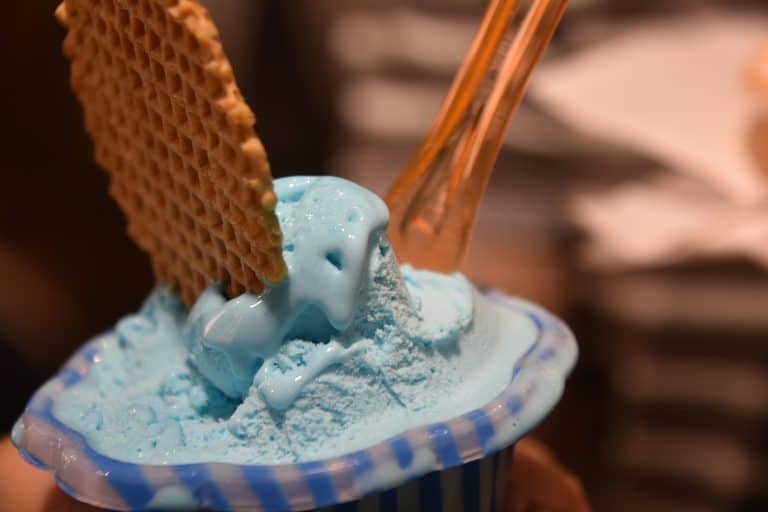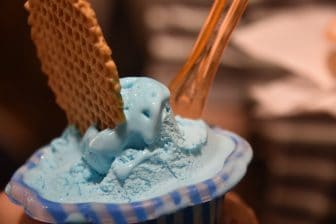 When in Italy, you must not miss a gelato.
I chose the blue one there.
It was only vanilla coloured in blue, but for me it was absolutely delicious.