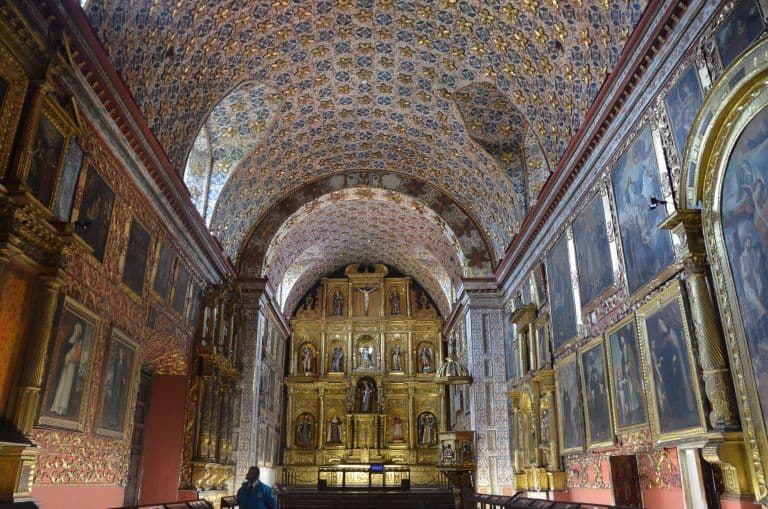 [ Dec.2016 ] The second day in Bogota in Colombia was a free day and we visited three churches.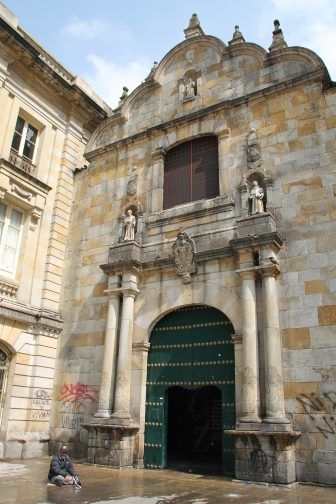 The first was Iglesia de San Francisco.
According to our guide book, this was built between 1557 and 1621 and it is the oldest surviving church in Bogota.
It was listed as one of the highlights, so we looked for it and visited, but we found that the altar was decorated as the Nativity scene, which was rather childish and disappointing.
And taking photos was not allowed, so we came out quickly.
The next church was the Cathedral, which is facing Plaza de Bolivar where we visited the day before.
Because we did not go in the Cathedral, we came back to look at it.
This Cathedral was said to have built on the spot where they had the first Mass after Bogota was founded in 1538.
In those days the chapel was small and thatched, but they built a proper church between 1556 and 1565.
But this one collapsed because of the poor foundations and in 1572 they rebuilt another one, this was then destroyed by an earthquake in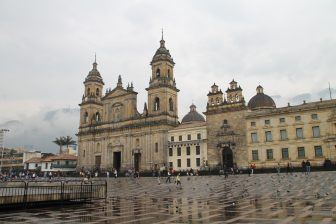 the late 18th century.
They started building the one we saw in 1807 and completed in 1823 and this church is the largest in Bogota.
But as the guide book says, the inside was rather simple and not so decorative compared with other churches in this country.
If we knew it, we would not have made an effort to come back here really.
The last church we went was Iglesia Museo de Santa Clara.
Yes, it is a museum now rather than a church.
We were prepared to pay the entrance fee, but on that day it was free.
I am not sure but maybe we could see only a part of it.
Anyway, I could not help raising a voice of 'wow' when we entered, because the interior was so gorgeous (main photo↑).
It was gorgeous but in fact, it was built from 1629 to 1674 as the church of Saint Clare monastic order which is under a vow of poverty.
There were so many paintings and sculptures all over the wall and it was really worth a visit.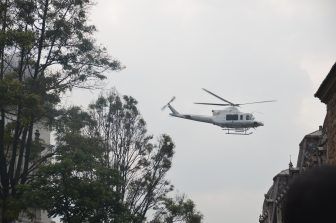 By the way, in front of Santa Clara was the presidential mansion.
When we wanted to come here, the road to Santa Clara was closed.
We nearly gave up, but the security person standing there said "The road is closed until the president leaves by a helicopter, which should be within five minutes".
So we waited.
Surely a helicopter appeared before long.