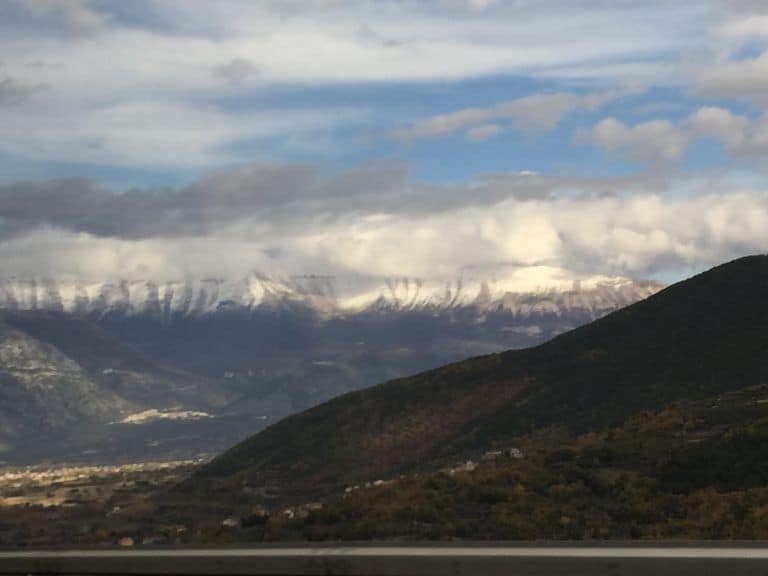 [ Nov.2017 ]  We went to Pescara, a seaside town on the Adriatic Sea in the middle of Italy.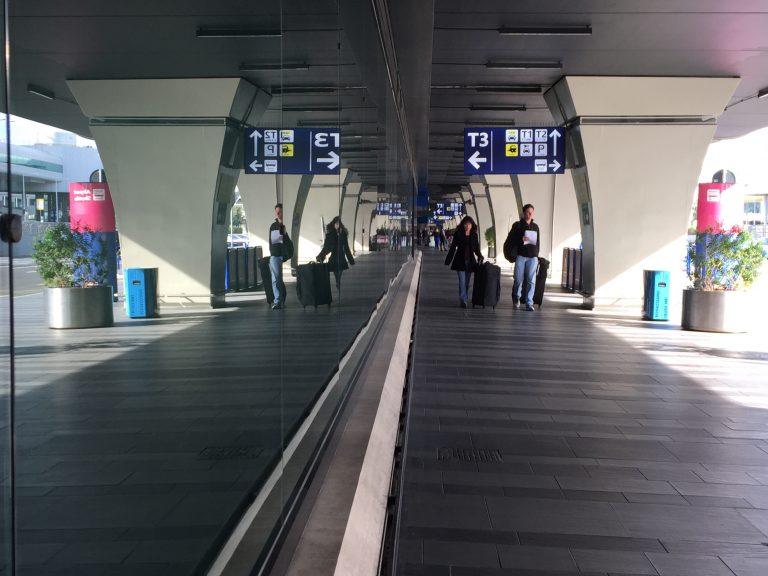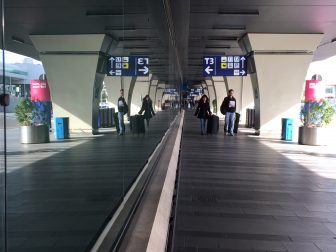 Pescara is in Abruzzo.
We have already been to many places in Italy, but it was our first time to visit Abruzzo.
There is a direct flight from London to Pescara by Ryanair, the cheap flight company, but at that time, Ryanair had a lot of problems and it was cancelling great many flights, so we chose to fly to Rome first and then go across the mountains by bus to get to Pescara.
We booked the bus which cost 48 euros (£42, $60) for two, which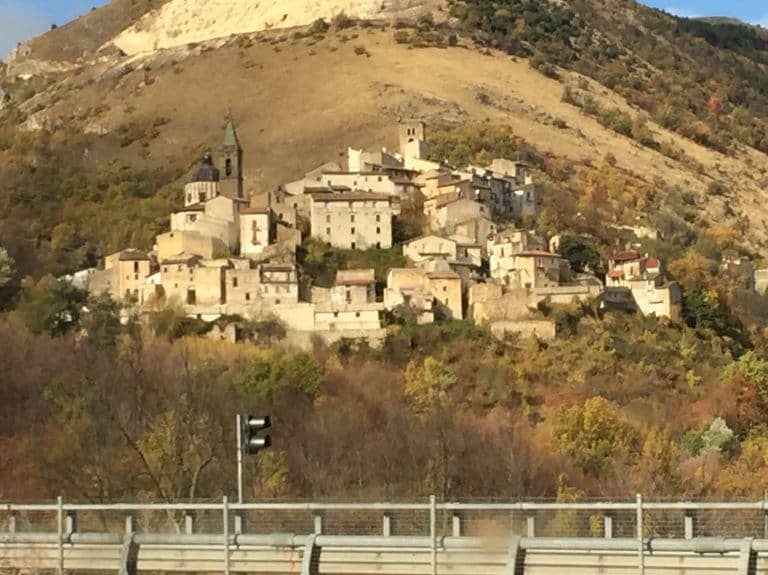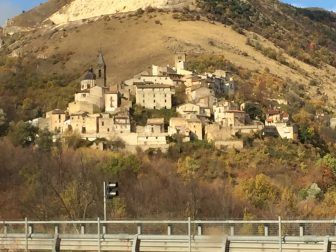 was not cheap, but the journey was as long as 3 hours.
We bought a couple of Panini before getting on the bus and asked the bus driver if it was OK to eat inside.
He said "The rule says no" gesturing "it's OK".
And on the bus, they served a bottle of water and a cup of espresso.
It was a very comfortable journey.
By the way, the bus on the way back was very cheap, only 18 euros for two, but there were no services.
From the windows of the bus, we could see the view of small villages on the hills, lovely autumn colours and even some snow covered mountains in the distance.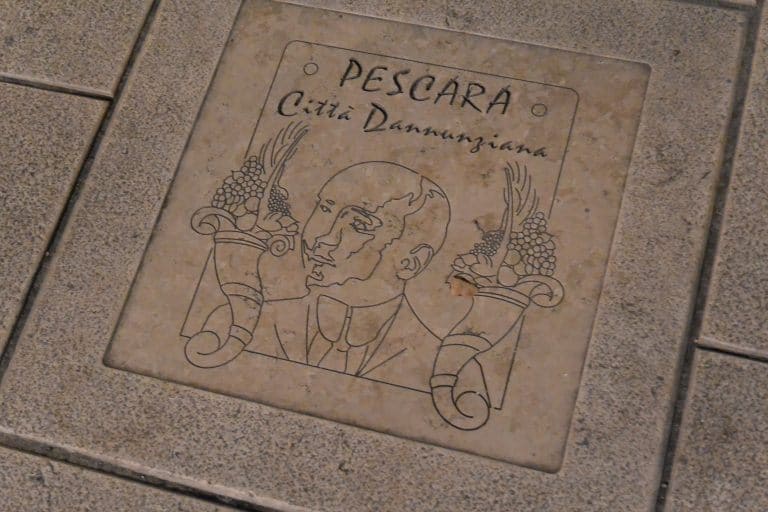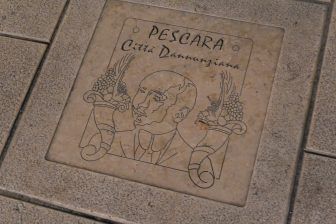 After a long journey, at last we arrived in Pescara.
This time our purpose of travelling was not only sightseeing but also some work and visiting our friends.
The friends told us that Pescara is famous as the birthplace of Gabriele D'Annunzio, a poet.
We have been to his villa on Garda Lake a few years ago called Vittoriale.
The villa showed how eccentric he was and left a great impression on me.
He devoted himself to Fascism and Mussolini was his friend.
Because of D'Annunzio's strong wish, the Fascist party rebuilt Pescara which had not been a major town.
We saw many plates saying "Pescara, the town of D'Annuzio" on the ground here and there all over the town.
The centre of the town is laid out in a grid pattern and it was easy to walk around.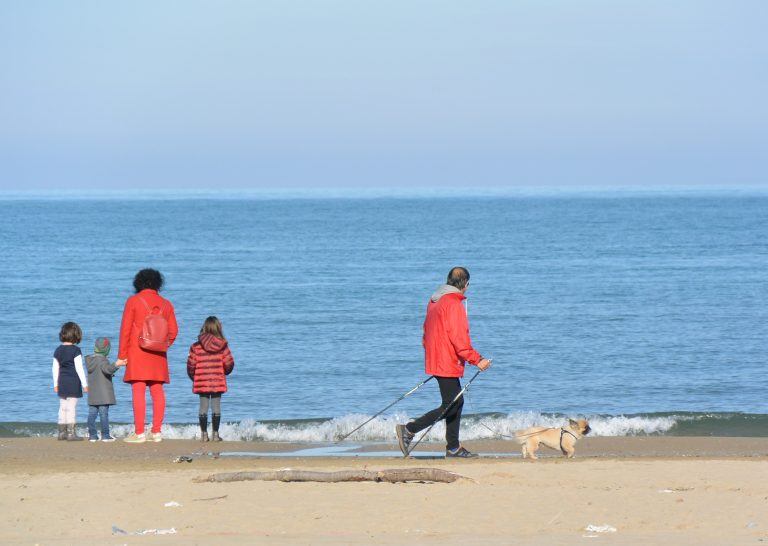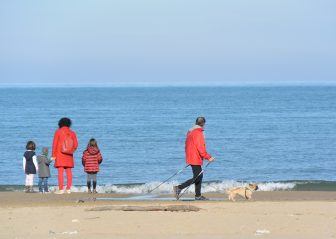 Currently this is the major summer resort town around this region and although this is not the capital of Abruzzo, they have the highest population here.
On the day we arrived, it was dark and I could not see the sea, but a few days later on Sunday, we went out to the coast and found a huge beach with the lovely blue sea.
Along the promenade there were many big hotels.
There was an area with stylish restaurants and bars inland, too.
Pescara seemed a quite lively town.