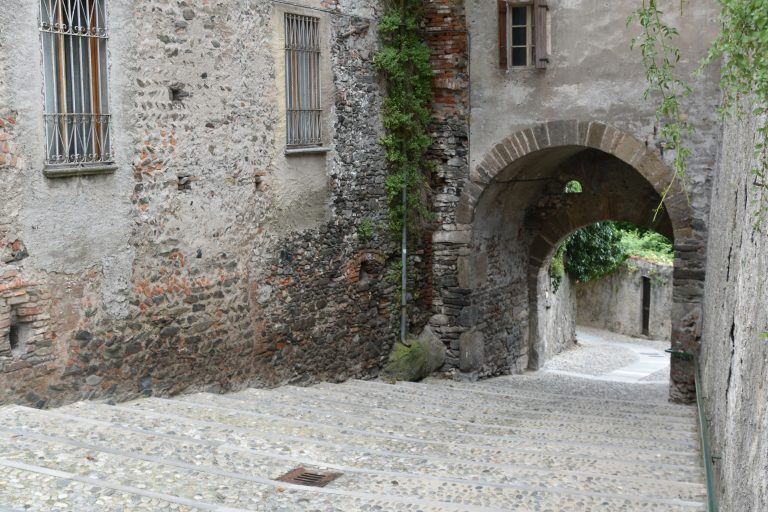 [ June 2018 ] We went to see the Sacra di San Michele, in Piedmont, from Milan in Italy.
Seeing some photos of this monastery, it looked magnificent standing on top of a hill, so we wanted see it ourselves.
We found that there is a shuttle bus from the nearby town called Avigliana.
F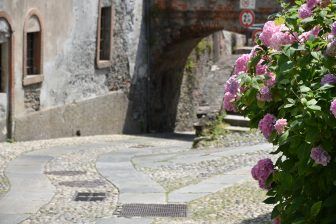 irst we decided to have lunch in Avgliana and booked a table at a trattoria called Croce Bianca we found on the internet.
Arriving in this town, we found that the town itself is quaint and picturesque.
We walked around a bit before going to the restaurant, but that part was just the outskirts according to the leaflet we picked up at the restaurant.
So we decided to go to the centre after lunch.
We had the Antipasto Misto for the starter, which was 9 different foods on a big plate, such as Vitello Tonnato, tartar steak and so on.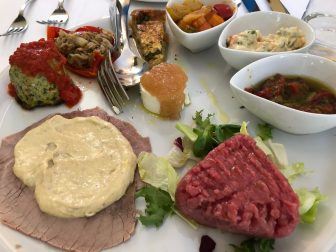 The woman, who was probably the wife of the owner, brought this plate and did not explain anything, smirked a bit and left.
I liked that.
She was not at all pretentious and was down to earth.
I liked particularly the tartar steak, nicely cooked peppers and the creamy cheese within the 9.
The wine was Barbera from the winery called Roberto Bolla.
We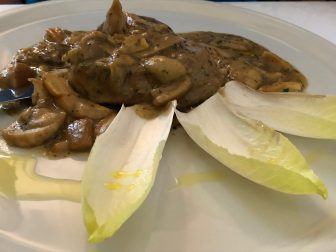 chose it just because the name was similar to my favourite ballet dancer, but in fact it tasted nice and firm.
For the main, we both had veal steak, which is unusual.
Mine was with the green peppercorn sauce and my husband had it with mushroom sauce.
Because it was veal, it was light and healthy.
The dessert I had was Zabaione, which was so nice and creamy.
The bill was €95.
It is one of the great aspects of Italy that there are long standing restaurants in a small town like this with great food.
People are proud of it.
Anyway, after the lovely lunch, we went up the slope to the town centre.
The houses of this town are made of grey stones, so the colour was rather dull.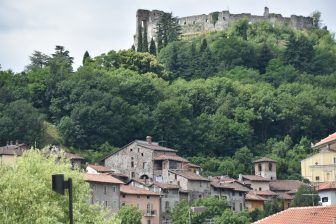 The ruin of a castle on top of the hill was apparently originally built in the 6th century and rebuilt numerous times.
But after being destroyed by the last attack by France in 1690, nobody rebuilt it, so now it is a ruin.
We did not go all the way up to the castle, but visited a church of San Giovanni and went down the slope on the other side and back up again.
There were many lovely medieval buildings and I think this town could be a major tourist destination, but the town was calm and quiet without any souvenir shops.
I could have walked in this town more and taken more photos, but my husband repeated "Didn't we come here to get to Sacra di San Michele?", so we moved to the new town where the train station was, where the shuttle bus was supposed to leave from.