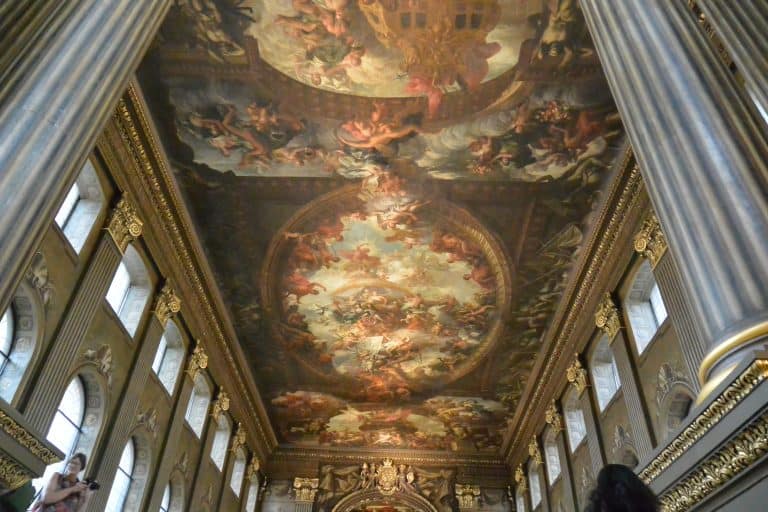 [ Aug.2019 ] There is a gorgeous building called the Painted Hall within the site of Old Royal Naval College in Greenwich in the east London in England.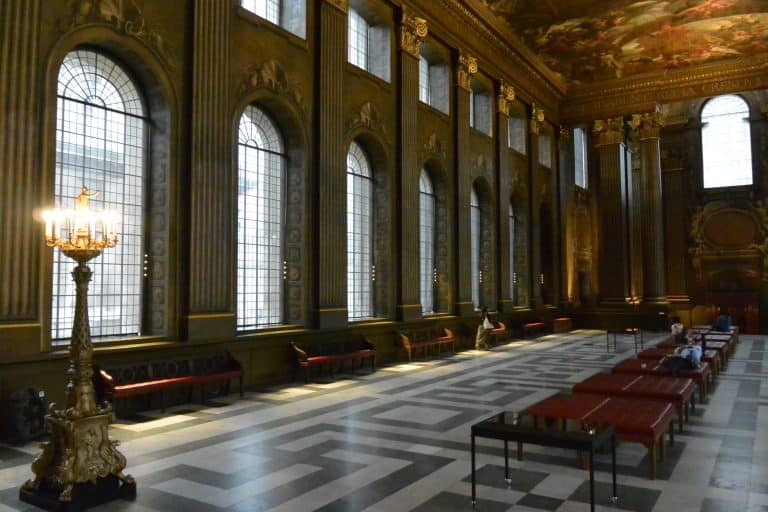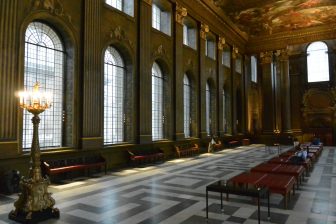 When we visited there earlier this year, it was closed because of the restoration work, but after that, I heard that it was reopened, so I wanted to visit.
Because a friend of ours came from Japan, we decided to visit there together.
The entrance fee was £12 (€14, $15.50), which was not cheap, but we could join a tour there.
The guide explained about many of the pictured painted all over the hall interestingly.
Originally this building was built as a dining room for the retired naval veterans, but soon it became a function room for anyone who paid.
The painter was James Thornhill and these pictures were painted between 1707 and 1726.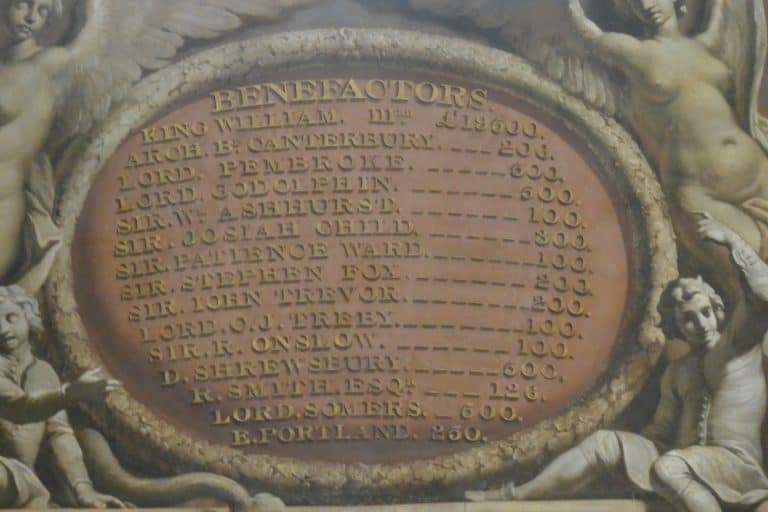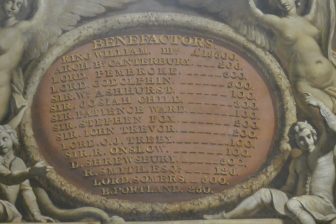 He was a painter for theatres who could paint 3D pictures and that was why he was chosen for painting this room.
Apparently there are about 200 people painted altogether and these pictures are showing the topics in those days such as the political changes, scientific and cultural achievements and so on.
Before going up stairs to the main hall, when we looked up there are paintings with names and numbers.
Those ones are the names of benefactors with the amount of money they donated.
The minimum amount was £100 which would be worth about £7000 now.
Someone from the royal family declared the huge amount, but after paying a part of it, he stopped paying, saying "I lost my wallet".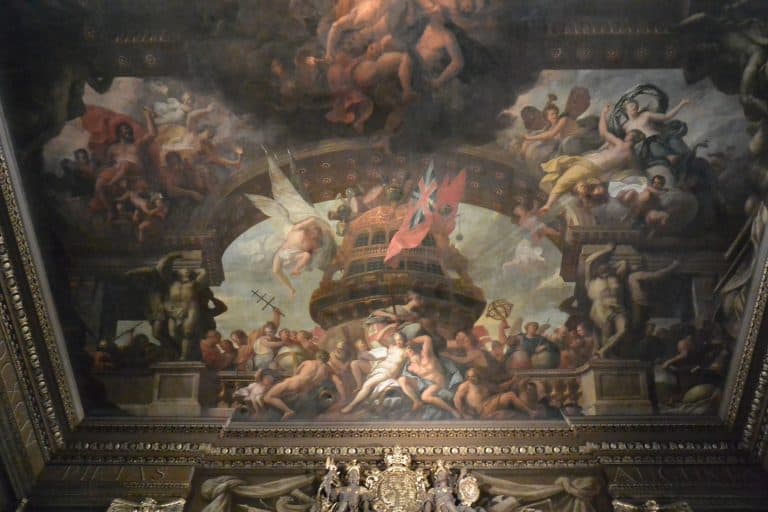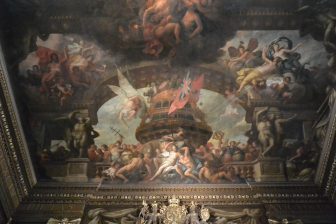 In the main hall, there was a picture showing the astronomical achievement with many astronomers, but the famous Isaac Newton was not included, because of his bad behaviour.
There was a picture of Anne, Queen of Great Britain of House of Stuart, who reigned in the early 18th century and here the guide told us that Anne's Danish husband was an extremely boring person.
People tried to make him drunk to see if he changed, but in fact he did not change at all.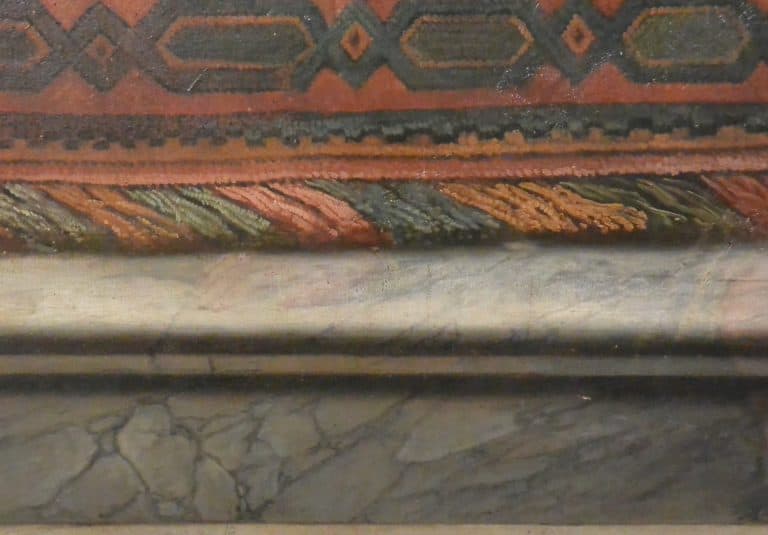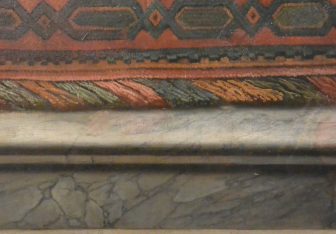 With this boring husband, Anne became pregnant every year, 17 times in total.
But a lot of them were born dead and none grew up.
So they had to find the heir.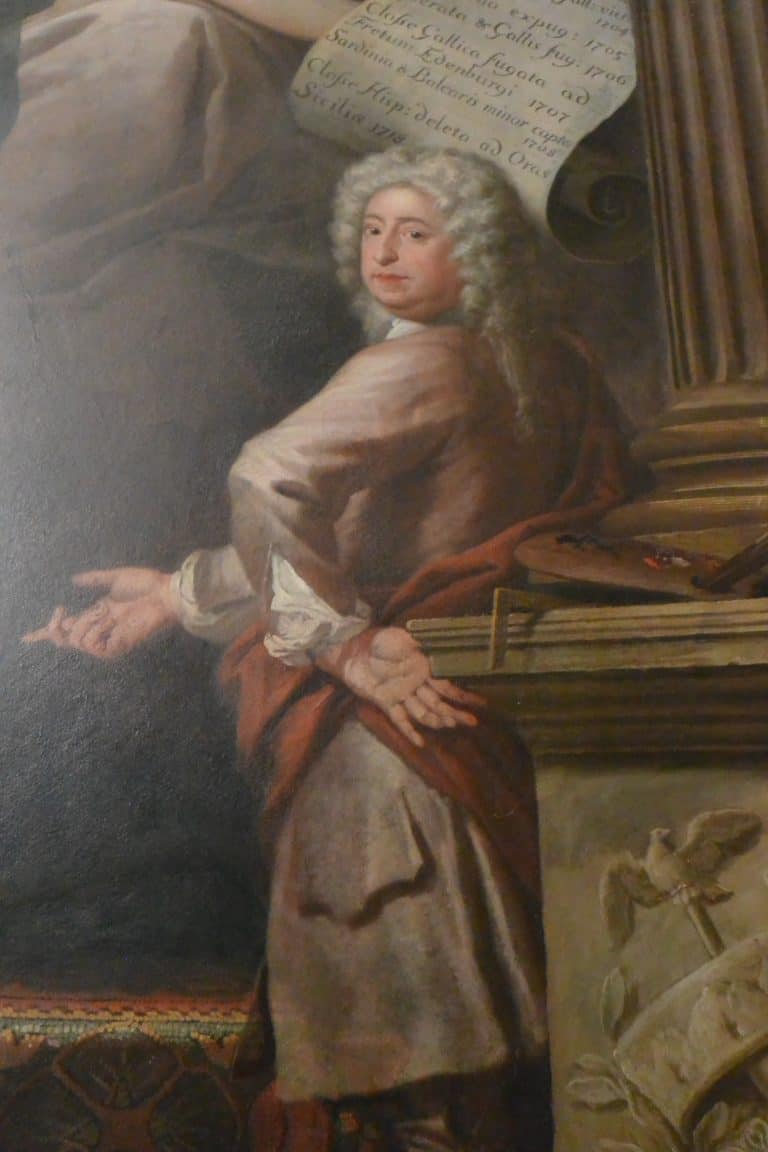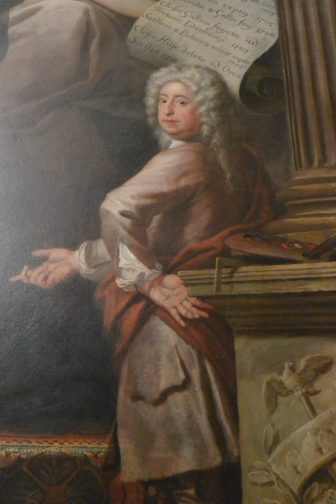 They looked for the blood related Protestant person, but 54 people they found were all Catholics and finally the 55th eligible person was Protestant called Sophia and the right of succession were given to her children.
There was a picture of Sophia and her children, but apparently there was one person missing.
And our guide pointed out at the bottom of the picture saying "That hand under the rug could be the one of the missing person", which was eerie.
There was a self-portrait of James Thornhill, too.
According to our guide, the work here did not make so much money, but because of this success, he got jobs such as in St.Paul's Cathedral.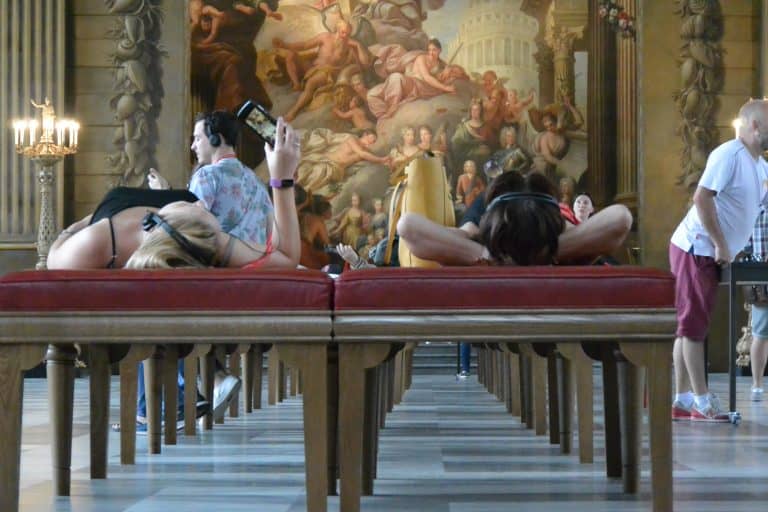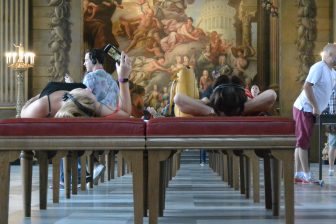 In the main hall in this Painted Hall, there were wide stools so that people can lie down to look at the paintings on the ceiling. 
Interesting idea, isn't it.
I had imagined that Painted Hall would be something like the Antiquarium in Residenz in Munich, but in fact, compared with that, it was a more ordinary palace room.
However, because of the interesting stories told by the guide, we thoroughly enjoyed here.