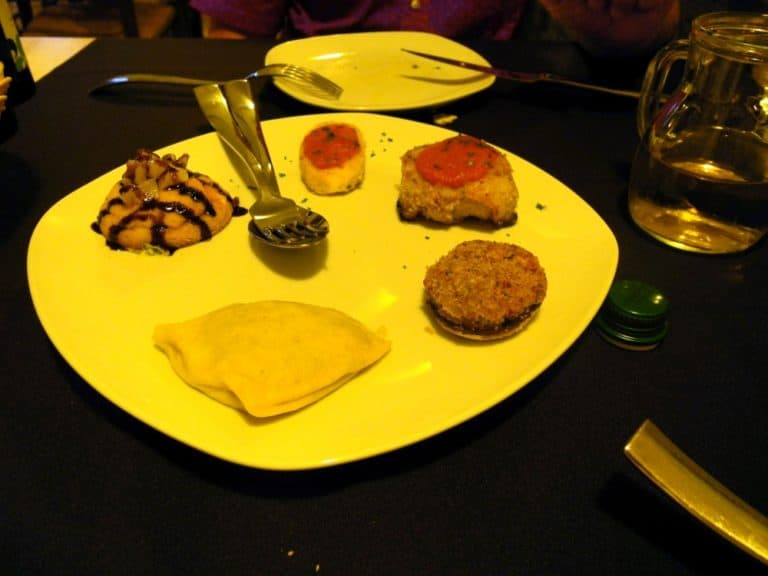 [ July, 2015 ] We went to a restaurant called Amal in Roccella Jonica in southern Italy, which we found online with a good reputation.
They serve Calabrian meals made with organic ingredients.
It was a small restaurant with a capacity of about 40 people.
It looked fairly new and the young people there were working hard, which gave me a good impression.
Following the elaborate starter in this photo, I had a swordfish meal with a lot of rocket and cheese, which was quite rich.
We enjoyed the dinner thoroughly and the price was reasonable, too.
By the way, they said 'Amal' means 'hope' in Arabic.
What they are hoping for is a society without any criminal organisations.
The Sicilian Mafia is famous, but there are three other organisations in southern Italy and in Calabria, there is one called 'Ndrangheta.
They are famous for being tight-lipped.
This restaurant is run by GOEL, a cooperative movement which opposes the 'Ndrangheta.
Apparently, up to the opening of this restaurant, they had a number of obstructions.
The entrance door was made of a sheet of strange ground glass, and I wondered it was bulletproof.
We wanted to go back there to support these courageous young people, but during the weekdays they open only for dinner, so we did not have a chance.