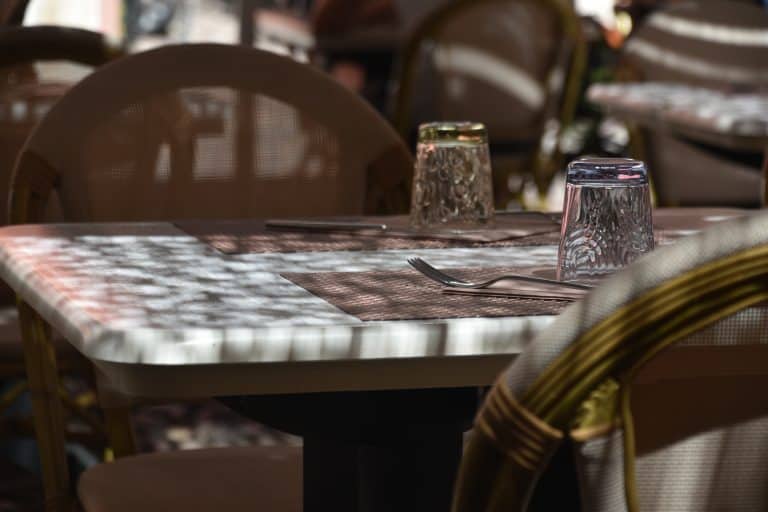 [Sept. 2020] On the day we visited Bosa, a town on the west coast of Sardinia, Italy, after visiting the ruins of a castle on a hill, we first made a reservation for lunch.
As usual, my husband searched online, selected a restaurant that looked good, and made a reservation over the phone.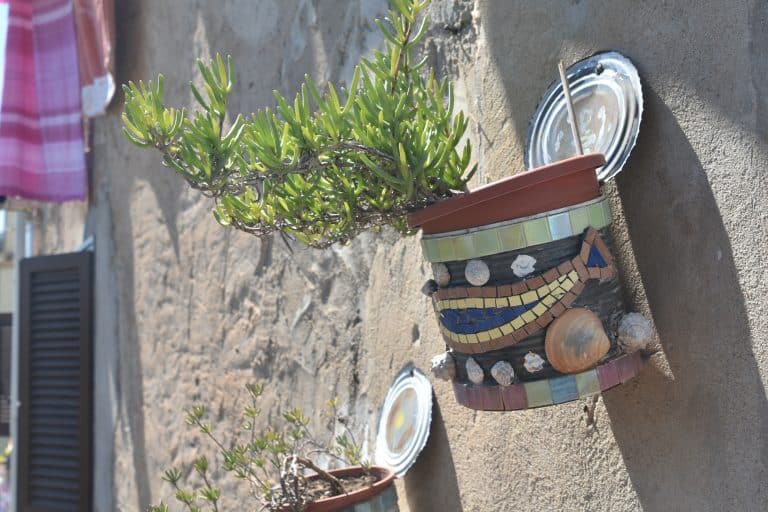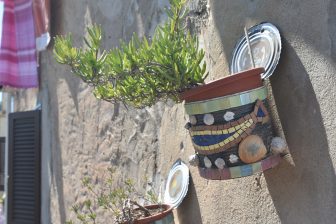 The restaurant was called Locanda di Corte.
Relying on the unreliable Google Maps, looking for this restaurant, we went down the hill from the opposite side of the climb.
This side was the edge of the old town, with long stairs beside the houses.
We went down this staircase, taking photos here and there.
After arriving near the centre of the old town, we finally found the restaurant after being lost for a while in a maze-like town with ups and downs.
Even if you get lost, it's a small town after all.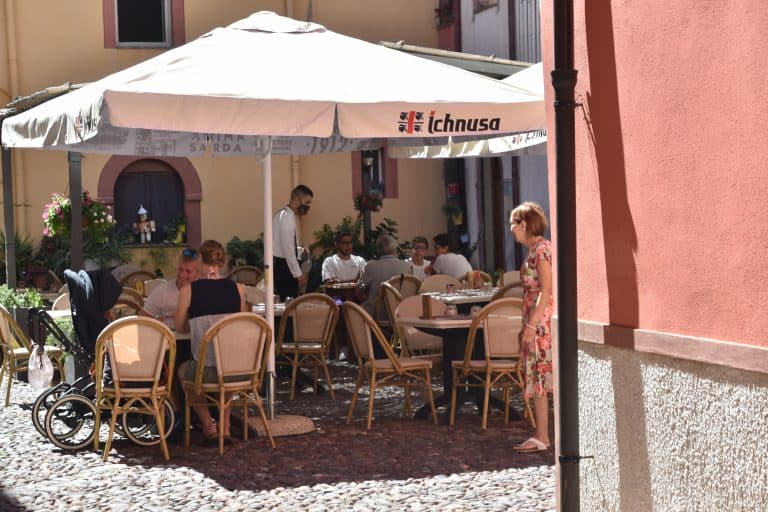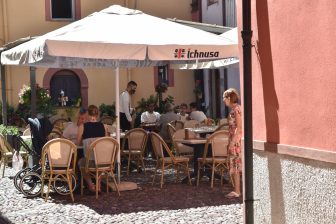 The restaurant seemed to have indoor tables, but we were guided to an outdoor terrace table.
First, we had to fill the documents regarding the coronavirus, and then look at the menu obtained again with the QR code.
The QR code seemed popular here.
Probably it is a corona countermeasure.
We ordered a glass of Prosecco for the apéritif, but in the end, we kept drinking it, 3 glasses per person.
We shared a menu called Tris Antipasti Mare for the starter.
This consisted of three kinds of dishes : squid + bottarga, marinated tuna, octopus + potato.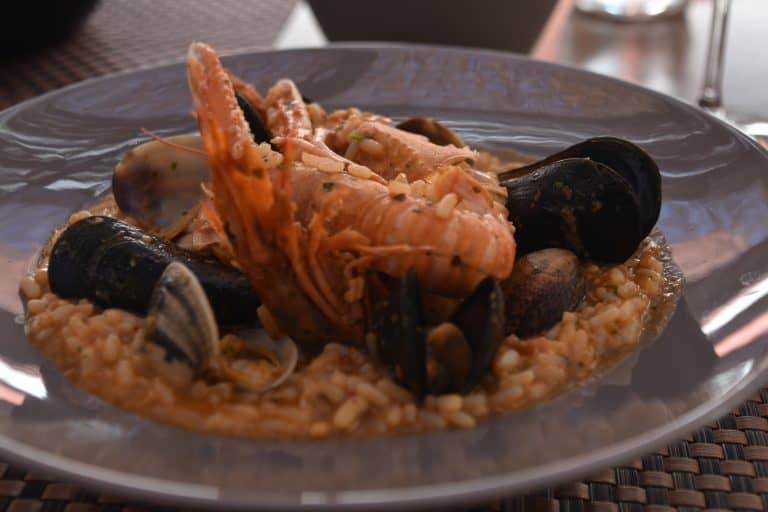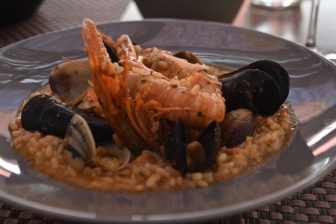 All were delicious.
The main dish for me was primo (carbohydrate), which is rare for me, and that was the rice with seafood called Risotto alla Pescatora.
There were mussels and prawns in it, and the taste of the rice itself was excellent.
My husband chose Fregola Cozze Vongole.
Fregola is a small and round, rice-like pasta, slightly larger than couscous.
For dessert, we shared a cake like lemon-flavored panna cotta and a cheesecake with sangria.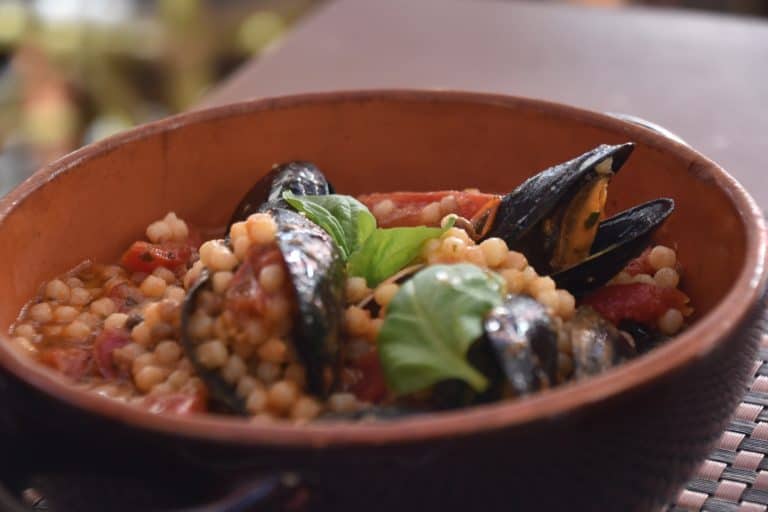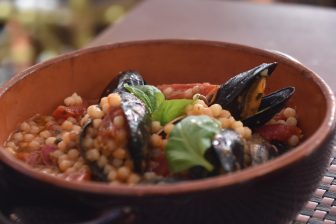 Both were unique and had an unusual taste, but they were delicious.
The total bill was € 93.50.
It was more expensive than Alghero's Il Pesce D'Oro, which we visited a few times, but I was very satisfied.
The waiters here were neat and politely answered the customer's questions.
All the customers seemed to be tourists.
In fact, I saw many foreign tourists in Bosa.
One of the family members at the table behind me was a girl about 6 years old.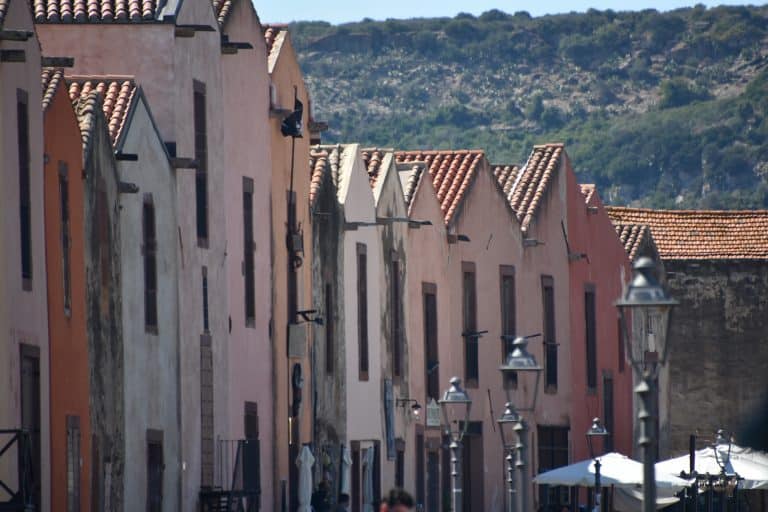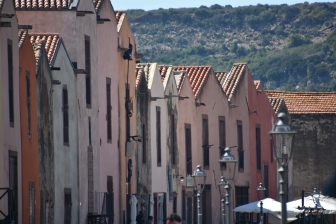 When the waiter asked her "Is it delicious?", she answered flatly "No", which made us laugh.
After the meal, we wandered around the town again.
We crossed the Temo River, which runs through Bosa, and walked through what was once a leather-tanning town.
Unfortunately, the Tanning Museum was closed.
We could see a good view of the old town from this side of the river.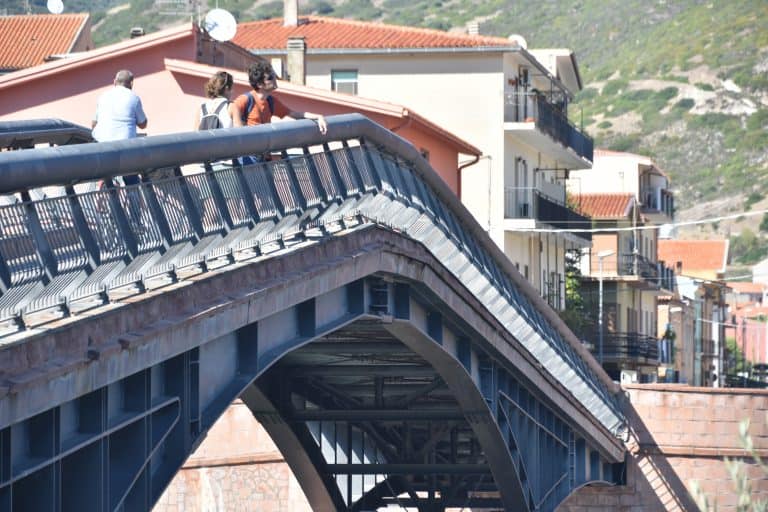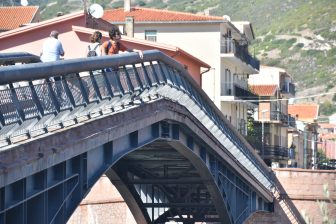 Many fishing boats were moored in the river.
Bosa is a truly picturesque town.
Reluctantly, we returned to Alghero by bus departing at 16:59 as scheduled.