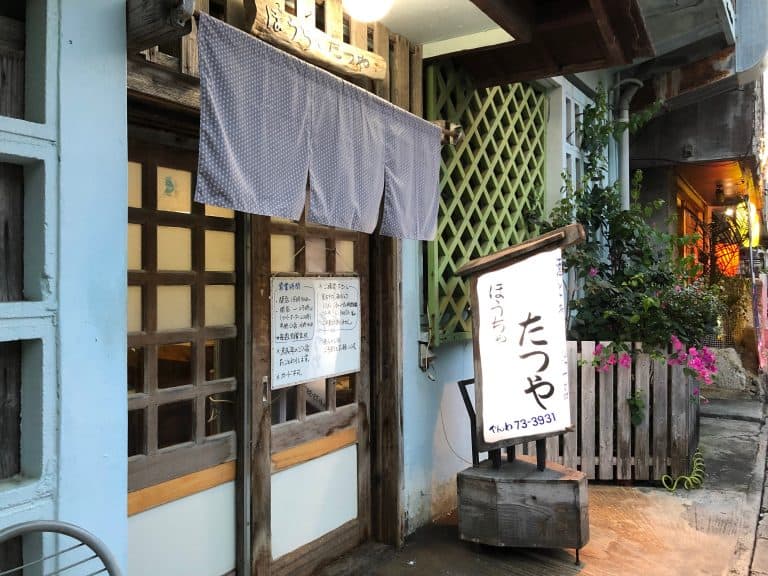 [ Apr.2019 ] When we looked around the souvenir shops in Hirara-cho in Miyako-jima, which is in Okinawa prefecture, Japan, the most noticeable thing was the goods related to Mamoru-kun.
Mamoru-kun is a policeman doll placed all over Miyako-jima island.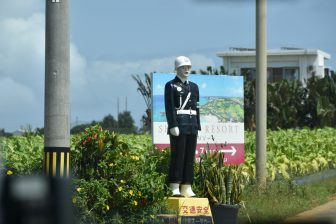 Mamoru can be a Japanese male name, as well as a verb meaning "protecting".
Apparently, the transport safety association on the island firstly made 5 dolls in 1996 and now there are as many as 19.
They all are supposed to be brothers and their faces are slightly different.
Apparently, each one has its own name, but generally they are all called Mamoru-kun.
There is one sister called Maruko-chan, too.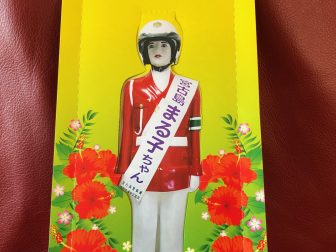 We could not see Maruko-chan during our stay, but we bought a souvenir of Maruko-chan for the memories.
I just wonder why this association originally thought of making these dolls, as the traffic on the island was so quiet and our taxis ran slowly, so I cannot imagine that there are many traffic accidents here.
Anyway, these dolls are now one of the main tourist attractions, so it was obviously a successful project.
After shopping, we looked for the restaurant we had booked, called PouchaTatsuya.
It is a Japanese style pub located in a narrow alley, recommended by a friend of mine who had come to Miyako-jima a few times.
She had said that we must book in advance, so I called them and the woman who answered said "We do not serve typical Okinawa foods such as Chnpurū", which gave me the impression that this restaurant has a particularly strong character.
It turned out that it was a small restaurant with about 10 chairs around the counter and about 8 tables in a Japanese-style room.
We had booked the counter so we could see the chef's efficient work in front of us.
Everyone called him Taisho, meaning general or boss, and he was the only chef here.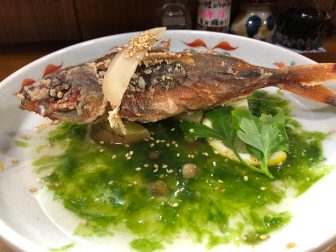 His wife and one worker were serving the customers.
After having an appetiser of royal fern, we had 5 kinds of Sashimi, stewed cubes of pork, which melted in our mouths, beef and vegetable, Yakitori, etc., all with glasses of Japanese sake.
My husband had a glass of Awamori, a local strong drink, which was distilled by 4 members of a family on Irabu-shima island.
Every dish tasted perfect, which reminded us of another restaurant in Tokyo.
His wife was originally from Kanagawa prefecture, next to Tokyo, and the first place in Okinawa she visited was Miyako-jima and she loved it here.
Three days after arriving, she met Taisho and five months after that, they got married, she told us.
She said "My parents cried at first, but now they live on Miyako-jima, too".
When some unreserved customers came in, she refused them, saying "We are fully booked until early May".
That is not because of a lack of space, but it seemed something to do with the capacity of him.
Because we liked it here so much, I asked the wife "You are all booked up tomorrow, aren't you?", expecting the worse,  and then she looked at the schedule and said "It is all right if it's 7-7:30 pm".
So we went back on the next day.
On the day, we had more fish dishes, as the day before we had mostly eaten meat.
It was the best season for tuna, so we had some tuna dishes, including Sashimi of fatty tuna, which was excellent.
We had a chat with Taisho, too, and he told us that tuna were here to lay eggs and they are about 200kg.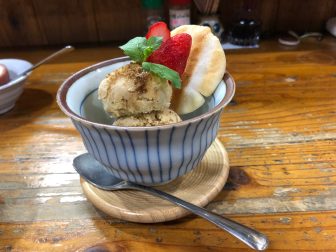 They swam all the way from the north, so they are not too fatty and in good condition.
He also told us that the American commodore, Matthew Perry, who in the end forced Japan to open to the world in the 19th century, first came to Okinawa before coming to Yokosuka.
According to Taisho, Perry loved Awamori and Tofuyo, a special fermented food of Okinawa and "he got drunk and went away".
Within the restaurant there were notices prohibiting photography, so we did not take any photos until the second day, when I asked the wife for permission.
She said OK, so we took a couple, but in fact I would have liked to take a photo of every dish we ate.
When we said that we were leaving Miyako-jima the next day, they gave us a bag of muscovado sugar, a speciality of Okinawa, as well as a couple of their original small sake cups.
By the way, Poucha, a part of the restaurant name, means dinner duty for some celebration or event.
The bag containing their disposable wooden chopsticks says so.
Tatsuya is the name of Taisho.
He said at one point "We think that these islands in Okinawa are connected by the sea, rather than cut off by the sea", which made a great impression on me.