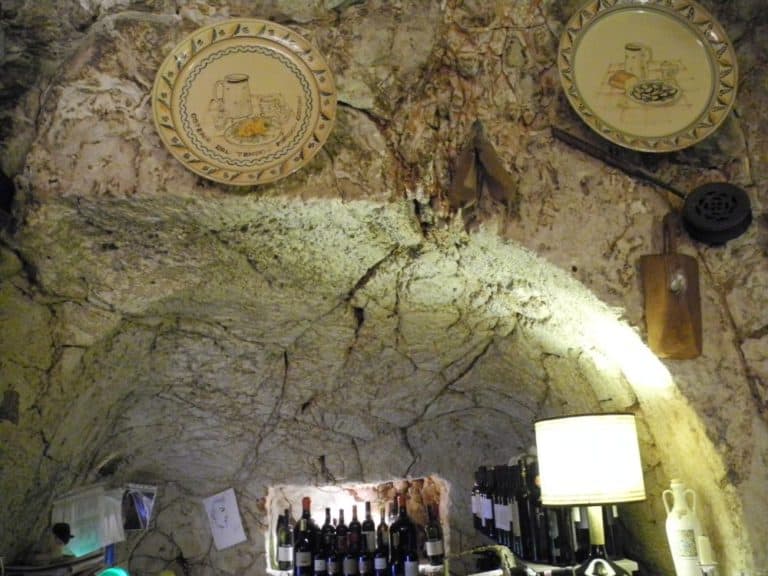 [ Mar.2013 ] In Ostuni in south Italy, we went to a restaurant called Osteria del Tempo Perso.
Apprently, there used be a kiln for a bakery here in 16th century.
It was like a cellar and very atmospheric.
The foods were very good, too.
After the very good mixture of starters, I had a beef dish, which was excellent.
My family enjoyed their foods, too.
Some chose pasta, the other chose prawn.
I had a cake of ricotta cheese for dessert.
By the way, to get here, we had a bit of mess.
First I chose this restaurant from my guide book and phoned them to book a table and to make sure that we could come up to the point, 100 meters away from the restaurant by taxi, though it is situated in the old town.
Then I booked a taxi through the hotel.
But the driver said he cannot go there because the old town is closed on that day.
Disappointed, I called the restaurant again to cancel the booking, but the person in the restaurant said " that is not true.The taxi drivers are always lazy".
In the end, we ordered the taxi, and after a long wait, an ordinary Mercedes came.
But it was true that the town centre was closed for cars and after a bit of argument between the driver and a policeman, we went through as much as we could and walked from there.
Anything unexpected can happen in south Italy…