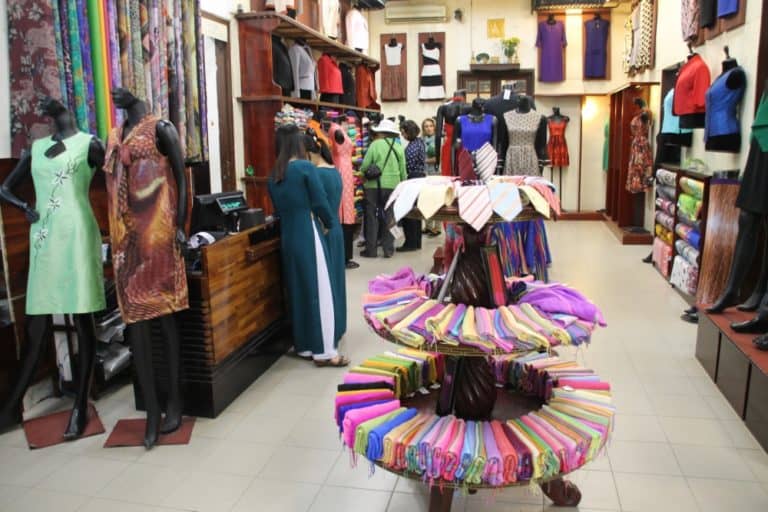 [ Jan.2015 ] When you walk in Hoi An in Vietnam, you will definitely notice tailor shops.
They are literally next to each other.
As I had known it because a colleague of mine told me about it about 15 years ago, I was ready for that.
I had bought Harris Tweed cloth in the UK, and took it there with me.
The tailors in Hoi An have many kinds of cloth, too, so usually people buy the cloth there.
As for the design, you can choose from their catalogues, or you can bring a photo to show them.
I showed them my photo of a coat which I had taken by mobile phone.
They measured me quickly and in the next morning, they brought the coat to our hotel.
A friend of mine in Tokyo had told me that I had better not expect too much, but in fact, I was quite pleased with the result.
So we went back to the same shop the next day and this time, I made a jacket with their silk cloth.
Not only clothing, but you can order shoes and bags, too in Hoi An.
I made a pair of short boots.
It was very different from the British historical shoe shop, John Lobb.
A staff in a shoe shop drew my feet on a page of a notebook and measured the widest part and the highest part.
I chose the leather from the sample.
The basic design was the same as a sample, but I altered a little.
The pair were ready on the next day and we went back there to collect them.
Again, the result was better than I expected.
If  Hoi An was 2-3 hours away, I would have gone there every month.