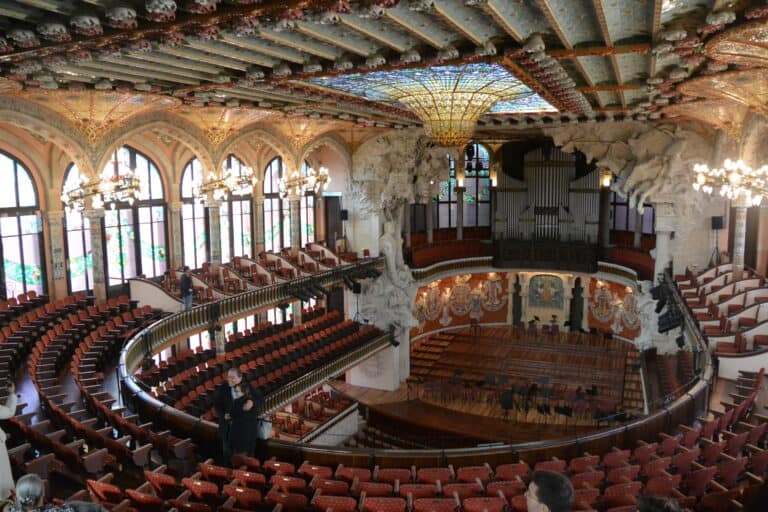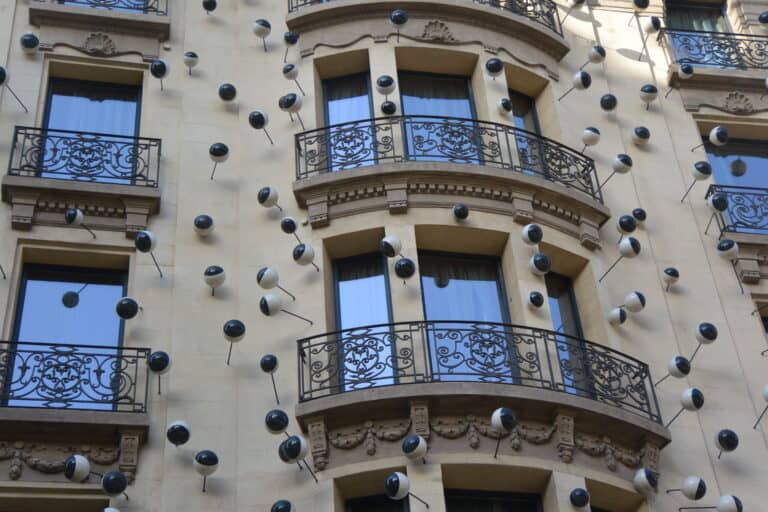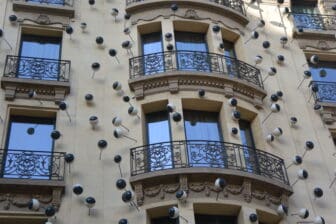 [ Nov.2022 ] On the second day in Barcelona, Spain, we had booked a tour of the Palau de la Musica Catalana from 10:00 am, so we left early.
We took the metro to Catalunya station and walked from there.
As you walk, you will notice that not only Gaudi, but also many unknown buildings in this town are quite eccentric and decorative.
The tour of the Palau seems to be popular, and there were about 30 participants at the 10 o'clock tour.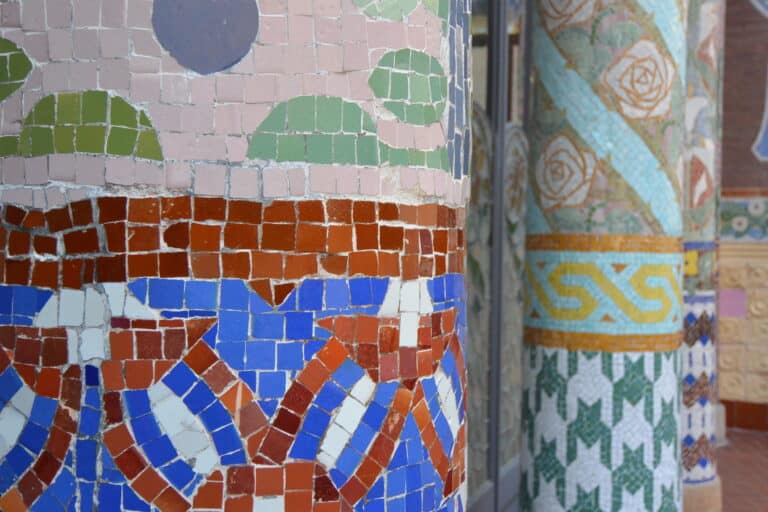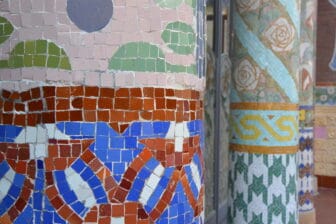 We had the female guide named Mireya who had a sharp manner but friendly attitude, which gave me a good impression.
We were given a device that would allow us to listen to her explanations from a distance.
First, we watched the video to learn about the history of this music hall.
It was started being built in 1905 and opened in 1908.
It was explained that it all started with the creation of the first women's choir in Spain.
Quite a few celebrities, such as Zubin Mehta and Karajan, have performed here.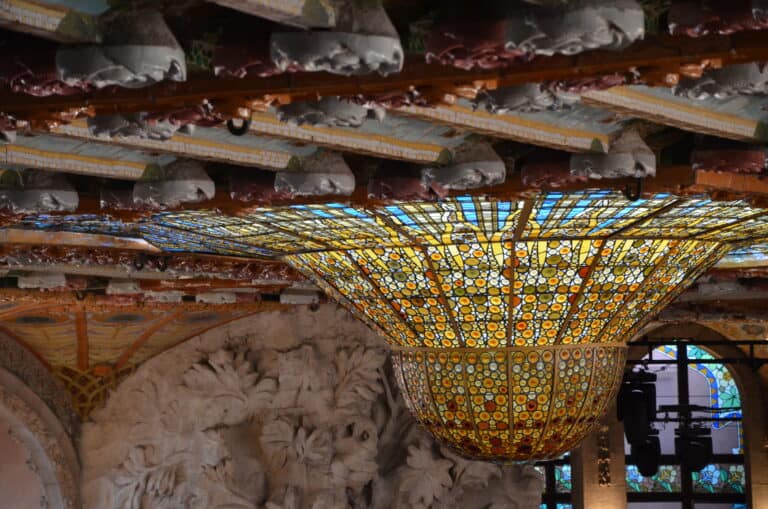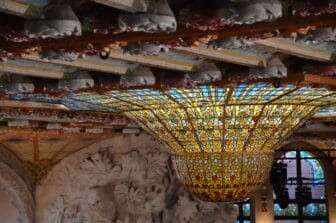 This building was designed by an architect whose name I cannot remember, Lluis Domenech i Montaner, who was Gaudi's teacher.
After the video, we went upstairs and went out to the veranda where there are cute pillars made of mosaics.
Upon entering the main hall, the first thing that struck me was the beauty of the ceiling.
It is said that there are more than 2,000 seats and the same number of roses here and there.
This is part of an attempt to produce a garden indoors.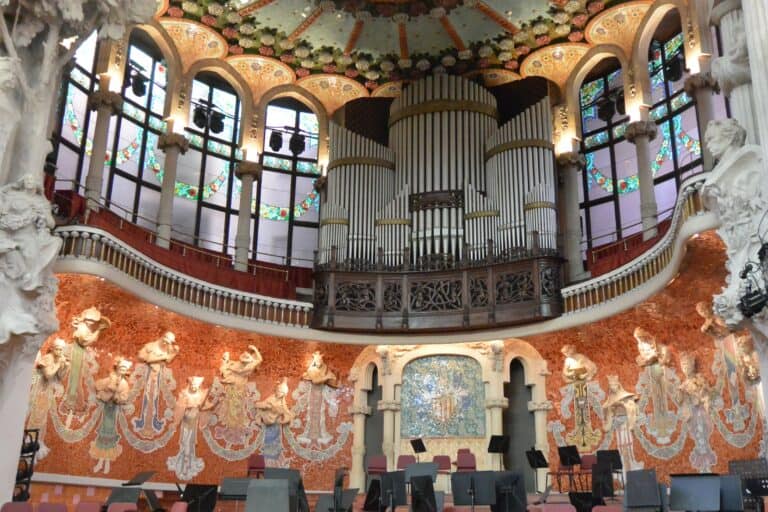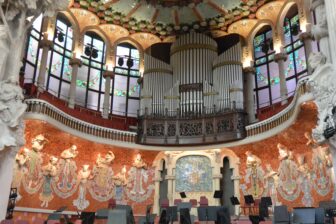 Around the chandelier representing the sun, you can see many female figures.
This is to indicate that the female chorus was the beginning here.
The pipe organ is now computer controlled, and Mireya let us listen to Bach for a while.
Details that can be seen in Gaudi's buildings caught my eye, such as columns made from broken pottery and the use of natural light.
If this was the first, this person is the great creator.
And the reason why it's not as famous as Gaudi is probably because his name is hard to remember.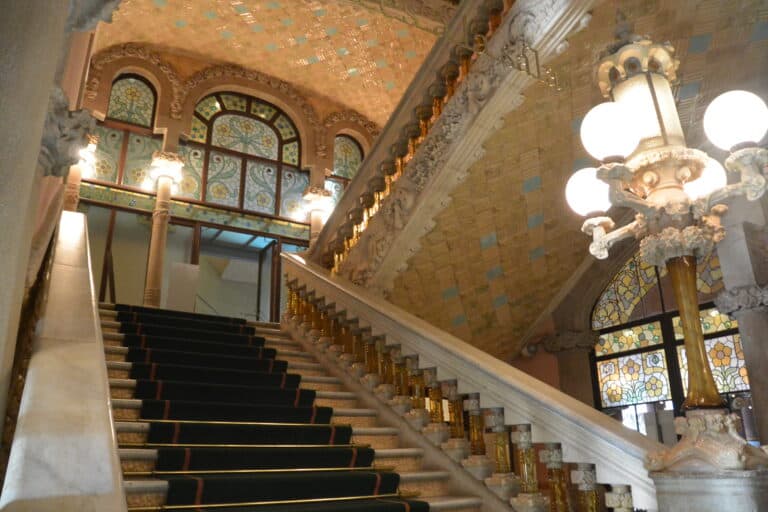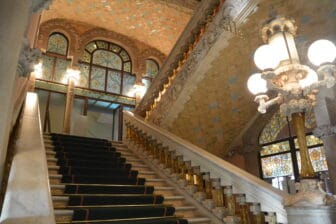 The decorative atmosphere was the same as Gaudi, but it was more linear than Gaudi who used a lot of curves.
Perhaps because it was a theatre environment, I liked this one better than Casa Batllo the day before.
I'd love to hear some actual concerts here someday.