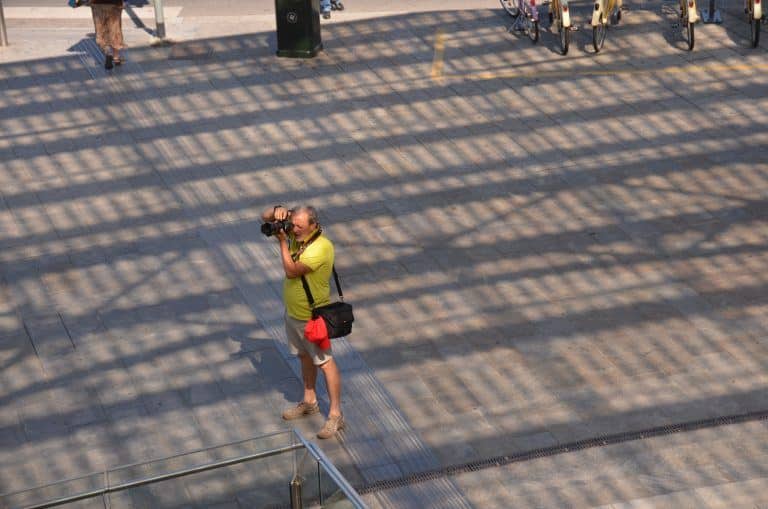 [ June 2017 ] We participated the Photomarathon in Milan again this year.
The Photomarathon is a kind of a photo competition that you keep taking photos on the given themes all day.
We did it last year for the first time and got hooked, so we have joined it a few times since then.
So we knew the process and we knew that if we went to the meeting place on time at 9 am, we would have to wait for a long time, so we went there around 10 am.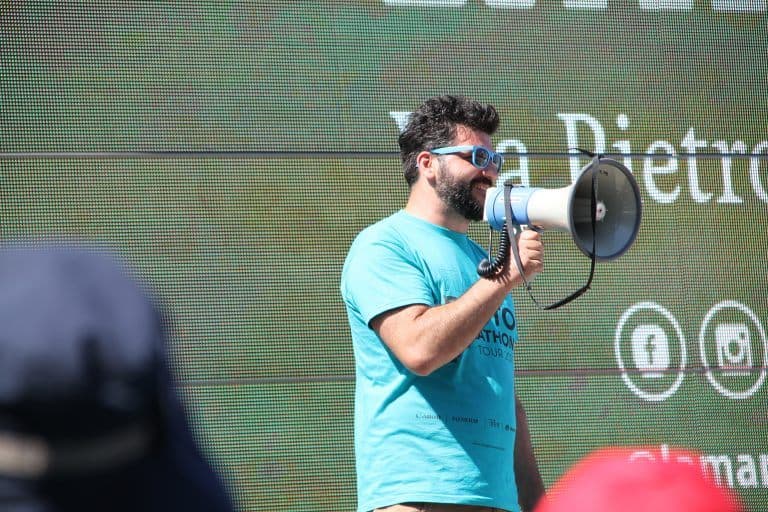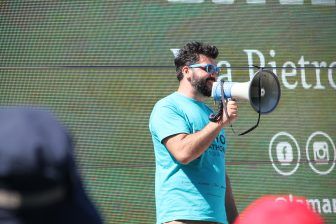 We met the slick organiser as soon as we arrived there who said jokingly "At last you arrived. I have been waiting for you" and greeted us as if we were old friends.
He told us that the number of the participants this time was about 1000.
We got the same old blue T shirts again and wore it.
Now we have 4 each of these T shirts.
I am using them as nightwear at home.
Well, the first themes they gave were ①trench in the city ② my wonderful story ③ to a discovery.
We decided to walk towards the China Town within Milan.
When we turned one corner, we came across our friend.
He was with his baby son, so I took a photo of them and used it as the "story" photo.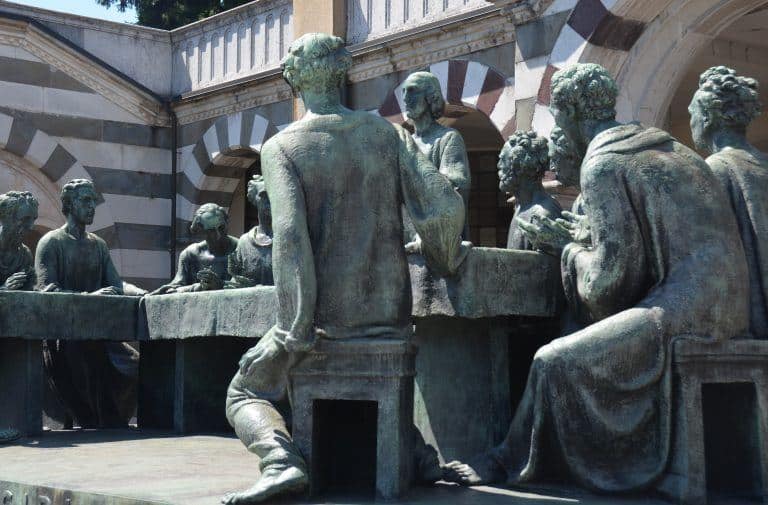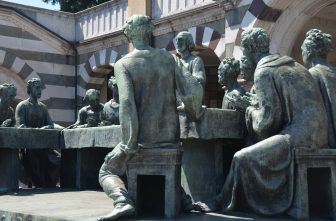 After that, I thought that 'The Last Supper' of Da Vinci could be the photo for "discovery".
Of course you cannot take a photo of the real 'The Last Supper' at Santa Maria delle Grazie, so we went to the Monumentale cemetery and took some photos of Campari's gravestone.
At one o'clock meeting, apparently the fewer people seemed to have come and the organiser was complaining "Already reduced to a half! I suppose many are eating. Of course pasta is more attractive than photography…".
The theme we got at this meeting were ④ innovation at work ⑤ changing downtown ⑥ it's better being together.
I had a feeling that we did the similar theme as ⑥ before somewhere.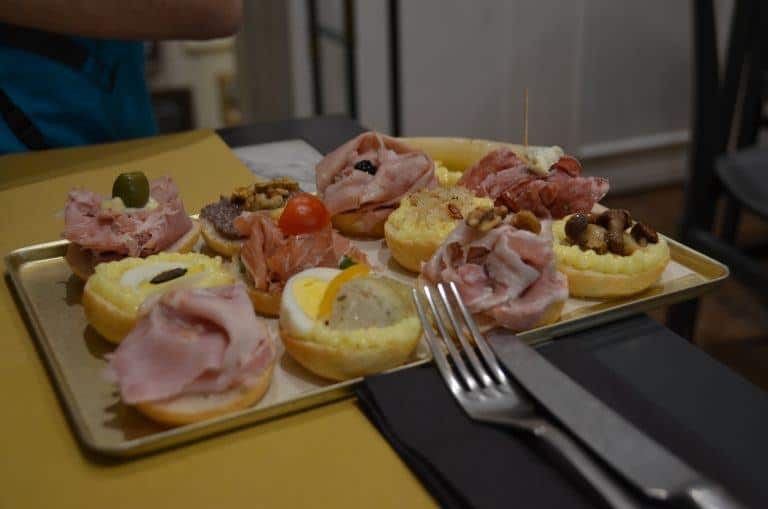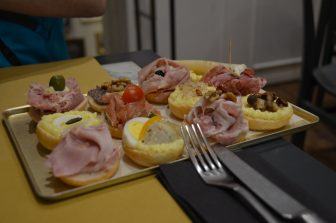 I guess the organisers were having a difficulty finding the suitable themes.
At this point we remembered that there was an antique market in Brera area last year, so we walked towards there and had a lovely light lunch at La Tartina where we have been before.
By then I was really tired, but after eating I got some energy back and kept going.
Finally the last three themes were given at the last meeting at 4, which were ⑦ at any time ⑧ low light ⑨ on the track.
It was a hot sunny day, not like last year, so we got tired and sweaty after walking so much.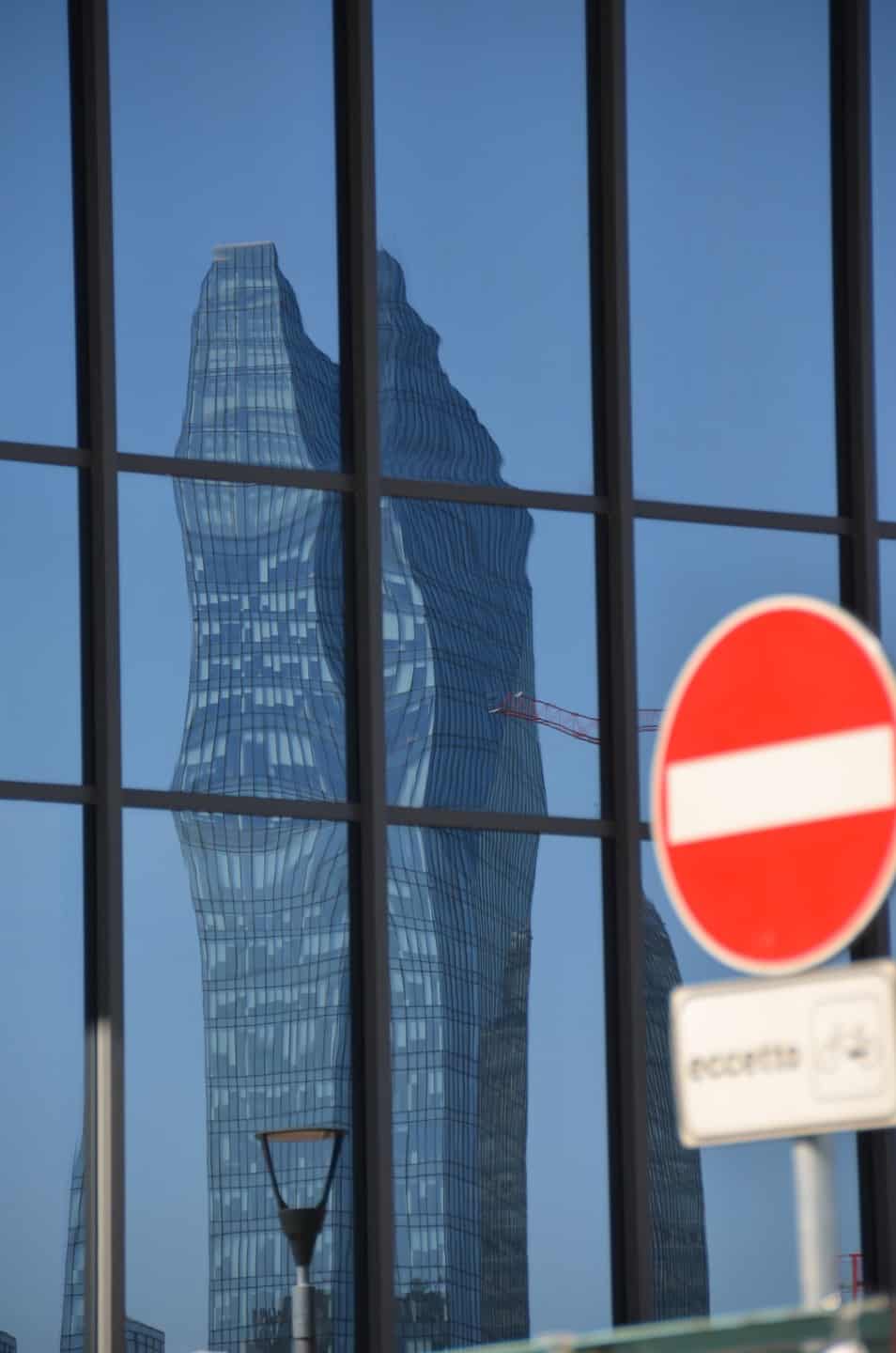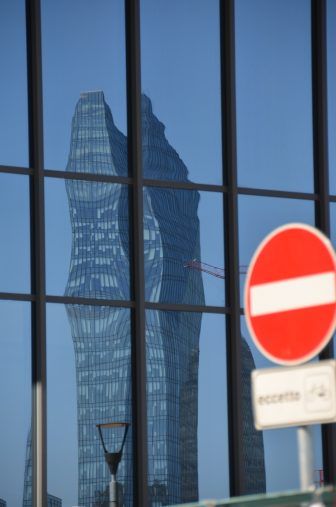 But in the end, I felt a great sense of achievement and I would like to do it again if we have a chance.
By the way, before this event, we had a unfortunate experience.
At our hotel around 4 am, the fire alarm went off and we had to dress and went out quickly.
Actually this was the second time for me to experience this kind of trouble.
The first time was at a hotel in Edinburgh long time ago when I was there for business.
And as before, this time, too, it was the malfunction of the alarm fortunately and we went back to our room.
We felt a bit nervous anyway because it was soon after the disastrous fire happened in London.