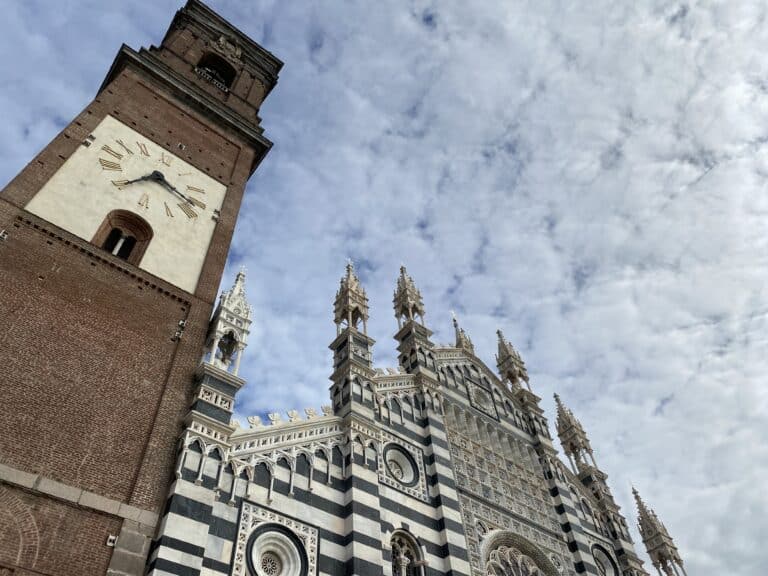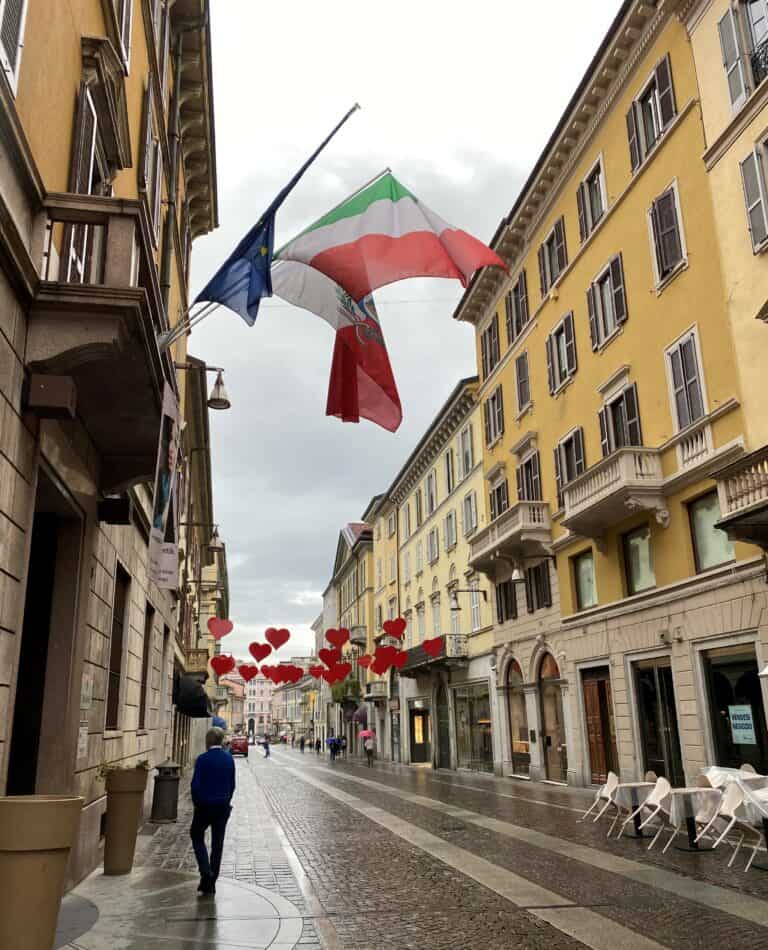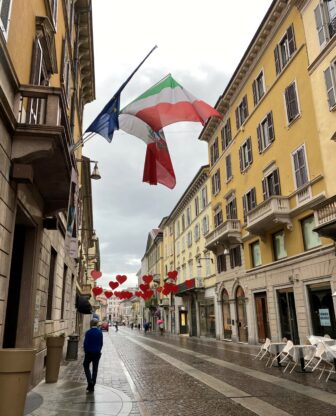 [Oct. 2021] We used to live in Monza half of our time, a town north of Milan, Italy.
Even after we stopped living there, we used to visit Monza a lot, so we are very familiar with this town, but we did not see it for a while due to the recent Covid crisis.
This time, while staying in Seregno, about 13 kilometers north of Monza, we visited Monza and ate at restaurants that we used to go to.
One of them is a seafood restaurant called Alle Alcare, which has appeared on this blog before.
When we used to go, there was always an old man who had a bad leg and his wife and they were the owners of the restaurant.
There was also an old waiter who often served us.
After they retired, their son succeeded the business…
That was what we had thought, but in fact, it turned out that he was not his son.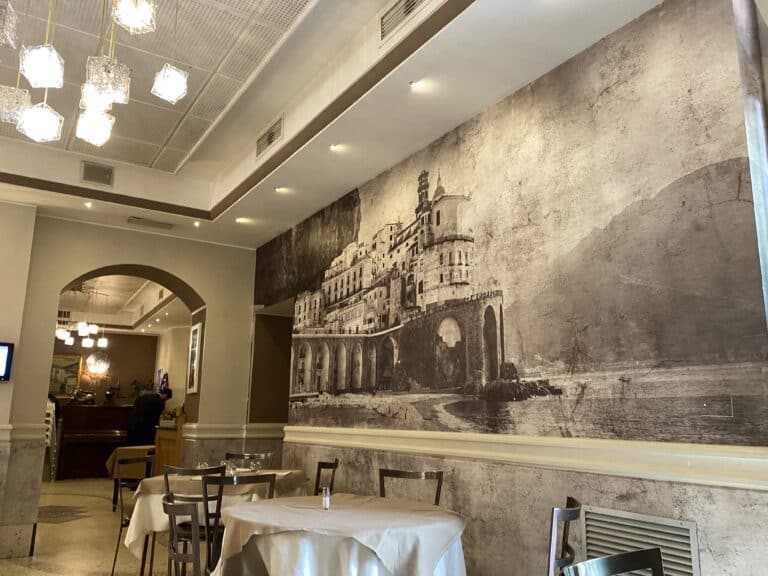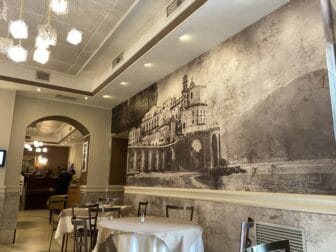 This time the old man at the casher said, "Everyone thought so. The former owner treated him like his own son, but in fact, he is my son."
Since this young man took over the reins, the restaurant changed a bit and now it is a little more upmarket.
This time, I shared seafood salad with my husband as a starter.
The octopus, prawns, and mussels all had their own flavours, and it was so delicious that I felt bliss.
As my husband pointed out, the taste of the parsley that was with the seafood was also strong, and it complemented the whole.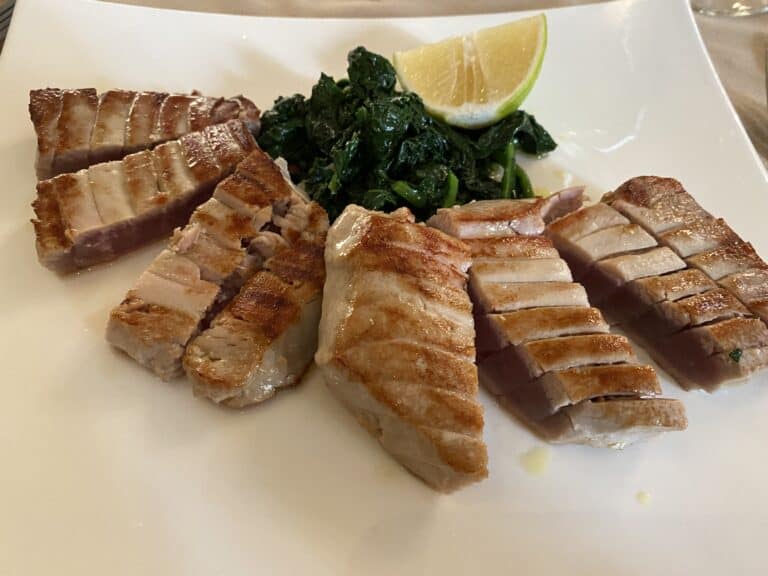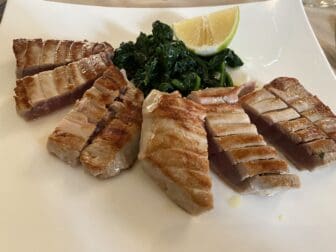 My main dish was seared tuna.
The garnish was Cime di Rapa (a type of rapeseed of the Brassicaceae family).
The way tuna was grilled was just right, and this was also very delicious.
My husband was very happy to eat the monkfish stew as the main.
The total bill was 103 euros, including dessert, house wine and limoncello.
A few days later, we went to Osteria del Cavolo with our colleagues.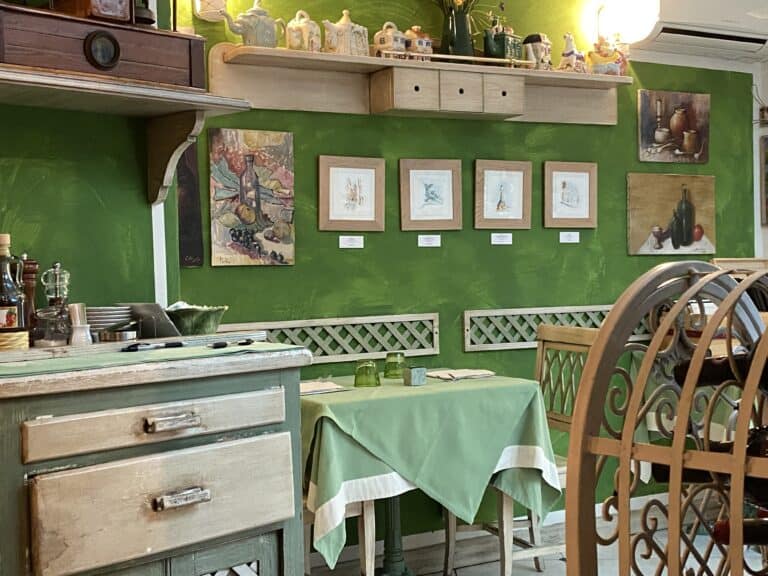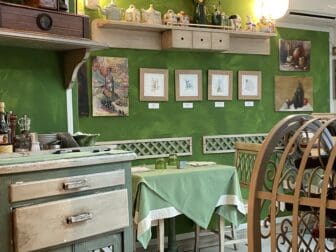 Since the exterior and interior are all based on green colour, we have long called it a "green restaurant."
Young people ordered the set menu of 4 courses here.
We, who have poor metabolism, took a platter of hams as a starter and share it ourselves.
The salami of liver was exceptionally delicious, and another interesting thing was the round fried cheese.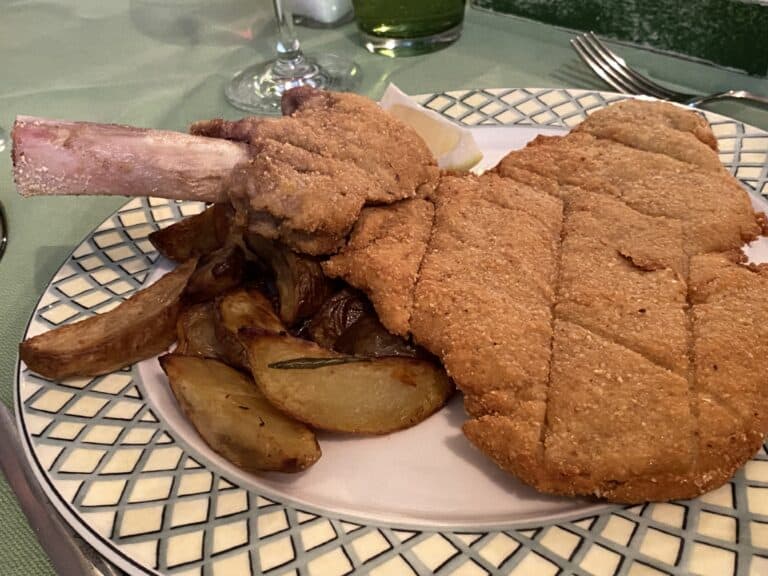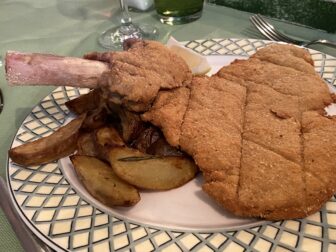 A colleague told us that this fried cheese is called Sciatt and it is often eaten in Valtellina near the Swiss border.
The main was Cotoletta alla Milanese for both of us.
Even during the lockdown in London, when we got the veal occasionally, my husband made it for me, but we always wanted to eat the real one.
I was looking forward to it, but for me it tasted a little too light.
The dessert was ricotta cake.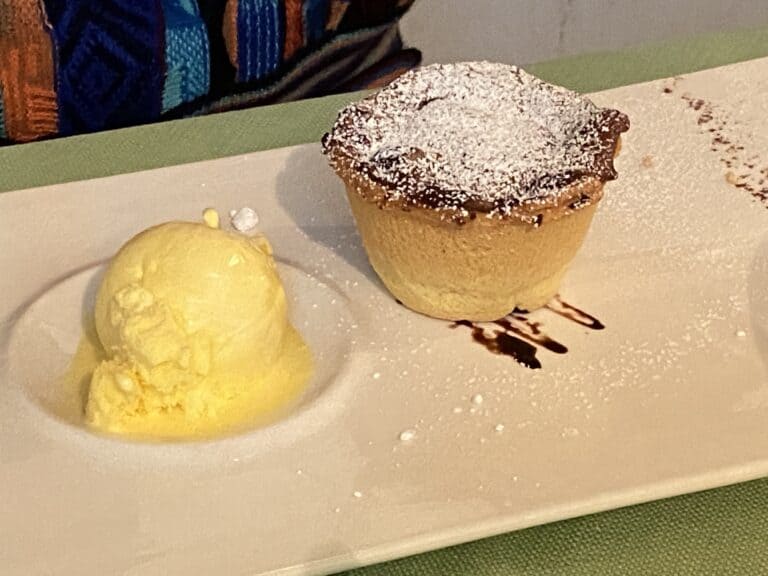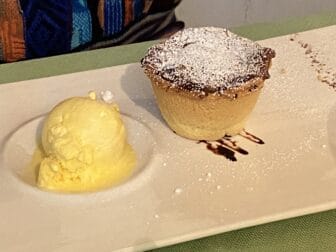 This was delicious.
The dessert on the set menu that everyone was eating was a cake that had chocolate in the pie and it was to eat adding ice cream to it, and it looked delicious, too.
After the satisfying meal, we took a walk in the town of Monza.
Monza's Duomo, who had been renovated for a long time, showed off its majestic and beautiful appearance.