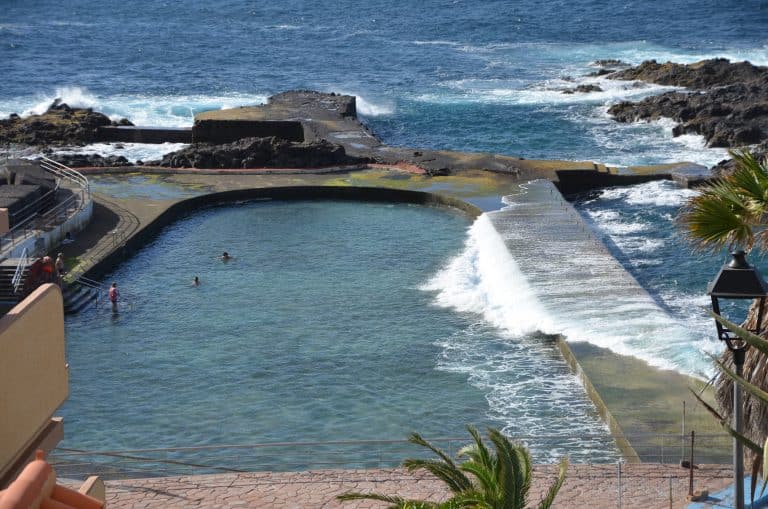 When we finished visiting the main spots in the small town of Tacoronte in the north of Tenerife in Spain, I was already very tired.
We went to a place that looked like a pub in the very quiet street and had a glass of fresh orange juice, which brought me back to life.
According to the woman at the tourist office, there is a row of seafood restaurants on the seaside town of El Pris, which is apparently 4km away from Tacoronte.
So my husband and I discussed about how we could get there.
Because we had already walked a lot on the day, we could not walk another 4km, or walk the 8km return journey.
This town is not the sort of place where taxis are queuing waiting for customers, so we had to give up on the idea of a taxi.
We asked the young man working at this pub for some advice.
He kindly showed us a map on his mobile phone and said "You can go there by bus. Actually the 3 o'clock bus will come soon".
We found the bus stop easily, but according to the timetable there, the next bus would be 3:50pm rather than 3pm.
It was a hot day and waiting for a whole hour would have been too much, but we decided to wait at least until 3 o'clock.
Amazingly, at 3 o'clock, a bus arrived!
We should always follow the advice of the local people.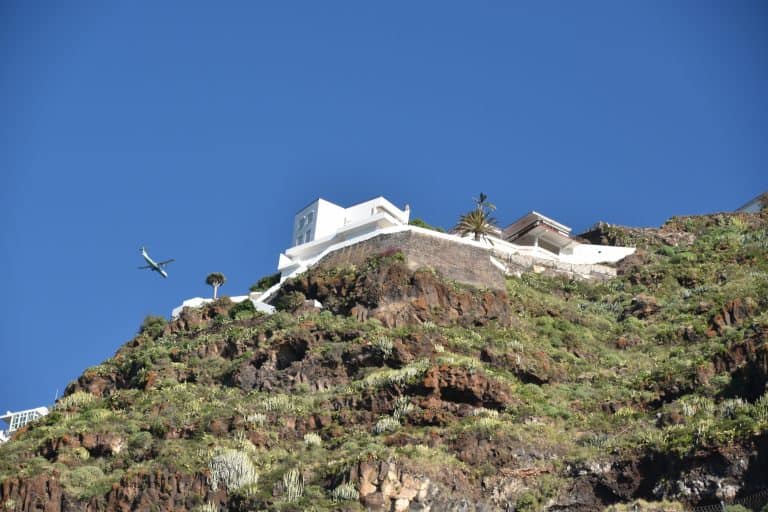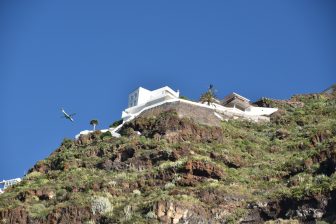 We asked the driver "El Pris?" and the driver nodded and said "Mesa del Mar".
Naturally, we understood that Mesa del Mar was the nearest bus stop to El Pris, so we got on the bus.
From the outskirts of the town, the road became a steep slope and the bus went down, on and on.
Towards the end of the journey, it was a hairpin curve.
Mesa del Mar was the last stop, so we got off after asking the time for the return bus.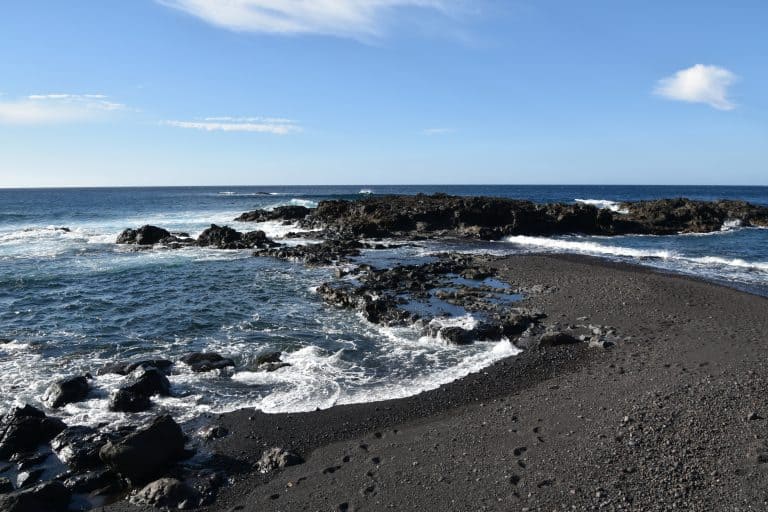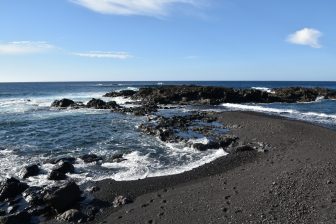 But after coming down to the seaside from the bus stop, we realised that Mesa del Mar and El Pris are two different places.
At Mesa del Mar, there was a sea water swimming pool, which was made by enclosing one part of the sea.
Also, we found a black sand beach after going through a tunnel there.
People were enjoying swimming in the sea.
There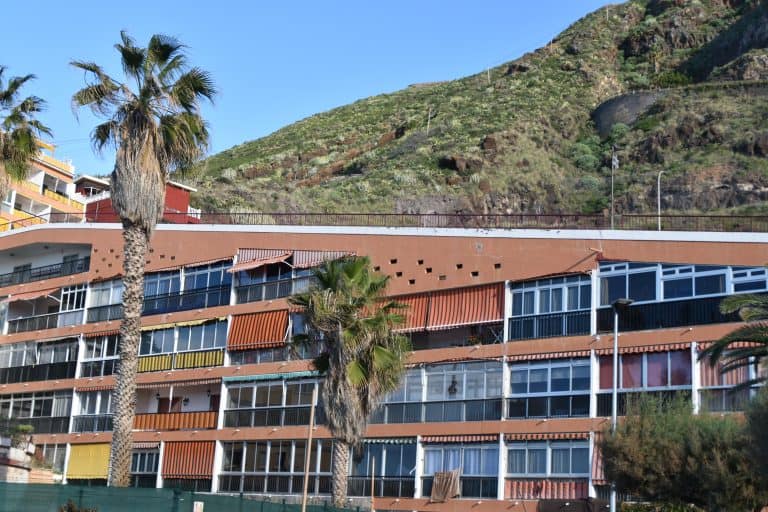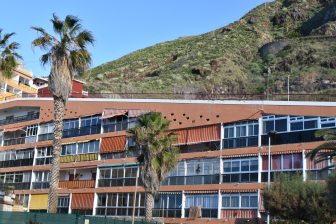 is a building under a road as well as a few modern buildings, which looked like apartments or hotels, but somehow they looked abandoned.
It was a very strange place.
There was no cafe, let alone seafood restaurants.
When we arrived, there were quite a lot of cars parked at the car park, but gradually people started leaving after swimming.
It seemed to be a good place for fishing, because we saw some people walking with their big catches.
Well, the bus driver probably misunderstood  and thought that we wanted to have a swim.
However, our purpose was a seafood restaurant, so we were at a loss.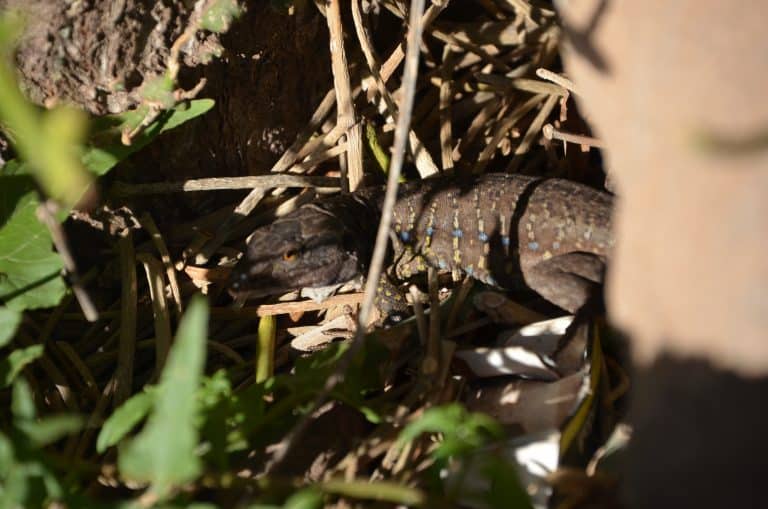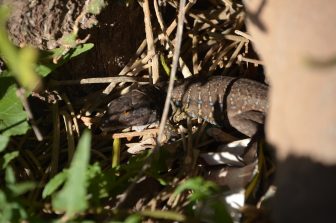 The wind was getting stronger and stronger and became a little bit chilly, so we moved away from the sea to the bus stop and waited for the bus, sitting on the bench under the warm sun for nearly one hour.
At one point, we heard some sort of rustling sound behind us.
My husband stared at the area and found a lizard.
It had a blue and yellow pattern on its body and its eyes were a strong yellow colour.
We looked this up on the internet and found that it is a species unique to Tenerife and it grows up to 30cm long or so.
How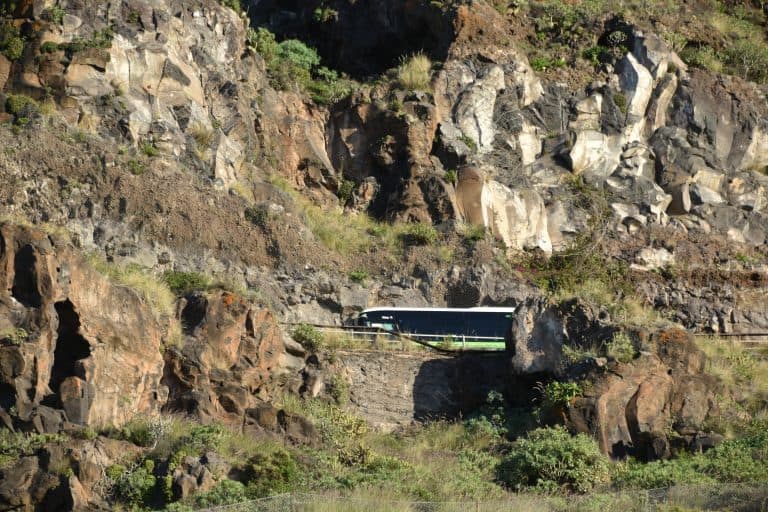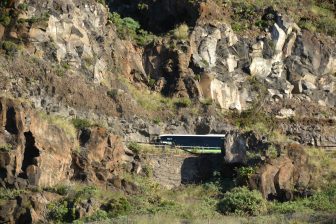 lucky to see one!
I could say that it was worth coming to Mesa del Mar, just because we saw this lizard.
The bus came on time and the driver was the same one.
I have a feeling that what he said to my husband in Spanish was "Did you enjoy swimming?" .
This driver was always with a little boy of 6 or 7 years old sitting next to him, who is probably his grandson.
This pretty boy seemed to be learning about the world, looking at the way his grandfather worked and listening to his conversations with the passengers.
I thought a film could be made, describing the joys and sorrows of life of people in this small town through the eyes of this little boy.
[ Dec.2018 ]