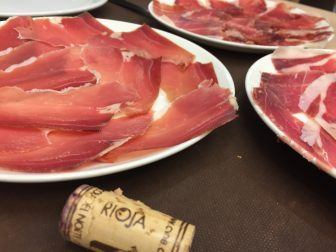 When it is time to eat something and you find yourself in the Spanish capital, Madrid, there is an abundance of choice available. It would be a great mistake to think that the only dishes on offer in this city are paella and prosciutto. There are so many different specialities to try! Here are some of them, in an endeavour to satisfy every taste.
Chocolate with churros
Let's start with breakfast. Some people might opt for pan con tomate, a perfect choice with which to start the day – a healthy dish which is typical of Mediterranean cuisine. For those who can manage a little Spanish, it is easy to work out what this is, i.e., bread with tomatoes seasoned with garlic and oil. However, you can't say you've had a typical breakfast in Madrid unless you have started off at least one day with the excellent combination that is known as chocolate con churros.
Churros are fried dough pastries. They can be eaten alone or with a filling. In our opinion, they should definitely be tried dipped in a cup of melted chocolate.
Another alternative for a delicious breakfast are picatostes, slices of toast that are fried or buttered and can be dipped in coffee or hot chocolate.
Bocata de calamares
Even the capital of Spain has its own typical fast food which is called bocata de calamares, a type of sandwich with fried calamari.
These are perfect as a snack (usually eaten mid-morning in Madrid) or for lunch. It is an odd choice for a typical dish because the city is 300 kilometres from the sea. Another typical dish is the tortilla de patata (a fried potato omelette) which is one of the flagships of Spanish cuisine) and the smaller pulgas and montaditos which are slices of bread that are generally stuffed with meats or cheese.
Jamón ibérico
In Madrid you will be able to try a huge variety of different types of tasty cheese and cold meats. Amongst the latter, you can't miss out on sampling the famous jamón ibérico (very finely sliced Iberian ham), a true national delicacy.
This is a cured ham from Iberian pigs that are raised in the pastures of the Extremadura and Andalusian regions of Spain where they feed mainly on acorns.
When it comes to cheese, there is also a large range from which to choose. In Spain there are at least 26 different types of cheeses that are classified as being of a protected origin. On a trip to Madrid you should definitely try the Manchego cheese which is made from sheep's milk.
Tapas
Another culinary delight not to be missed when spending a few days in the Spanish capital are tapas. These are a wide range of appetizers or snacks which can be enjoyed as an aperitif before a meal or even instead of a meal!
Tapas are a wide variety of small snacks which are usually served with a drink, (for example, with a caña, which is a small beer). Legend has it that they got their name from the word "tapar" which means "to cover" and these small delicacies were the perfect size with which to cover a glass, preventing any flies from falling into the liquid. Nowadays they can be based on any of the typical national dishes ranging from paella to patatas bravas, (fried potatoes with a spicy salsa made with Cayenne pepper).
Traditional dishes
And finally, in the Spanish capital, of course you will be able to sample all the traditional dishes that represent typical Spanish cuisine. Such as, for example: Asados, (roasted pork meat); pisto manchego, (which is like a ratatouille with onions, courgettes, aubergines and tomatoes usually accompanied by an egg); gazpacho (which is a chilled tomato soup blended with peppers, cucumber, onions and garlic); migas which was historically a dish eaten by the poor combining breadcrumbs with Cayenne pepper, bacon and sausage. And then there are the rice dishes, of which, the most famous is of course la paella.
For a typical meal in Madrid, you may want to try either a cocido (a single dish with a pasta base, meat, chickpeas, bacon and vegetables). And then there are callos a la madrileña, (tripe with tomato, bacon and Cayenne pepper and huevos rotos (fried eggs with potato and chorizo or jamón).