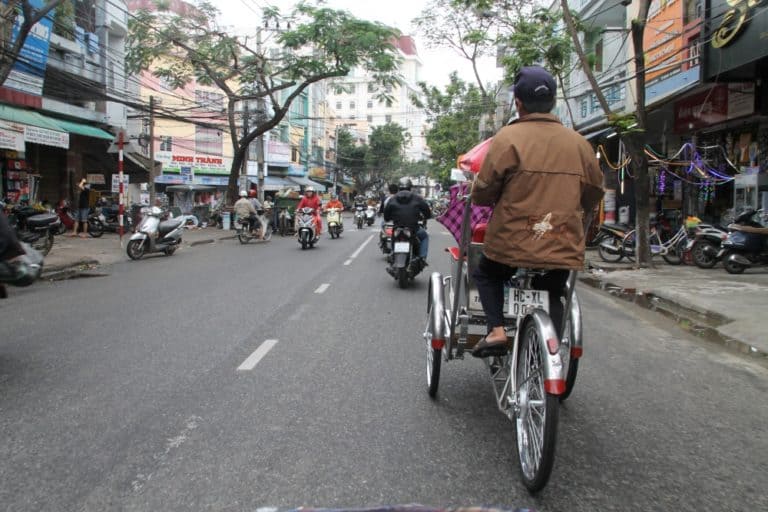 [ Jan.2015 ] When we were walking along the river in Da Nang in Vietnam, the drivers of Cyclo started talking to us.
Cyclo is a cycle rickshaw and the name came from the French word, cyclo-pousse.
I have been on the cycle rickshaws in India, Cuba or even in London, but this one was different.
The driver sits on the back, so once you sit on the passenger seat, the road is just in front of you.
It was nice going slowly on the wide roads where many motorbikes were running fast.
The width of the seat was limited, so only one person could sit per Cyclo, but the local people were sitting with a few children per Cyclo.
The problem was rain.
When the rain started, the water was poured on me directly.
The driver gave me his umbrellas and I opend two of them, one on top of the other and saw the view from the gap of the two.
Well, everything is experience.
We were easy preys and accepted their fare, which was 7 dollers per hour, but when we were to pay, we had to argue a bit.
Including the sightseeing, it took about 2 and a half hours, but they demanded 60 dollers altogether.
It was too expensive even with the tip.
In the end we paid 50.
The interesting thing was that after the payment, they rode us to the taxi rank, still guiding the surrounding area.
I think they were not yet too used to ripping off the tourists, which was good.